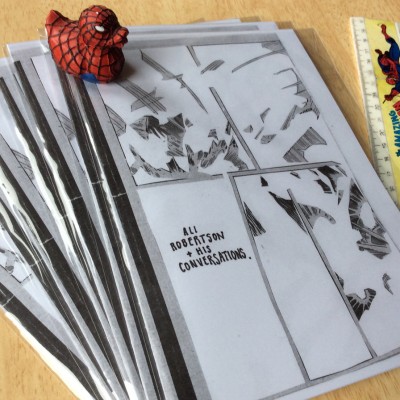 "If you can put a little bit of yourself into the work…." So says Collette Robertson on the first track of Ali Robertson & His Conversations, the latest sonic missive from one of the brains behind the Giant Tank cottage industry, which has rattled the mainstream's bag for more than a decade now with an ever expanding series of gonzoid dispatches. Both this newish record and the fourth edition of the GT in-house zine continue an assault on culture which dates back to the pummelling sludge-core of Giant Tank (the band) in the late 1990s. Since they split, the Robertson-run Giant Tank label has been based primarily around the activities of Robertson and cartoonist Malcy Duff. As Usurper, this double act of absurdist provocateurs have become key players in an outsider weirdo network that is both related to and the antithesis of a now widespread Noise scene.
Utilising a toybox of 'disabled' instruments – marbles, loose change, old springs and other detritus – alongside their own voices, Usurper's live shows have transformed the workaday notion of 'gigs' into a series of increasingly elaborate narrative-based routines that are both hilarious and profound. Duff's series of comics on his own Missing Twin imprint are works of panoramic genius, while an ongoing array of below-radar cassettes, CDrs and zines have skittered off the Giant Tank production line with interventionist glee.
In terms of influence, Usurper's mix of dialogue, relayed found sound volleys and goof-ball humour looks to the japes of The Goons and cartoonist Leo Baxendale as much as veteran forebears such as junk-shop auteurs The Bohman Brothers, free-form vocalist Phil Minton and sound poet Bob Cobbing. The effect is something akin to what might happen if the existential vaudeville of Vladimir and Estragon in Waiting For Godot had been transplanted to Steptoe and Son's scrapyard.
The complimentary releases of Giant Tank Offline #4 and Ali Robertson & His Conversations continue in a similar vein, with the clip-clops and traffic noises that follow Collette Robertson's opening gambit on Ali Robertson & His Conversations soundtracking the urban shuffle of a man perennially on the sick. In a fragmented tale of everyday drudgery, the mantra-like repetitions and abstractions of domestic bliss that filter in and out sound like what might have happened if Dylan Thomas had written for art-based online radio station, Resonance FM.
Ali Robertson & His Conversations also showcases two works constructed with activist and film-maker, Sacha Kahir. The babble of over-lapping motor-mouthed voices that follow takes in revolutionary Marxism, old age super-heroes and Spiderman artist Steve Ditko. In its discursive insistence it's the sort of late-night spraff that acts as a necessary release from the daily grind.
Collette Robertson reappears on the contents page of Giant Tank Offline #4, the latest compendium of words and images from Robertson, Duff and a slew of fellow travellers that acts as a kind of ongoing Giant Tank manifesto and wilfully luddite state of the nation splurge. While the cover features an image of a man's arm eternally in chains, inside, Robertson's introduction is a nihilistically self-aware pen portrait of how Giant Tank's revolution probably won't start at closing time.
Beyond such maudlin reflections, the following twenty-four appositely bright pages contain a pick and mix pot potpourri of cartoons, short stories, concrete poetry and art. Susan Fitzpatrick of noise duo Acrid Lactations does a comic strip called Passing The Day, which transcends the humdrum into something more comically fantastical. There is a William Blake inspired science-fiction fantasia by Daniel Spicer, and a chapter from a novel credited to JD Salinger's fictional savant, Seymour Glass, that features the members of American noise duo, Macronympha, and disgraced ice skater Tonya Harding on a road trip.
Robertson's contributions include a Kafkaesque dialogue on the Sisyphean nature of working life, while the snakes and ladders of evolution are catalogued in an illustration by Rob Hayler. There are words of wisdom from Angela Sawyer, an abstract text by Joe Murray and a typically off-kilter cartoon by Duff.
In its frustrated railings against The Man, its use of science-fiction and sex as getaway vehicles and its depictions of a language frustrated beyond words, Giant Tank Offline #4 is as old-school underground as it gets. Read it while listening to Ali Robertson & His Conversations. Whistling while you work will no longer be an option.
Ali Robertson appears with Malcy Duff as Usurper with Acrid Lactations and Dead Labour Process at at an afternoon show at The Safari Lounge, Edinburgh,on Saturday January 16th, 1-5pm. Usurper also appear with Dora Doll, Anla Courtis and Butter at The Banshee Labyrinth, Edinburgh, Saturday January 30th, 7-10pm.
Comments
Comments