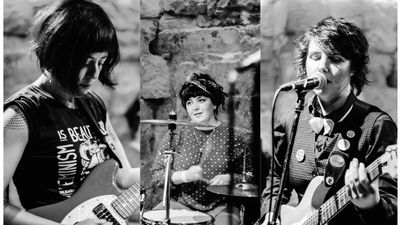 Comacat are a self-titled 'shed rock' all-girl trio from Edinburgh with enough heart to keep Harefield Hospital transplant unit supplied for a year. Armed with a bursary from Girls Rock School Edinburgh, guitar and vocalists Sara Ribela and Sha Rivari with drummer Fi Banshee headed to Newcastle to record their 2019 debut EP Scratch with Anne Langourieux of punk-pop duo The Noise and the Naïve. Lead single Angerland is an impassioned sideswipe at all those Little England Brexiteers who bounced us out of Europe; a primal rock and roll grind that comes snarling out of the traps like a caged tiger looking for the nearest zookeeper. Quarantine has enforced an unwanted live hiatus on the group but let's hope they'll be back mighty soon.
Band pick:
The Noise and the Naïve, Mus Musculus

This is one of our favourites songs and means a lot to us as a band. We met The Noise and the Naïve when they came up to Edinburgh to play for International Women's Day. They blew us away. So we felt immensely grateful when they later helped us to record our EP, even doing the mixing and production! We will always feel in debt to them and we cannot wait to see them again live!
Fi's picks:
The Spotnicks, Amapola

The Spotnicks are a Swedish instrumental surf band that I've grown to really admire over the last few years. I discovered their songs from a love of 1950's space-age décor and interiors. Their music surfaced into the world at a time when sci-fi and surf music were almost intwined as one. I hear something new and inspiring every time I listen to their songsand really love when musicians sing through their instruments.
The Fnords, Scream Queen

A Scottish surf guitar-lead garage punk trio who I saw perform live in Elvis Shakespeare's music and book shop on Leith Walk in 2018. I find them really inspiring because listening to their music makes me feel strong, like I have super powers and can do anything. Their music really raises my skin hackles.
Sha's picks:
Die Sterne, Wichtig

The band of my youth from Hamburg, Germany where I was born – I first heard their hit "Was hat dich bloß so ruiniert?" in about 1998 on indie rock radio station 'Delta Radio'. I can't quite pin down what I love about Die Sterne. It's something about their funky bass lines and often outlandish lyrics. They certainly have staying power, I don't think there is any other artist I have listened to so consistently over the years. They were always a fantastic live band.
Boss Hog, Fix Me

Seeing Boss Hog live in 2016 made me buy an electric guitar and it gave me the audacity to start a punk band. I loved Jon Spencer's guitar solos in Boss Hog because they were short rather than long and wanky and he had great tone. I've seen Boss Hog several times since and they never fail to excite me. Watching them live makes you realise that each band member adds something unique and that's what makes them great. They are lovely people too. I hope they'll tour again.
Listen to Comamcat here:
https://comacat.bandcamp.com/album/scratch-ep
Comments
Comments