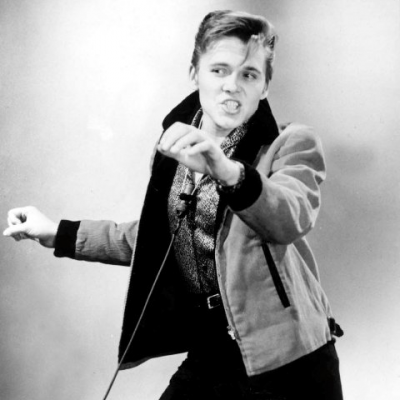 1. Billy Fury – Wondrous Place When teenager Ronald Wycherly turned up at a Marty Wilde show in the late '50s with the hope of showing the older singer some of his songs, little did he know he'd end up on tour with Wilde and be given an infinitely more mercurial name by showbiz svengali Larry Parnes. Fury didn't hit paydirt til 1961 with his yearning top ten hit, Halfway To Paradise, but a year earlier his first version of songwriters Jeff Lewis and Bill Giant's understated paean to the transcendent powers of intimate pleasures of the flesh was delivered with knowing matinee idol cool. Fury recorded the song several times during his fleeting time at the top before the '60s beat groups took over the world. He continued to release records, and played holiday camp rocker Stormy Tempest in the David Essex film vehicle, That'll Be The Day before dying at the tragically young age of forty-three in 1983. Wondrous Place has been covered many times, and supplied writer Paul du Noyer with the title of his lovingly observed history of Liverpool music.
2. The 23rd Turnoff – Michelangelo Contrary to popular belief, Liverpool's best '60s songwriter was Jimmy Campbell, who came up fronting The Kirkbys on a trio of fag end Merseybeat singles before embracing psychedelia with this slice of woozy melancholia released in '67 and named by Bunnymen guitarist Will Sergeant as one of the top 100 psychedelic singles ever. Campbell released an album with his next band, Rockin' Horse, before three low-key solo LPs led to diminishing returns. After 1972, Campbell never released another record, and died in 2007 aged sixty-three. The 23rd Turnoff's name may well have sounded suitably 'delic, but was taken from the twenty-third turn-off from the M6 that took you back home to Liverpool. Mundane as that sounds, Bill Drummond's Illuminatus!-inspired obsession with the number twenty-three almost certainly begs to differ.
3. The Real Thing – Children of the Ghetto Liverpool's black music scene has largely been undocumented, but The Real Thing, formed by Chris Amoo in 1970, scored a hit five years later with soul disco smoocheroonie, You To Me Are Everything, followed by two more singles from the band's eponymous debut album. By that time Chris's elder brother, Eddie Amoo, who had released several singles in the '60s with his own Brit-soul combo The Chants, had joined the band. Rather than follow-up with another selection of feelgood dancers, The Real Thing's second LP was a concept album based around the Amoo brothers' background in the multi-racial Liverpool district, forever to be known as Toxteth following the riots that exploded onto the streets in 1981. Released in 1977, 4 From 8 (the band's record company had rejected the proposed title of Liverpool 8) came wrapped in a gatefold sleeve featuring a photographic montage of images from the neighbourhood that inspired it. The centrepiece of the album was the eleven-minute Liverpool 8 Medley, which fused three tracks, Children of the Ghetto, Liverpool 8 and Stanhope Street. Influenced by the likes of Donny Hathaway and Sly Stone, the album may have confused audiences in search of something more obviously commercial, but Children of the Ghetto in particular has made quietly political waves in versions of the song by Courtney Pine, Philip Bailey (of Earth, Wind and Fire) and more recently by Mary J Blige. The song's deep set sentiments of unity and pride in the face of adversity reflect the stance taken by the era's civil rights movement, and remains the most understated of anthems.
4. Deaf School – What A Way To End It All Without this song and Deaf School's three late '70s albums, pop music would have turned out very differently. Formed in 1973 at Liverpool Art School by Clive Langer and Steve Allen, aka Enrico Cadillac Junior, Deaf School evolved into a large-scale pop-art cabaret troupe whose extravagant stage shows took moribund post Merseybeat/pre-punk Liverpool by storm.This debut single also introduced the band's first album, 2nd Honeymoon, to an eclectic and theatrical mix that finds Mr Cadillac Junior cast as a faux '30s crooner about to commit suicide to a banjo backing. With the band giving the Palm Court Orchestra a run for their money before morphing into the jauntiest of show-time pastiches that counteracted the track's dramatic denouement, the song is an apposite joy. Deaf School were named by both Dexy's Midnight Runners and Madness as their favourite band. With Deaf School sidelined by punk, Langer went on to produce both bands, as well as co-writing Shipbuilding with Elvis Costello. More recently, Langer has since given a Deaf School-style sheen to Dogs Die in Hot Cars and others, while a reconstituted Deaf School are now back out touring. At one point every cool club in town played What A Way To End It All as the last song of the night. This tradition should be revived with immediate effect.
5. Big in Japan – Big in Japan The group formed at the suggestion of Deaf School guitarist Langer to Bill Drummond before Langer went on tour to America. Drummond had been a stage carpenter who later designed the set for Illuminatus! – Ken Campbell's twelve-hour staging of Robert Shea and Robert Anton Wilson's epic science-fiction hippy conspiracy novel at the Liverpool School of Music, Language, Dream and Pun – an arts lab set up in an old warehouse on Mathew Street by poet Peter O'Halligan. The band that sprang forth from Langer's suggestion may have looked more like a shambolic live art happening than anything resembling pop, but were significant in heralding the first wave of new bands to come out of eclectic Mathew Street basement club, Eric's. A supergroup in reverse, as well as Drummond, Big in Japan featured future Lightning Seed Ian Broudie, future Frankie Goes To Hollywood shockmeister Holly Johnson, and soon-to-be Siouxsie and the Banshees drummer, Budgie. Vocals were led by Jayne Casey, who had run the Aunt Twacky's vintage boutique, appeared in Illuminatus! and performed with a lampshade on her head. Casey went on to front Pink Military Stand Alone, and later Pink Industry, before becoming an arts consultant for superclub Cream and Liverpool's 2008 tenure as Capital of Culture. Bill Drummond's done one or two things since as well, subverting the music industry with the KLF and the art-world with the K Foundation, all with the willfully anarchic spirit picked up from Ken Campbell. Big in Japan was released as one side of a split single with The Chuddy Nuddies (a contract-obliging pseudonym for The Yachts), Brutality, Religion and A Dancebeat, on the Eric's label, with a posthumous EP, From Y to Z and Never Again being the first release on Zoo, the label set up by Drummond and Big in Japan's final bassist, Dave Balfe. The band split in 1978. Whether this had anything to do with the petition pinned up in nearby record shop Probe requesting them to do just that isn't on record. As most of the petition's signatories were the band themselves, it remains unlikely.
6. Wah! Heat – Better Scream / The Teardrop Explodes – Treason / Echo and the Bunnymen – Ocean Rain Three shades of post-apocalyptic pop euphoria from the holy trinity of the post Big in Japan Eric's crowd whose trio of vocalists may or may not have rehearsed but never performed together as the much-mythologised Crucial Three. Teardrop Explodes singer Julian Cope was an over-excitable teacher-training student who muscled his way into both the Eric's scene and (literally) into mouth-almighty Pete Wylie as he scrambled his way through the crowd the night The Clash played. Myopic Bowie obsessive and soon to be Echo and the Bunnymen sex on legs Ian McCulloch was also in situ, and – before each went their separate ways – a legend was born. After their early singles were released on Zoo, both the Bunnymen and the Teardrops were well on their way to becoming pop stars by the time Wah! Heat released their debut single in 1979, an insistent and strikingly mature statement of intent that was both portent of doom and call to arms in a Cold War infected world. Wylie would go on to score hits with the chart-busting Story of the Blues before becoming a kind of Scouse Springsteen, keeping the city's flame alive through good times and bad. Treason was the Teardrops third single, and the first real sighting of Cope's melding of mighty pop hooks with arcane English whimsy. The song only became a hit after being re-released following success of the horn-led Reward and its accompanying video, chock-a-block with city scenesters, suggested great adventures ahead. The of-its-time video for Treason, meanwhile, pointed to Cope's possible embracement of hallucinogens after American wild child Courtney Love, then resident in Liverpool, allegedly turned on the entire city to all manner of creative possibilities. Ocean Rain was both the title track and the final song on the Bunnymen's fourth album, a shimmering, string-led affair that looked to the high drama of Jacques Brel in its quest for redemption. As its title implies, Ocean Rain ebbs and flows, with McCulloch confessing his own vulnerability by way of a series of extended sea-bound metaphors and melancholic introspection before the song erupts into emotional grandeur. With Will Sergeant's guitar patterns understatedly tasteful, Les Pattinson playing an upright bass and the sainted Pete de Freitas using brushes on his drums, this was the sound of a band that had done its musical growing up in public, and, having peaked, also seemed to mark the end of something that would never be the same again.
7. The Wild Swans – The Revolutionary Spirit / Michael Head & The Red Elastic Band – Newby Street Doomed romantic starving artist chic was the order of the day for The Wild Swans, formed by original Teardrop Explodes member Paul Simpson, who made their live debut alongside Michael Head's fledgling Pale Fountains supporting Orange Juice at a chicken-in-a-basket cabaret club called Mr Pickwick's, renamed Plato's Ballroom for such occasions. This sole release by the Wild Swans original incarnation, other than a John Peel session released on Strange Fruit, was a double A sided 12" which Bill Drummond said was the best thing ever released as part of Zoo's small but (im)perfectly formed catalogue. The flipside, God Forbid, was an urgent quest for truth led by Jeri Kelly's chiming guitar jangles and Simpson's yearning voice and was already bathed in glory. From the title onwards, The Revolutionary Spirit was something else again, a brooding epic that seemed steeped in history and metaphysical mythology, with Simpson's poetry sounding wise and troubled way beyond his tender years. The Wild Swans imploded following a tour supporting the Bunnymen, effectively splitting in two. Simpson joined forces with Ian Broudie for the far glossier Care, while Kelly and keyboardist Ged Quinn joined Bamboo Fringe vocalist Peter Coyle to form the Lotus Eaters, who scored a timeless summer hit with The First Picture of You. A reconvened Wild Swans released two major label albums in the 1980s, but it wasn't the same. Simpson retreated into a new guise, making lush electronic instrumentals as Skyray before a new version of The Wild Swans laid old ghosts to rest with very personal album, The Coldest Winter For A Hundred Years, a couple of years back. Majestic as it is, the Wild Swans remain defined by The Revolutionary Spirit. Financed and produced by Bunnymen drummer and Simpson's flatmate Pete de Freitas, even the fact that studio-based acid intake caused the record to be recorded in tinny mono cannot diminish just how heroic this song remains.
Michael Head has charted a similarly peripatetic path, from The Pale Fountains early melding of Forever Changes era Love, Sergio Mendes and Simon & Garfunkel, to being signed to Virgin for a quarter of a million pounds within a year of the Orange Juice show. Two under-achieving albums later, the Palies morphed into the equally neglected Shack, led by Head and brother John. Shack were blighted by the death of original bass player Chris McCaffery, studio fires, labels going bust and Head's heroin addiction, but still produced some of the most sublime 1960s-tinged pastoral Scouse psych which could have shown Brit-pop's young pretenders a thing or two. Shack even performed as backing band for their beloved Arthur Lee at a 1992 Liverpool show. Somehow Head survived, and on Newby Street, one of the stand-outs from his Artorious Revisited EP, sounds like a man reborn, harnessing a Love style horn section to a simple love song that sounds like pure joy.
8. The Cherry Boys – Kardomah Café Homages to greasy spoons don't come any more evocative than this one by an early '80s power pop quartet with enough common touch to appeal to the Scallies and melodies aplenty. Awash with '60s harmonies and carried by a mighty harmonica, this nostalgia-tinged paean to one of many cafés within spitting distance of Matthew Street fused Merseybeat sensibilities with '80s production big enough for it to go top ten in Spain. Singer John Byrne, aka John Cherry went on to join the La's and co-write There She Goes, and is now a respected classical guitarist.
9. The Last Chant – Run of the Dove When Liverpool's dole queue underground turned on, tuned in and dropped out to '60s psychedelia, the likes of The Doors, Love and the Velvet Underground were regularly referenced by local scenesters, but nothing tapped into the spirit of the originals with such determined aplomb as this one-off single by a troupe clearly acquainted with the dronier, raga-influenced tracks on the first Velvets album. Featuring violin and percussion wrapped around a spindly guitar line and crashing symbols, this piece of culture-clashing proto World Music was released in 1981 on the long-lost Chicken Jazz label, run by future Waterboy Mike Scott, who co-produced, sang backing vocals and recently put up the song on his Soundcloud page following a previous release on the Liverpool Cult Classics Unearthed collection released by the Scouse archivists at Viper Records. By the time of the single's original release, alas, the band had split not long after an all too appropriate support slot with the somewhat strung-out ex Velvets chanteuse Nico in Liverpool. Vocalist Dave Dickie rather oddly opted to play keyboards as one half of Black alongside nouveau crooner Colin Vearncombe, who would later have a solo hit with Wonderful Life.
10. The La's – Way Out / The Stairs – Weed Bus There She Goes may be the La's song that went global, but this earlier single was an equally evocative expression of nouveau Merseybeat, in which the band's mercurial vocalist Lee Mavers searched for some musical holy grail lost in the dust of the '60s. A spiralling back-street waltz that turns in on itself, even as the song's restless protagonist can't wait to do a runner, Way Out captures the spirit of working-class auto-didacts on the run from dole queue culture with a masterly way with pop melodies. Following a decade of could've been classic albums by other bands ruined by hi-tech over-production, Mavers quest for raw authenticity saw umpteen protracted recording sessions leave him unsatisfied. The band's record label mixed what they had and released it as the band's sole album anyway. Mavers may have subsequently disowned the eponymous album that resulted, but if you're not steeped in its messy back-story, it might just sound like a masterpiece.
If The La's looked to Merseybeat, The Stairs plundered a more scuzzed-up '60s sound culled from Nuggets psych-garage band compilations and early Stones records. Led by Edgar 'Summertyme' Jones, who would go on to record several solo albums, The Stairs were dope-obsessed psychedelians looking for their own way out in an entirely different manner to The La's. Weed Bus, taken from debut album Mexican Rn'B, shows off a sly humour behind the snarling, as it charts the ride of a lifetime past assorted inner city drug dealers' hang outs, with the jaunty brio of a Get Off My Cloud style standard.
Comments
Comments