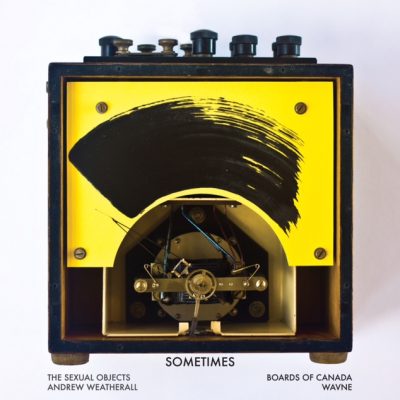 The Sexual Objects – Sometimes Remixes (Triassic Tusk)
In 2015, The Sexual Objects released the greatest album that no-one ever heard. Marshmallow was a swoonsome collection of garage band glam and crunchy instrumental homages to left-field guitar icons of yore. By rights, the record's rifftastic technicolour compendium should have set the world alight and scooped every award in town. Except, this was a concept dreamt up by Sexual Object in chief and former Fire Engine Davy Henderson, who, along with fellow SOBS Simon Smeeton, Graham Wann, Douglas MacIntyre and Ian Holford, opted to release Marshmallow in a limited edition of one. Auctioned on ebay, the highest bidder for the band's second full length opus also gained full exclusive rights to any re-release until the twelfth of never (which, as any Donny Osmond fan knows, that's a long long time). After fifty-three bids, Marshmallow was sold for a cool £4,213.
All was quiet until last month, when the successful bidder was revealed to be the elusive team behind Triassic Tusk Records, home-grown purveyors of eclectic musical exotica of quality and distinction, both on vinyl and at the label's off-piste Moonhop nights. Following the revelation, Marshmallow was duly released in a slightly more consumer friendly edition of 300, which flew off the shelves of selected emporia within minutes.
With appetites whetted, Triassic Tusk have now lifted Marshmallow's most radio friendly groover, Sometimes, and gifted it into the trusting hands of a trio of sonic auteurs on high. These maestros have sprinkled their own brand of stardust on the song's raw material before remaking, remodelling and reimagining its already wondrous tuneage in their own respected images. Compiled on this 10" in a magnanimous edition of 1,000 alongside their inspiration, the song's original inner beauty has now been quadrupled and magnified in excelsis.
The original version of Sometimes kicks off what we must call the 'A' side with a high-waisted, platform-soled look back in languor at the sort of summers they don't make anymore. There is ennui, nostalgia, swagger, boogie and a carefree gang mentality steeped in a knowing bucket-load of myth-making rock and roll reference points. Which makes for the finest of jumping off points for the variations on a theme that follow.
By far the most playful of the quartet, Andrew Weatherall rips up the SOBS' original and pretty much starts again. Henderson's voice is still there alright, providing melodious ballast as it's dropped in over eight glorious minutes of irresistibly propulsive sci-fi synth squelch, motorik drums and dub guitar. All this is topped off with what sounds like a toy xylophone solo, with the entire construction tugged several joyous ways at once, as if a class of Sunny D-ed up pre-schools from the local kindergarten had just discovered where all the buttons were while running riot in the music room.
On the flip, East Lothian's elusive duo Boards of Canada set the controls for an electronic deconstruction that fuses nursery rhyme keyboard patterns and woozy vocal samples. This expands things with a widescreen majesty that erupts into an anthemic slo-mo tripscape designed to launch the listener into the stratosphere grinning from ear to ear with infantile Cheshire Cat like glee.
Finally, for the last dance, along comes Wavne, a Banksy style nom de plume said to belong to a well known pop tart of the Triassic Tusk parish, who may have already been outed on late night radio by the time you read this. Whoever this shadowy character turns out to be, it is clear he or she is steeped in 1980s kitchen-sink size epics. His or her cut positively bounces in with shiny musical apparel to recall Henderson's own eighties pop bubblegum nearly men, Win, before synching in to an electro dance-floor groove that seems to have leapt half a decade into the future. Think House-tastic disco biscuits and extended 12-inchers of yore.
All this comes gift-wrapped with a guitar riff the size of sugar candy mountain that's infectious enough to keep a student union eighties night jumping. All in all, this four for the price of one offer is a very big deal indeed, and might just be the most transcendent collection you're likely to hear this millennium.
Comments
Comments