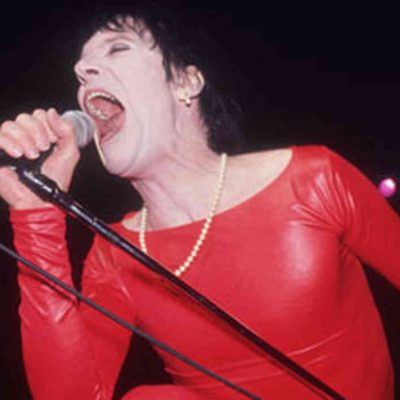 Having just said goodbye to Mark E Smith, this weekend alternative music fans in Scotland will be saluting another of their cult heroes from the outer-edges of the seventies punk scene. It's nine years since the death of The Cramps' frontman, Lux Interior, however his annual tribute night 'Lux Lives' is now celebrating its tenth year in Edinburgh – its ninth in Glasgow – and its name and format have spread all around the world. What began as hastily thrown together party of Cramps' cover-versions at Henry's Cellar Bar in Morrison Street, has now become a regular fixture on the alternative music scenes in London, Europe, North and South America. Whilst The Fall were forming in Manchester in 1976, The Cramps were establishing their own unique garage-punk style in New York as part of the CBGB's punk movement – alongside the likes of The Ramones, Blondie and Talking Heads. Singer Lux Interior, with his life-long partner, guitarist Poison Ivy, fused 50s rockabilly and 60s garage with NYC's punk vibe and created the genre "psychobilly". Countless other members were involved in The Cramps' nine studio albums, and thirty years of touring, but the voodoo-burlesque, leather and fishnet clad couple were the mind, soul and heartbeat of The Cramps.
Lux Interior died of heart-failure on the 4th February 2009, aged 62, but whilst most fans were still digesting the news, devout Cramps fans Cornelius Bell and Colin Duff were shaken into action: "I was properly shocked," said Cornelius. "It was the first rock star death that really hit me hard (and this was seven years prior to the casualty list of 2016). I instantly felt he was too remarkable, too weird and wonderful a man to be allowed to slip away into obscurity, so I knew we just had to celebrate his soul and his music somehow."
"I just remember thinking 'The Cramps are gone – we need to have a party'," said Colin. "Luckily two days later there was a cancellation at Henry's Cellar Bar – it was Friday the thirteenth running into Valentine's Day at midnight. So it was perfect and Cornelius grabbed it. It only gave us a week to promote but word spread quick thanks to the network of musicians that were desperate to play at it. We opened at 7pm, were at capacity by 8pm and stayed full til 3am."
"We had to cram on over ten acts that night and it was shambolic," said Cornelius. "With bands coming on and off stage every fifteen minutes and no space to put their guitars down anywhere. It really was chaos – but a chaos Lux would have been proud of. The performances were rough as bands only had time for one practice, but that only made the spirit of the night more in keeping with The Cramps' punk ethic – and squashed up close to Henry's small stage the audience felt part of it."
"Some bands formed within a matter of days just specifically to play at it," added Colin. "A few of them are still playing together now. But the lack of rehearsal and stage time was the happy accident which set the successful formula for Lux Lives. You got two minutes to get on stage and plug in, twelve minutes to play your three or four Cramps cover versions, and one minute to get off it."
Lux Lives 2009 was such a blast that Lux Lives 2010 was inevitable, and Colin had no shortage of bands wanting to play their own homages to Lux in Glasgow as well. It's been an annual event on both Scottish coasts ever since. Not only has Colin taken it to London and Newcastle, but soon after You-Tube footage of the first few Lux Lives nights made its way around social media, Colin's Lux Lives Facebook page was bombarded with messages from like-minded fans in Spain, Sweden, New York, Los Angeles, Washington DC, Seattle, Philadelphia, and San Paulo, all requesting his permission to put on a "Lux Lives" night.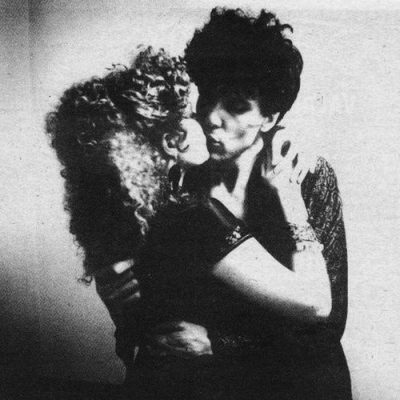 "I've never said no" said Colin. "Although I suppose I coined the name and established the brand, the purpose was only ever to preserve and celebrate the memory and music of Lux and The Cramps. I don't know if you could call it a franchise as I don't seek money for it, but if it gives people a bigger banner to make it work under then that's fine by me."
"Of course we weren't the only people in the world to think of putting on a Cramps night after Lux died, but we were – as far as I'm aware – the first. Also, many other nights hired in one 'proper' Cramps tribute act to perform all night. Tribute acts are one thing we've always avoided; they only bring THEIR take on The Cramps to the evening. Lux Lives is NOT a tribute night. It's a celebration of all things Lux; his music, his character, his legacy – and it takes the contributions of many people to make that happen. The best thing about it for me is when there are 200 people in the room and they all just get it. Doesn't matter if the band on stage at the time are punk, rockabilly or whatever, people just get it – the spirit of Lux and The Cramps."
Over the years Edinburgh has seen many other similar live tribute/celebratory nights, featuring the music of the likes of Joe Strummer and The Clash, and The Ramones, with short sets of cover versions performed by several local bands on one bill, but none have caught on and become annual events like Lux Lives. Given that these bands sold a lot more albums than The Cramps – how so? Cornelius – who took a back seat role in Lux Lives after 2010 – offers his opinion: "Not only were The Cramps a kick ass rock'n'roll band, they were fun, pure and simple fun. Sexy and sombre, but burlesque in its original sense if you like…. An original punk band, but one that paid homage to the trashy old vinyl recordings of the 'fifties and 'sixties that Lux and Ivy treasured and borrowed from. An oxymoron and certainly far from one-dimensional. Despite being a cult band, they certainly have a widespread appeal."
Alan Gemmell, guitarist with Glasgow's eclectic fuzzy-noise outfit, The Bucky Rage, stalwarts of Lux Lives on both sides of the country agreed: "The event endures because The Cramps covered so many great tunes. However many of these 'covers' were more like modern-day DJ mash-ups, ie they'd take a long lost rock'n'roll instrumental and add something else – either borrowed or original – to it. The Cramps did the hard work making it easy for us to do our own interpretations of these covers. It's always a fun night to play at because folks are always up for a good time."
No doubt some Mark E Smith farewell nights will be heading our way very soon, but in the meantime Lux Lives will be happening at McChuills in Glasgow, 40 High Street, tomorrow Friday 2nd February, 19.00 til midnight. And in Edinburgh, Saturday 3rd February, at The Franklin Rock N Roll Club, Leith Links Cricket Pavilion, 19.00 til 3 a.m.
Comments
Comments