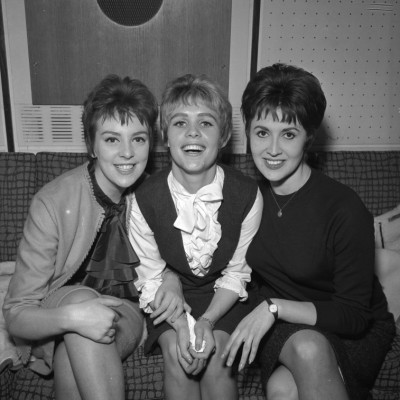 There were several versions of sometime Joe Meek and Burt Bacharach collaborator Charles Blackwell's mini Greek tragedy in words and music, but none can match the barely restrained melodrama of the 1965 original by the artist formerly known as Jean Owen. Owen had started out as one of the Vernons Girls, the sixteen-piece female choir founded at the Liverpool-based football pools firm, who appeared on TV rock show, Oh Boy! in the late '50s, and recorded albums for both Parlophone and Decca in a slimmed-down three-piece version.
Some former Vernons Girls went on to form splinter groups such as The Breakaways, The Pearls and The Ladybirds, who sang backing vocals on Jimi Hendrix's 'Hey Joe' before becoming stalwarts of The Benny Hill Show. Others married into rock and roll aristocracy, with The Breakaways Vicky Haseman wedding Joe Brown, while Joyce Smith got hitched to Marty Wilde, with both partnerships ensuring musical  dynasties continued with Sam Brown and Kim Wilde respectively.
Owen, meanwhile, embarked on what would prove to be a peripatetic solo career in 1964. Rebranded as Samantha Jones, she announced herself to the world in a TV duet with Long John Baldry, had two of her vocal performances feature on the soundtrack of The Vengeance of Fu Manchu and went on to become a Northern Soul favourite with her upbeat 1967 single, 'Surrounded By A Ray of Sunshine'. A U.S. only debut album went largely unnoticed in 1968, before Jones charted in Belgium and the Netherlands in a way that would have been ideal for Eurovision. She later popped up on the Morecambe and Wise Show, and had more success in Europe prior to working the cruise ship circuit.
It was Jones' second single, however, that should have really set 1965 alight. It starts as it means to go on, with an epic, kettledrum-led rendering of the chorus supported by equally strident backing vocalists warning her cheating beau to keep his distance. A moment of weakness follows as the song's protagonist steps back to contemplate the potential consequences of her own actions with a breathy gust of self-realisation which also sounds like a coy tease.
With such a high-pitched opening, it's as if the listener has stumbled into an argument that's already at full pelt before full exposition of the treacherous lover's crimes is delivered with hell-hath-no-fury defiance in the verses. These are sung directly to the villain of the piece without interruption, as couplets in a classic tragedy might be if they were accompanied by angry little castanet flourishes and a kitchen-sink arrangement punctuated by a solitary horn. Jones' delivery is an impeccable mix of light and shade, one minute overwrought, the next regaining composure to tell it how it like it is before giving vent to barely-controlled rage as the relationship roller-coaster goes off the rails once more.
One of the fascinating things about the song is the supporting narrative provided by the backing vocals, akin to a Greek Chorus. At first the female singers stand as one with their wronged best friend, providing girl-powered strength and support before hanging back during the first verse, presumably observing the to-and-fro of such a volatile monologue. Their interjections during the second verse, however, suggests a more critical conspiracy. Not as emotionally caught up in the moment as their soul sister, they are able to see through her self-protecting litany to the mixed messages of something altogether more vulnerable and contrary (This was changed, interestingly, on Allison Durbin's more soft-centred and submissive 1968 version, which transposed 'She' to 'I', suggesting the backing vocals were more  the conflicting voices of an interior monologue).
With such a tug of love sealing the heroine's fate, even as a repeated 'Baby, Baby Go Away' attempts to ward off temptation, the song ends as it begins, on a Sisyphean loop of hurt, rejection and anger in this most highly-charged and criminally neglected of Brit-girl break-up classics.
Comments
Comments