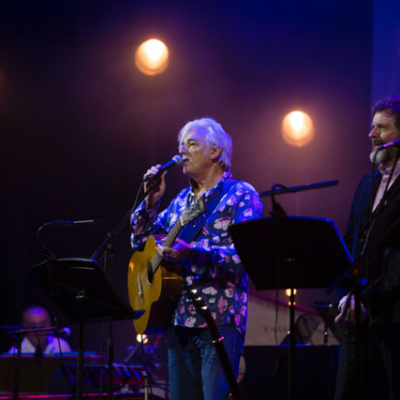 "Welcome to 1967," says Robyn Hitchcock at the opening of Edinburgh International Festival's all-star celebration of the group whose seminal albums, The 5,000 Spirits or the Layers of the Onion and The Hangman's Beautiful Daughter epitomised getting-your-head-together-in-the-country hippiedom. The Incredible String Band's central duo of Mike Heron and Robin Williamson also pursued the strangest strains of Caledonian psych-folk whimsy en route. Hitchcock is acting as a kind of MC as controlled chaos reigns amongst a cross-generational cast list that includes Barbara Dickson getting back to her folk roots, Scritti Politti's Green Gartside, Karine Polwart and Alasdair Roberts, among the vocalists. The far more together musical back-line features guitarist Neil McColl, world music maverick Justin Adams, penny whistle player Fraser Fifield and legendary bass player Danny Thompson amongst its line-up.
The gaggle of singers and players have just gathered onstage for an opening and slightly shambolic When the Music Starts to Play, with assorted ad hoc duos and trios gathered around microphones in a way that suggests they may have only met up earlier that day. Heron, the only original Incredible String Band member onstage, stands back from the throng, close to his daughter and spiritual ally in song Georgia Seddon, who plays keyboards. When Heron sings, it's a bit more wayward than it once was when he, Williamson and Clive Palmer were picked up in Edinburgh folk pub The Crown more than half a century ago by producer Joe Boyd, but nobody seems to mind in what looks like an extended pub session writ large.
It was Boyd who pulled together the supergroup for tonight in honour of the half century since the release of The 5,000 Spirits or the Layers of the Onion, and which follows on from a similar event on London's South Bank in 2009. He tells the story of his first trip to Edinburgh at the opening of the second half of this two-hour plus extravaganza, as he recounted impromptu shindigs with his host, Scottish folk legends Dolina Maclennan and George Brown, and being tutored in the nuances of malt whisky by Hamish Henderson in Sandy Bells, all before he stumbled across the nascent, pre Heron ISB at the Crown.
By this time the audience have had a pictorial as well as musical insight into this world by way of a slide show that runs above the band as they play. So when Hitchcock leads on Way Back in the 1960s, the evocative black and white images are possessed with an extra special resonance. Especially as those of an angelic looking Heron, Williamson and co looking suitably poetic alongside an ever expanding coterie of fellow travellers may well include some of the audience.
What follows is a bit of a charming guddle, as singers race on and off in turn, introducing the next act as they go. Hitchcock and Gartside become a comic double act for No Sleep Blues, nouveau folkster Sam Lee sings The Circle is Unbroken unaccompanied, and Heron himself weaves in and out of proceedings, dropping the odd vocal as he goes. In truth, heard live like this, the ISB back catalogue doesn't sound nearly as weird as it does on record, but it's a suitably communal experience that captures some of the era's idyllic concerns.
Once Boyd has said his piece, the second half is less hectic and more controlled. Withered Hand takes on The Hedgehog's Song, while Roberts leads a gorgeous Maya with Polwart and Dickson on backing vocals. Dickson's solo rendition of Empty Pocket Blues is as exquisite as Polwart's swoonsome version of October Song. Gartside precedes his honeyed contribution with a deadpan true life tale of how, after first seeing ISB live in 1971, his musical epiphany was cut short when, racing from the venue, he was knocked down by a bus.
Finally, the grand finale gathers everyone onstage for a massed rendition of A Very Cellular Song, which gave the nights its title. A surprise comes in the appearance of Rose Simpson, the former ISB member whose image of beatific long-haired wan-ness has graced the slide-show, but who now sports shades that causes her to resemble Yoko Ono. Simpson stands back as the song goes on, her stillness at odds with an increasingly delighted looking Heron, who finally steps forward to sing the song's final verses. At the centre of the musical universe onstage, his voice sounds stronger, powered both by the occasion and the legacy of his work that surrounds him still.
Comments
Comments