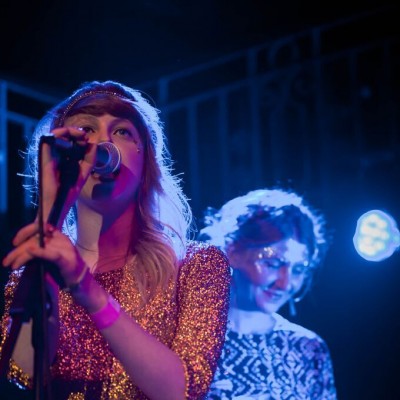 Turning thirty was a bigger deal than it should have been for Carla Easton – singer, songwriter and driving force behind all-female quartet, Teen Canteen. Instead of just ignoring the benchmark, or drowning her sorrows at her twenties' last hurrah, Easton decided to get pro-active. Roping in an A-Team of musical friends, including Eugene Kelly of The Vaselines, Duglas T. Stewart of the BMX Bandits and Norman Blake of Teenage Fanclub, Easton arranged a night designed to celebrate girl groups while raising funds for Scottish Women's Aid. And so The Girl Effect was born.
Those attending the sold out show at Edinburgh's Summerhall in May this year – organised in association with Summerhall's in-house promoters, Nothing Ever Happens Here – saw some fourteen acts  cover two songs apiece by female artists of their choice. These ranged from covers of classic '60s pop from the likes of The Ronettes and Martha Reeves, through to more recent groups like Destiny's Child and TLC, with the sounds of The Bangles and Joan Jett filling in the generational gaps. While Stewart and Blake tackled 'That Lonely Feeling' by '60s duo of Edinburgh sisters, The McKinleys, Stanley Odd played a mash-up of Betty Boo's 'Doin' The Do' and The Velvettes' 'Really Sayin' Something' – a song covered, in the '80s, by Bananarama. Stanley Odd also paid homage to Teen Canteen themselves, performing a version of the Glasgow band's debut single, Honey, setting the mood for the evening's final performance – Easton and Co's sublime take on The Ronettes' 'Be My Baby.'
With some £3,456.72 raised for Scottish Women's Aid, a sequel was inevitable, and tomorrow night sees Teen Canteen take the reins for The Girl Effect #2, at which a similarly stellar line-up including Kathryn Joseph, Jo Mango and Broken Records will embark on an even more eclectic live display of girl-pop at Mono in Glasgow. While just who's playing what is being kept under wraps, artists being covered are known to include Shakespears Sister, Shampoo and Girls Aloud, alongside classics by The Shangri-Las and The Marvelettes. Works by Sleater Kinney and contemporary Glasgow duo Honeyblood are also on the set list.
"I was really surprised when we first did it," says Easton, "because when we set out the parameters of two songs from any era and the definition of what a girl group could be, I thought it would be all '60s stuff that people would choose – but it wasn't – and that made it even more exciting."
cuts affect refuge centres and other lifelines for women suffering abuse, women with limited options and resources
With The Girl Effect modelled on various charity gigs Teen Canteen had played in Glasgow, Easton's decision to tag the event to Scottish Women's Aid came from reading about public funding cuts affecting refuge centres and other lifelines for women suffering domestic abuse, women with limited options and resources. "The cuts are affecting the most vulnerable people in society," Easton observes, "and I just thought it would be good to pull together a creative community to try and help, and to highlight some of the work that Scottish Women's Aid does."
The Girl Effect shows tie in with a recent rise in charity gigs, a modus operandi that hasn't been as visible since the '80s. While it's not hard to work out the ideological parallels between then and now with regards to governments forcing an entire underclass to live on the breadline, in the current climate of austerity, events like The Girl Effect seem to come with a more human face than of old.
 "I know Jamie from Broken Records who runs Nothing Ever Happens Here put on a couple of food bank benefits," says Easton, "and I think it's great when people pull together like that. It's always a bit awkward when you approach bands for something like The Girl Effect, because there's no fee, but because you're in a band yourself everybody gets what you're trying to do, and there's a shared understanding there."
Teen Canteen were formed by Easton and Sita Pieraccini in 2012, after their previous band, Futuristic Retro Champions, came to a natural end. With Easton on vocals and keyboards and Pieraccini on bass, the pair enlisted Deborah Smith and, after a couple of line-up changes, Chloe Philip of No More Tiger and BMX Bandits. Released on cassette by Neu! Reekie! in 2013, and gift-wrapped in honey-scented paper, their first single, Honey, generated a sound owing as much to the Glasgow music scene's extended indie-pop lineage as it did to the '60s groups which inspired The Girl Effect. It reproduced hues beloved by Easton ever since she heard rhythm-and-blues vocal trio The Cookies' 1963 version of Gerry Goffin and Carole King's 'Don't Say Nothin' Bad (About My Baby).' "I became obsessed by it," Easton says of the song, notable for its kiss-off line, 'So Girl You Better Shut Your Mouth', delivered with understated steel by lead singer Earl-Jean McCrea. "Listening to that and The Cookies' Greatest Hits, I wanted to know who they were, and who the other girl groups were. I wanted to know what became of them, and how all that made me feel. That whole era from '58 to '63 became my obsession, but there were other great bands from later as well, like Honey Cone and The Fuzz."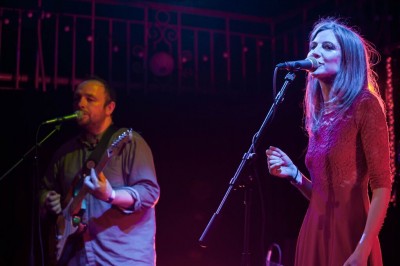 Easton's love affair with music had already begun earlier with the care of her elder brother, who conspired with her to keep her off school so that they could listen to The Stone Roses just released 1994 single, Love Spreads. She was eight years old. Having learnt to play both piano and the saxophone, Easton went on to study at Glasgow School of Art. There she began writing songs for Futuristic Retro Champions, taking on keyboards while Pieraccini sang lead vocal. Only as she developed more confidence as a writer did Easton move centre-stage, toward what now appears to be an increasingly mature canon of heart-on-sleeve pop romances. The inclusion of 'This is How We Met (Cherry Pie)' in the soundtrack of John McKay's bookish 2013 rom-com, Not Another Happy Ending, stands as the culminating point – a success accompanied by the self-release of Teen Canteen's second single, You're Still Mine, a 7" in frosted clear glitter vinyl, and its follow-up, Sister, put out on bubblegum pink cassettes in a limited edition of just 100.
This attention to detail with regards to presentation may stem from the band's art school roots, but it also speaks of the sense of self-determination pulsing through everything they do. Rather than jump into bed with a marketing-driven record label, Teen Canteen have, thus far at least, seized the means of production so that they're doing it on their own terms.
This extends to the recording of the band's forthcoming debut album, Sister, funded via a PledgeMusic campaign – which reached its target within forty-eight hours – with ten per cent of money raised again going to Scottish Women's Aid. The PledgeMusic campaign's success has not only given Easton, Pieraccini, Philip and Smith the breathing space to make the record at their own pace, it's also saw them connect with a fan-base in a way that old school major label management would be unlikely to allow.
We always wanted a big sound. People said we were twee, but I never thought we were  
"PledgeMusic has been great," says Easton. "It's allowed us to have complete creative control, to be able to do things to our schedule and cut out all the middle man stuff. We've also got some of the pledgers to come into the studio to do handclaps on the record, so it's brilliant to make contact with this community of people we've never met." Community is a word she uses a lot, both in the context of the band and in relation to the thinking behind The Girl Effect. "Having fans of the band helping us is great," she says, "and you really feel a responsibility to people who join the Teen Canteen family in that way." With a slew of other guests, such as The Cairn String Quartet, appearing on the album,
Sister
should signpost just how much Teen Canteen have developed from their earliest recordings – completed after only two practices – to a more expansive resonance, equally reminiscent of sounds as diverse as New Order and classic girl pop.
As the scope of Easton and Co's ambitions becomes increasingly panoramic, what remains crucial to their ethos is that all four voices that make up the band are heard. This, not just in the glorious harmonies that wrap each song up in such a sense of wonder, but also in terms of how they get the work out there. That's why the band's regular online communiques are signed off by all "Carla, Sita, Chloe and Debs," a term of endearment that makes them sound like a gang as much as a band, as tough and as tuneful as The Shangri-Las, an image of whom graces the poster for The Girl Effect #2. "I think we've always wanted a big sound," admits Easton. "Some people said we were twee, but I never thought we were."
I never thought that we'd end up on a film soundtrack and be in a position to put out an album and help support Scottish Women's Aid with all these people coming along to The Girl Effect
Beyond The Girl Effect #2 and the release of
Sister,
all of the band members are active in other spheres. Philip remains a member of the BMX Bandits, while Pieraccini will be performing her solo theatre piece,
Bird
, at the Manipulate festival of visual theatre in January. Meanwhile, Easton is working on a solo musical project under the alias Ette. Named in homage to first-generation Edinburgh punk band The Ettes, and suggestive also of The Ronettes, Ette sees Easton collaborating with Glasgow-based musician and producer Joe Kane. Titled Homemade Lemonade, their album is to be released on limited edition baby pink vinyl via Olive Grove Records, early next year. If the track-title 'Attack of The Soul Glam Cheerleaders (Parts 1 and 2)' is anything to go on, the album promises to be a hulking pop monster (!) With the release of
Sister
imminent, Teen Canteen are also signed up to play alongside Japanese girl group veterans Shonen Knife on the Scottish leg of their forthcoming tour. What's more, with the fortieth anniversary of Scottish Women's Aid coming up soon, don't rule out the possibility of The Girl Effect #3.
"It's all really quite exciting right now," says Easton. "From that first batch of recordings that we did, I never thought that we'd end up on a film soundtrack and be in a position where we can put out an album by ourselves, and help to support Scottish Women's Aid with all these people coming along to The Girl Effect. But we're in a position now where we've got all these songs to explore in our own time, and the band itself feels really strong just now. It's really great being in a band where harmonies become another instrument. It's really powerful. There's not really a better feeling than singing with close friends like that."
Teen Canteen present The Girl Effect #2 in Mono, Glasgow, tomorrow, November 26th.
Pictures courtesy of Kat Gollock.
http://www.scottishwomensaid.org.uk
Comments
Comments