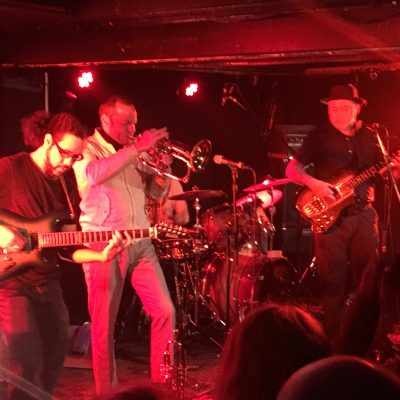 "Sometimes I feel like Nietzsche," says Jah Wobble as his latest edition of Invaders of the Heart break down a cover of Harry J All Stars' ska classic, The Liquidator, to its component parts. "Staring into the abyss. Sometimes it stares back." Coming midway through a two-hour set, the artist formerly known as John Wardle then tells a perfectly punch-lined Essex girl joke. He and the band follow up with a Rock School style masterclass in building the song back up to a 1970s Ladbroke Grove style dub meister-work. Such a showbiz routine may be a long way from the provocative theatrics of PiL, but Wobble, at least, has continued to absorb and expand a melting pot of post-punk musical styles over almost forty years of what he jokily calls the 'Jah Wobble canon.' This will no doubt have been in evidence a few days before this first show in an all too rare three-date Scottish sojourn, when Wobble took part in the Festival of Bass in Helensburgh. In an event to honour the 96th anniversary of late jazz maestro Charles Mingus' birth, Wobble formed part of a super-group that saw him playing alongside Herbie Flowers, Campbell Owens and others.
Such a keen sense of collaboration has been Wobble's raison d'etre throughout his Zelig-like career of peripatetic musical explorations over the last four decades. At various points during that time, his wall-shaking way with four-strings has provided rhythmic thunder alongside the likes of CAN rhythm section Jaki Leibezeit and Holger Czuky, Brian Eno and more recently Julie Campbell, aka electronic auteur LoneLady.
The last few years has seen Wobble revisit, reassess and ultimately reinvent his own past in his own multi-cultural image which has always pushed forward into third and fourth world territories. The pinnacle of this came on The Usual Suspects, Wobble and the Invaders' 2016 two-CD set of reimaginings of his own back-catalogue. Reinvigorated by a band made up of Martin Chung on guitar, George King on keyboards, drummer Marc Layton-Bennett and Sean Corby on celestial-sounding trumpet and flugelhorn, much of tonight's set is drawn from that record.
"I don't want you to be the best, Chungy," Wobble says with avuncular affection to his guitarist after asking for a chair in case he gets tired and 'fessing up to resenting his charge's youth. "I want you to be the longest, so pull your shoulder-blades out your pockets."
The opening Cosmic Blueprint is a jazz fusion work-out worthy of Bitches Brew-era Miles Davis. PiL's Socialist is given a drum n' bass kick in a cockily unrecognisable mash-up of squelchy sci-fi keyboards and spacey trumpet. This segues into a cover of John Barry's theme to Midnight Cowboy, the bass throb repetitions giving its airy melody a smattering of Twin Peaks style bump and grind menace. Throughout, Wobble points to each band member prior to their respective solos like a vintage dance hall band-leader.
More fusion work-outs see Wobble step onto percussion, before a dubbed-up take on Java sounds full of an eastern promise capitalised on even more on versions of Visions of You and Becoming More Like God. Sampled female vocals stay low in the mix, with the latter sounding funkier and more martial in intent. By the time we get to a groove-laden take on Public Image, his old band's calling card has taken on a new life which, like Fodderstompf that comes later, morphs into a stew of late-night downtown wigginess.
Wobble finally takes advantage of the chair for an instrumental version of PiL's Metal Box era classic, Poptones, in which a previously dark narrative of murder in the woods takes on a more chilled-out air, with electric keyboards and treated flugel-horn all riding over masterful bubble-and-crash rhythms.
"I want to play the part of Michael Caine," says Wobble prior to a version of Roy Budd's theme to 1970s Brit-noir flick, Get Carter, which sees him speak Caine's lines over the top of sampled dialogue. What follows twists and turns the original into an extended finale that points up Wobble and co's playfulness as much as their musical dexterity. With a new album due out next month in collaboration with MOMO (Music of Moroccan Origin) this decade-spanning live set is a primer for Wobble past, present and future that's tailor-made for the festival circuit.
Comments
Comments