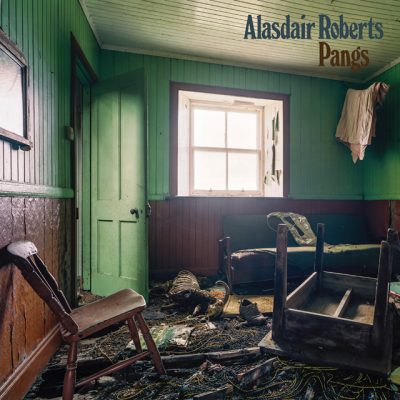 Alasdair Roberts – Pangs (Drag City)
If ever there was an artist you'd least expect to burst into a massed chorus of sha-la-las, it's Alasdair Roberts. Here, after all, is a singer, song-writer and musician steeped in a Scottish folk tradition forged by his Callandar roots, even as he found a kindred spirit in Will Oldham's similarly doleful backwoods laments. Under the name of Appendix Out, Roberts played the indie circuit with an ever changing line-up, and proved way ahead of the curve with the embrace of traditional music which has since permeated more mainstream culture. As the eight albums and other sundry releases under his own name have proved, however, Roberts is no tweed-sporting faux-folk flunky. Rather, his explorations and reconstructions of the arcane have sounded thrillingly contemporary, even as they looked to a more spectral past. Roberts' Oldham-produced 2005 No Earthly Man album may have been a collection of ancient murder ballads, but at times seemed to channel the Velvet Underground circa All Tomorrow's Parties, and did for folk music what Nick Cave has done for the Blues.
Things have leavened out a bit since then, but the sha-la-las – that most quintessentially twee indie singalong – on a song called The Angry Laughing God, no less, and the nearest thing to anything resembling a wig-out on Roberts' ninth collection, are still a surprise. It's a joyous one too, despite some of the downbeat themes of the album's ten songs.
The opening title track sets the tone with a jaunty invitation to a feast while awaiting an unspecified king to return across the border. Despite the electric guitar solo, Roberts's words and ascetic-sounding vocal are at odds with the modern world. It's a tone that runs throughout, with Roberts' ornate lexicon seemingly plucked from some unearthed medieval scroll. Recorded in Ireland, primarily with bassist Stevie Jones and drummer Alex Neilson, both stalwarts of numerous Glasgow-based bands, the album's low-key arrangements put flesh on the bones of the starkness of some of Roberts' lyricism.
While Roberts' guitar picking comes straight outta Trumpton, guests Debbie Armour, Tom Crossley, Rafe Fitzpatrick and Jessica Kerr add subtle textures of low-key chamber baroque by way of various shades of school assembly piano, cello, fiddle and female backing vocals. These give the songs ballast and lend them warmth which for the casual listener sheds a chink of light on what might be an otherwise austere world. On The Downward Road, whoops, yelps and even unlikely little synthesiser squiggles are in the mix.
As a collection, Pangs recalls the sort of 1970s Caledonian-tinged folk-rock that emanated out of cellar bars, but mercifully avoids some of the studio-bound bombast that came later. This makes for a rousing and beguiling excavation of traditions both ancient and modern, sha-la-las to the max.
Pangs is available at www.dragcity.com
Comments
Comments