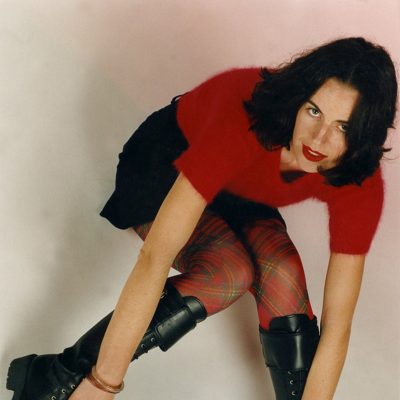 The Secret Goldfish – Petal Split (Creeping Bent)
It's kind of appropriate that it's taken the Secret Goldfish sixteen years to record a new album. For a band whose effusive garage-band punk pop has roots in post-Postcard C86 outfit Fizzbombs as much as 1960s girl-band bubblegum, this long-awaited follow-up to their Aqua-Pet and Mink Riots albums, with B-side and out-takes collection Jet Streams inbetween, is a coming of age of sorts. Not that there's anything remotely sulky or world-weary in this fresh-as-a-daisy ten-song set from a band tellingly named after an imaginary tome name-checked in The Catcher in the Rye, J.D. Salinger's iconic novel of adolescent angst. Penned in the main by singer Katy McCullars (pictured) and guitarist John Morose, with bass player Steven McSeveney and drummer Paul Turnbull providing ballast, roots are acknowledged by way of covers of Vic Godard and Edwyn Collins and an opening track written with Sexual Objects main-stays Davy Henderson and Simon Smeeton. The end result heralds the warmest return for this purest of pop bands.
The opening O. Pioneers sets the tone with Henderson and Smeeton's influence palpable from the off with some sing-song rawk guitar riffage before McCullars' breezes in with a high-pitched coo that that de-machoifies all that tough guy boys stuff. Amelia Star is a campfire litany of totems of a 1970s childhood worthy of a bank holiday nostalgia clip-show special.
Phonecall charts the yearning of a long-distance love affair that's as chirpy as a prom-night teenage musical. X is a moody thrashabout possessed with a turbo-charged chorus that cops its swagger from pre-chart Blondie snarl before racing off down the highway. On Winter Tears #2, acoustic guitar and glockenspiel usher in a swoonsome slow-dance ballad which, like Amelia Star, recalls prime era Saint Etienne with a similar middle youth style look back in languor.
McCullers, Morose and co's take on Vic Godard's Outrageous Things, a song Godard first put to tape on his 1998 Long Term Side Effect album is a thing of joy. Guitars jangle and shimmer while organs burble and wheeze as the gang appear to take stock of the aftermath of something unmentionable.
Good Kissers would sit well in the same make-believe musical as Phonecall before finishing with a flourish worthy of the outro of Orange Juice's Consolation Prize. El Capitan Yi Mi is a package tour romance which at one point lifts the mandolin introduction from Rod Stewart's Maggie May. A Different Game is a shimmy-tastic we-can-all-join-in playground anthem punctuated by velveteen Jerry Lee Lewis piano stabs.
Finally, a cover of Edwyn Collins' Ain't That Always the Way lends an already lovely song an even more fragile beauty that leaves you sighing. Clocking in at just under half an hour, Petal Split is summer-seasoned indie-pop at its most timelessly sublime.
Petal Split is available at www.creepingbent.org
Comments
Comments