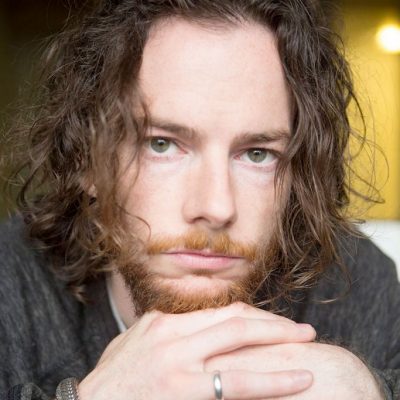 2017 marks the breakthrough for actor Jamie Robson. After starring in a string of music videos and shorts, Edinburgh-based Robson this year delivers a trio of lead performances in intriguing films, collaborating with both prodigious talents and celebrated film makers. In Not Required Back, director Peter Marsden's surreal study of the Scottish oil industry, he portrays a recently unemployed oil worker with mental health issues. Blue Christmas finds Robson's troubled debt collector struggling to face his reality in the Edinburgh of 1970. Directed by Sundance award-winner Charlotte Wells, it also has renowned cinematographer Robbie Ryan ('Red Road', 'I, Daniel Blake' and 'American Honey') on board. Lastly, in Wayne Mazadza's Rubix Cube Theory, Robson plays a troubled father, this time stumbling through a dystopian world with his dying daughter.
After struggling at school in Thornhill, Robson made it onto a film making course in Glasgow. "That was a big deal for me. The idea of going to college was difficult and frightening in a way because I was very aware of my difficulties at school, but I really felt that studying film was the only thing I was interested in doing – I was very lucky that my Dad supported me in that. So I studied film production and various acting modules and classes. Over time I felt disillusioned with the lack of drive or passion for film by the people on the course and maybe just uncertain of what I wanted to do."
Increasingly interested in spirituality, holism and health, Robson embarked on epic wanderings across the world in search of fresh perspectives. "I decided to go off and travel – I studied everything from yoga to tai chi, meditation to religion. I went all over South East Asia, Europe, the US and South America training with several teachers in various disciplines." He would return to Scotland to fortify his ailing finances working in bars, restaurants or building sites, saving up to hit the road once more. "After teaching for a while I got more involved in the world of dance, circus, performance art and that eventually took me back to acting and film."
For Robson, acting is redemptive and transformative. "Ironically I studied film and acting, gave it up because film and acting highlighted issues I wanted to address to pursue holism and spirituality, meditation and movement and then, when I came full circle back into film and acting, I found acting the greatest form of catharsis, the greatest spiritual process" – he laughs, suddenly aware at how this might come over – "not in a self-indulgent or grandiose way. Just the fact that if you don't understand yourself sufficiently how can you understand the character you're portraying, or do that character justice?"
Fine actors skillfully bring real life experience to the day job, but something of Robson's perspective and the gravitas he discovered on his expansive wanderings, sets him apart. Judge for yourself in any of his forthcoming features set for release in 2018.
Comments
Comments