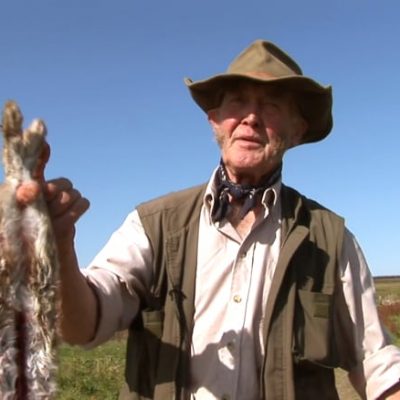 There's a moment in David Graham Scott's cinematic swansong when the immaculately deadpanned irony almost becomes too much to bear. The film's premise is the central trope for our trigger-warned times; shorthand for an industry raped by nepotism, rampant plagiarism and commercial platitudes, a synecdoche in fact, for an entire culture hobbled by self-censorship and congruent banality. Scott, a lifelong militant Vegan, former drug addict and underground film-maker, is documenting Highland gamekeeper and ex-mercenary Guy Wallace on one final safari. But despite the mega-quake, tectonically awkward clash in world views, Scott's deceptively bumbling interlocutor unearths more commonality than is at first evident. So far, so Baudrilliard: the play of signification is a thematic blur of double-meaning, metaphor and self-referential double-take.
Even the rigorously vegetable-loving Scott cannot stop himself from being drawn into the sly drama of his own devising and begins to lust after the demise of their quarry – rather decrepit Cape buffalo, one of the so-called Big Five of game hunting which also includes lions, leopards, rhinos and elephants.
And as Wallace bonds with the locals through a combination of not so much dog-whistle as fog-horn politics, heavy drinking and casual racism in between the gunplay, the two develop a grudging rapport.
Despite such potentially heavy-handed caricatures, Scott's occasionally stately pacing and quasi-slapstick Socratic method allows him to build a more nuanced portrait of his ostensible subject(s).
Both are taking one last desperate throw of the dice as they face the irrelevance of old age and watch their mutual careers slide into the vacuum of indifference and anachronism: step over the author's rotting corpse if you must, but know that Scott announced his intention to quit film-making even as The End of the Game premiered at the 2017 Glasgow Film Festival while, quite simply, Wallace's lifestyle does not prognosticate longevity.
Both are a dying breed – Scott with his previous films courageously documenting his psychedelic struggles with heroin, Wallace with his self-imposed exile to the squalor of a caravan with a talking parrot on the Caithness moors – embody a lonely integrity, that of the great British eccentric.
Both are Scots. And there you have it.
Critical reception for the film was sadly muted for what is arguably his best film, certainly his most polished, the mature work of an artist at the height of his powers and the pinnacle of three decades of prize-winning documentary-making.
While other, less talented contemporaries reap the rewards of such dedication to their craft, a disillusioned Scott has abandoned the medium as a near unknown.
That's controversial.
If this was New York, Scott's films would be running back-to-back in all night Times Square fleapits, his pictures – he is a talented painter – would be fetching heavy dough in smart Tribeca galleries and Wallace would have his own TV show.
If this was almost anywhere else, Scott would be a national treasure or cult hero at least.
Instead we have BBC Scotland. Initially enthusiastic, the film was slated for broadcast only to be shelved for a year before finally admitting it 'wasn't interested'
As the credits roll, you find yourself wishing for more of his brand of unflinching honesty; no matter how tongue-in-cheek, how ironic, how controversial. That at least would be interesting.
Comments
Comments