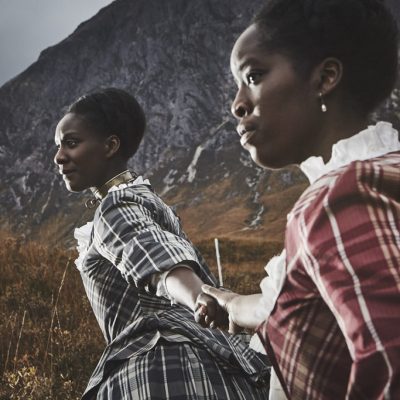 1745 (2017)
Director: Gordon Napier
Writer: Morayo Akandé
Stars: Moyo Akandé, Morayo Akandé, Clive Russell. Two sisters torn from their home in Nigeria and sold into slavery try to elude their master in the perilous Scottish Highlands.
Scotland's own escaped slave story clashes the exposed and weather-beaten wilds of the Highlands with two vulnerable women, dwarfed by the elements, cowed by the abuses of slavery, and on a mission that must surely fail. It's intensely dramatic. Certainly, the predicament is human, and the characters are instantly recognisable, as is the formidable milieu. This short film looks and feels like the kernel of something huge. The idea of patriarchal violence and control is common to more than just a handful of 2018's Scottish shorts, but never seems better justified as a trope than here. This is down to the fine art of understatement, and the power of ideas, rather than just presenting the males as effectual and wicked thugs. For a short film with so much on offer and so much to explore, 1745 does spend a lot of time splashing about on muddy moors, bogs and rivers. It has no less than two scenes of aquatic photography, and a good share of film-as-comfort Scotland by drone style film production. But then this really does allow the viewers to feel the pain, the exhaustion, and the cold. That's a great effect.
The power of song, for forming a bond of comfort between women is contrasted here with thunder, and the descant of dripping cave water combines with a beautiful continent-shifting scene. 1745 isn't a historic drama, although it manages to conjure the historic setting out of very little ― merely some great acting. It's a film that wants you to feel, and not think ― and yet it's completely engrossing also as a drama, and has an absolutely terrific climax and final curtain, which will glue any viewer to any seat. If you haven't seen this, it comes highly recommended for its power, artistry and the brilliant range of emotions it inspires ― and not just by me. A must see. 
12 Point Kill (2018)
Director: Iain Mitchell
Writer: Iain Mitchell
Stars: Shauna Macdonald, Keith McErlean, Lauren Grace. The hunted becomes the hunter as a young girl takes revenge on her abusive stepfather.
Making as good use of Scottish location shooting as any of the other films discussed on this page ― certainly 1745 ― 12 Point Kill features a caravan dwelling society somewhere in the scenic backwoods of Hell, where bleak visions and overt misery are the flavour in the air ― perhaps somewhat predictably in the figure of a bullying and abusive patriarch.  Bleak doesn't actually cover it. All the patriarch wants of his step-daughter is that she learn to butcher deer, although we don't know why we are hunting the animals to begin with. Surely it isn't sport ― in fact the suggestion is that society has broken down, and so what's left of the community favours its strongest and most bullying males. The cast are great, and Shauna Macdonald scrubs down very well, as does Keith McErlean, both of whom seem too alarmingly good looking for this vile, broken down Highland perdition. In a world that is as ugly as can be, the power of song is here profiled as all that may be left to bond women in a nightmare place of torment run by violent male overlords.
Even though 12 Point Kill is dark, chilling, overboard and fantastical, it isn't quite clear what kind of damnable society it's trying to represent ― other than our own, presumed in metaphor. Meantime, it gets by admirably on the horrific idea of a place where there is no society at all, no social net and fear is the only motivation and currency. A 'Mary Sue' character is a term used to describe a fictional persona, who has powers and skills that seem to leap from nowhere. There is an element of that kind of characterisation here in the shy and downtrodden teenager taking on the seasoned hunter. But this is film and not real life, and so here abused young people can triumph over those with the will to kill, and we can enjoy it when they do. But as for what kind of rural nightmare this short picture presents as society, that's less clear. On the other hand, 12 Point Kill does, in a way, amply defy  trends in history and in contemporary life that are hopefully about to take a similar knock.
Blindsided (2018)
Director: Tom Gentle
Writer: Tom Gentle
Stars: Hamish Adams-Cairns, Joe Rising, Robert Williamson. When Will is dumbfounded by the worst news imaginable, his friend Rupert is first to pick up the phone. The unlikely pair embark on an impulsive Highland road trip. 
Blindsided is a film about one of the saddest forms of cancer, an ocular melanoma, and its occurrence in a relatively young man, who's in his 20s. It's also a film about men's lack of communication skills on emotional and health matters, and takes a fairly long time to communicate that ― and although it does so well, it does so to distraction at times. On getting the bad news, Tom Gentle's young man can't even pronounce what he has, far less process it, and so he opts to hide the news from his girlfriend and chooses a road trip with the most annoying friend in the world. Before they speed off on their trip, Tom Gentle looks at the car they are about to drive off in and says aloud what everyone might have been thinking: "I still think this is a terrible idea."
As that plays out, we witness a prolonged stab at portraying men trying to discuss serious illness, and how that combines with toilet humour ― although I'm not sure it does. The men's lack of even the most basic medical knowledge, and even the most basic knowledge of English, becomes wearing. Twenty-three minutes is a long time on film, and so for this to be as undramatic as it is, might lead patrons to shift in their seat, from side to side, nervously waiting for the men to grasp the nettle and explain themselves, or just grow up.  The medical team dealing with Tom's cancer are an anachronism, and the unfeeling rudeness of 27-year-old men in general, feels like the same.  The NHS doctors seem to be something from a 1950s comedy, and although a drama about illness will often dehumanise healthcare for dramatic effect, it isn't clear why the health professionals are also so uncaring and gleefully ignorant. Although longer than any other short film this week, Blindsided does rescue itself from drifting attention with a macabre finale ― of sorts. It could have just done with ten minutes shaved away from it, however, and then something fairly powerful and engaging would have quickly emerged.
Comments
Comments