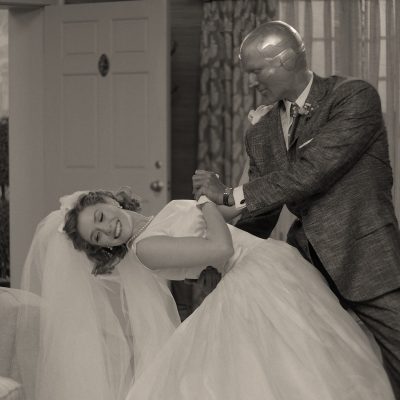 You can watch WandaVision, transfixed, from the comfort of your sofa, but the eclectic style that leaps from episode to episode, seems to captivate audiences across all ages and genres. From those who watched I Love Lucy in the '50s to millennials who grew up with Bryan Cranston in Malcolm in the Middle pre-Walter White era, the show has become a beguiling, rollercoaster ride of intrigue and delicious nostalgia. Beginning in a classic '50s household setting, episode one opens with a black and white screen and canned laughter in the background to boot. As an audience, we have no idea what's going on – Wanda and Vision have jumped back in time and are performing for the camera. Little hints are dropped here and there that something bigger than a sitcom is gracing our screens but also sprinkles around just enough clues to keep us wondering. In its first outing, the main mystery of the episode is being kept under wraps, it shuffles in a sitcom-style storyline to carry the half hour. Vision (Paul Bettany) invites his employer over for dinner hoping to impress him, only for Wanda's magical powers to constantly create strange occurrences in their house while their increasingly confused guests eat dinner. There's even a cameo from Debra Jo Rupp, who played the wonderful matriarch Kitty Forman in That '70s Show, another sitcom that revels in the heyday of a bygone era. Obvious comparisons to WandaVision can be drawn here, but this clever casting allows the audience to settle into the theme of each episode – for it to be suddenly interrupted. Each episode kickstarts in a different decade, there's been a quick outfit change and we get closer to present day – and closer to Wanda's true motivations.
By playing on the sitcom formula with sinister double meanings hidden in corny jokes, WandaVision gradually slips into replicating these sitcom tropes seriously. At the end of episode five, when Wanda (Elizabeth Olsen) opens the door to her supposedly dead brother, Pietro Maximoff (an entertaining Evan Peters) in a New York tawk-ing skin, the studio audience gasps and cheers. Darcy (Kat Dennings, fun and kooky as ever) even shouts 'she recast Pietro!' on the audience's behalf. Since the character was played by Aaron Taylor Johnson on the big screen, there's an interesting awareness that the MCU is staged, just as Wanda knows that her world is a fabrication. This suspension of disbelief is what makes sitcoms tick.
The latest episode, 'Previously On' metamorphises the show one more time. The façade has fallen away and Wanda divulges the depths of her psychological trauma to her neighbour, Agatha (Kathryn Hahn). This packs a punch differently to the initial goofy episode as it's revealed that Wanda's pain has spilled over to create a neighbourhood entirely under her control. A flashback reminds her of watching The Dick Van Dyke Show with her family before their untimely deaths. That, coupled with losing Vision in Marvel's Infinity War, means Wanda is heavily grieving. This proves to be more of an explanatory episode before the final action-packed showdown today (!)  but is ultimately more important to the story. Underneath the silliness of parodying sitcoms, there's a beautiful allegory surrounding mental health at the core of the show. Studies have shown that watching the same TV shows repeatedly is a form of autobiographical nostalgia – by watching Friends or Modern Family over and over again, audiences are transported back to a specific point, like you're watching it for the first time. Wanda's longing for these memories has been projected onto a screen for us all to see for ourselves. Ironically, it has created a safe space that we can potentially return to again and again for comfort.
As mind-blowing as Wanda is with her magical prowess, Elizabeth Olsen has soared beyond her character's talent to parade a myriad of emotions. Embodying the skeletons of TV housewives throughout history, Olsen has made each one her own unique character. In an exciting turn of events, supporting characters have joined for the next chapter. In one  corner, we have Monica Rambeau (Teyonah Parris) who has mutated into a superhero and whose true power is being stashed away for episode nine's face-off. Literally stealing the show from Wanda, Agatha's bewitching sing song-y skits have proved to be the tastiest treat all along. Maybe WandaVision is gearing up for new Marvel content (most recently rumoured, the Doctor Strange sequel) here, but it has enough integrity to be a stand-alone series, allowing the viewer to stay on the inside of Wanda's vision.
One thing is for certain: watching WandaVision week by week has been a pure joy. It has broken the rigid structure that the Marvel universe was stuck in, and then shattered it. Completely revitalising a billion dollar franchise and much-loved sitcoms in one dazzling nine-episode arc is no mean feat.
The final episode of WandaVision drops on Disney+ on Friday 5th March.
Comments
Comments