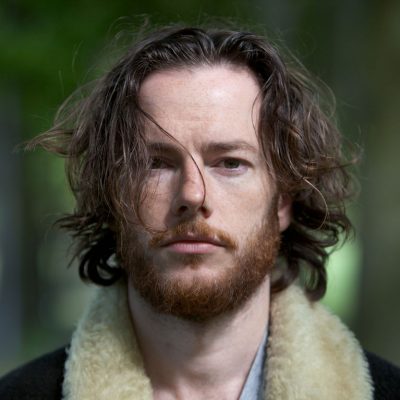 What was your childhood like?
I grew up in Thornhill, a village of Dumfries and Galloway. I was raised by my father. It wasn't a typical childhood, but it worked out well. Before I was a teenager, I spent a lot of time on my own, outdoors climbing trees and exploring, indoors playing consoles and drawing, so I became self-reliant, not a team-player. This in turn made me anxious socially as a teenager. For a while I couldn't find my footing in groups. Subsequently I used to mirror and impersonate people's behaviour in order to fit in, as a blueprint for how to behave and survive social situations. Years later, I read Brando describe acting as being a "social lubricant" and that we all do it (not just actors) through necessity – I'd realised that myself as a youth.
How did you get into acting?
Working on a building site at seventeen, I decided the only thing I was interested in was movies, so I applied to study filmmaking in Glasgow. However, midway into the course I quit to travel, ending up in South-East Asia studying meditation and spirituality, in an attempt to better understand myself. Later, I'd do the occasional television commercial, modelling gig and music video, before playing around with friends at making short scenes. These were not even short-films but "short-scenes" of simple objective and dialogue. This is what started my professional relationship with filmmaker Peter Marsden. Pete was a close friend transitioning from a career in fine-art and photography into writing and directing. We played, explored and experimented with film-theory and production, with one memorable result being the now infamous 'Tesco-Tapes'. The first completed film we made (and the first film I starred in) was Not Required Back which only cost about £300 to make. The world-premiere was at the BFI International Film Festival in London. It unanimously received good reviews. We are now co-writing his first feature. That's my circuitous journey into being an actor.
Which famous directors and actors do you most admire?
The list of directors who inspire me includes Turkish filmmaker Yilmaz Güney, Andrei Tarkovsky from Russia, Antonioni, Agnès Varda, Kubrick, Kiarostami from Iran, Coppola and Paul Thomas Anderson. I'd also highlight the auteur Mark Cousins who I'm proud to call a friend. They all have an approach to filmmaking that's well-suited to actors. They seem to create a suitable environment for the "actioning" to take place. When you watch their movies, it feels that the cast had permission to explore application of the writing and to experiment with how they achieve goals within each scene. With regards to actors I admire, one particular hero of mine is the Polish mystery Ryszard Cieślak, a disciple of Jerzy Grotowski. Then there's Willem Dafoe, Daniel Day-Lewis, Amy Adams, Louise Brooks (an early naturalistic pioneer), Charles Laughton…..
Why is cinema important to you?
Film was my education and friend as a youth. It still has that power to inform, inspire or challenge me. Cinema is the church of film. It's where we all adopt a more mindful state: phones off, lights off, mouth shut, eyes open – I love it. I'm not an overt advocate of television, movies at home or small screen viewing. I think cinemas need protection, particularly independent ones. It's important to be silent in the auditorium, to show respect for both cast and crew, allowing their work to be recognised. Everyone in the audience is in their own private world of fantasy and escapism. Etiquette preserves this state of bliss – nuances are witnessed. However, I equally believe that 'outside' of the screening, there should be platforms for noise, chaos, discussion and debate. This is why workshops, introductions, Q and As are needed before and after screenings, to "frame the silence with activity". I've had fascinating conversations about this subject recently with Amanda Rogers from Cinetopia.
What's your creative process when working with Scottish director Charlotte Wells?
Charlotte has previously won at Sundance, BAFTA and SXSW. She cast me in Blue Christmas (2017) which premiered at Sundance 2018 and went on to collect many awards. Charlotte's a wonderful person. As a director, her approach suited perfectly. We talk endlessly when we get together. She's currently in New York but moving back to Scotland to develop a feature with me. We're both fascinated about the effect the writing has on an audience. Charlotte merges life and art. She uses creativity as a way to better understand the world, so her stories are often semi-biographical and analogous.
Tell us about working on My Loneliness is Killing Me.
It's a short which examines fidelity and isolation, set against the backdrop of a chance meeting one night. The team approached me with a script and I immediately realised the responsibility I would be taking on with the role of Jack. I spoke to writers and journalist friends, to get a broader interpretation of the screenplay and how I should overcome the character's obstacles. I really wanted to make Jack animalistic so I researched throughly, gained weight and muscle to materialise how I envisioned him. I thoroughly enjoyed working with the director Tim Courtney and we're now developing a feature together.
And your first feature, Spin State, is out next year.
Director Ross A. Wilson is best described as a "courageous filmmaker" and not only a wonderful director but also a brilliant writer. He's courageous because he does what most only talk about or delay until the bureaucratic "security" of public "support" permit them. Spin State (also his first feature) explores love, loss, truth and physics. It's a neo-noir drama with a sophisticated presentation of emotions. When I read the script, I was greatly impressed by his efficiency, almost journalistic in nature. Without cutting corners, he managed exposition elegantly.
What advice would you give first time film makers?
Make the film you want to make, don't worry about pleasing the industry, because if you make films, you are the industry. You will always sell tickets if your work is good, but you can't reach everyone so don't dumb down the material in an attempt to draw a broader attendance, treat your audience with respect. Film is an art form – no different from painting and sculpture, so manage it similarly. Your reputation is everything. Be careful what canvas you sign. Also, study the other disciplines for ideas – look at Caravaggio for lighting and grading, look at Michelangelo for composition and shape, read Langston Hughes and Walt Whitman for dialogue and exposition.
Who should Scotland emulate in terms of developing a vibrant film culture, and why? 
French cinema could be a great blueprint for the Scottish industry. Lower budgeted, independent, features exploring humanity, relationships, society, existentialism… Put less emphasis on international distribution and instead draw people into Scottish cinemas to see Scottish films on a weekly basis, while charging less. France lacks that Calvinistic "dinny get ower yer station in life" mentality that Scotland chronically suffers from. There's often a toxic competitiveness that could be replaced with mutual celebration. Scotland has a sophisticated historical and political climate, a pioneering creative industry and diverse society – we have a tremendous wealth to offer each other and indeed the world. I think I'll die if I see another cheeky-chappy banging on about "irun broo" and "fitbaw" in a Scottish film. Ironically, those who churn out the tartan-tourism or poverty-porn are often well educated and middle-class. People who genuinely struggle, usually want to rise out of that situation, not revel in it. My father's from an extremely working-class background and I was the first in my entire family history to attempt higher education, so I find some interpretations of Scottish society offensive and voyeuristic. That's why Blue Christmas was special for me – watch it again, look at the body language, the mannerisms, how cigarettes are held, how coats are buttoned – it's a French film set in Ecosse!
Comments
Comments