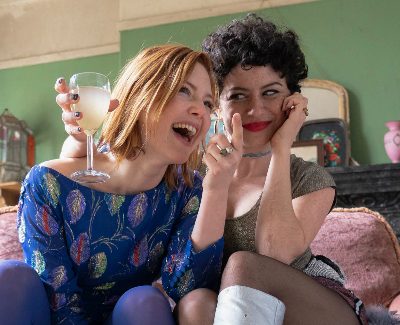 While there's definitely a fresh push for female-orientated cinema, the concept of seeing real portrayals of women is so rare that they might as well be slotted into the fantasy genre. Instead, we have to settle for flimsy female characterisation. Where there's a succinct understanding of a woman's purpose as far as their male counterparts are concerned, they forget themselves. Trailers for Tarantino's explosive Once Upon A Time In Hollywood suggest Margot Robbie's the female lead, but all in all she's afforded less than twenty lines of dialogue. Robbie has proved her acting talent in films such as Mary Queen of Scots, The Wolf of Wall Street and I, Tonya, so you can't help but feel that she was underused here. Hollywood leaves the impression that equal screen time is for promotional value only, not actually extending to the film itself. The industry's tendency to churn out an unlimited supply of strong, fully-formed men begs the question: where are these powerful, well-rounded women that we were promised?
Enter Sophie Hyde's Animals, an unapologetic look at modern-day women. Based on the novel by Emma Jane Unsworth, it's a refreshing portrayal of the normalcy of women that pinpoints their imperfections and flaws from the get-go. Holliday Grainger and Alia Shawkat's fiery chemistry takes centre stage as Animals throws us into the boozy, resilient friendship between Laura and Tyler. The romantic element of this film is secondary to the bond between these two women. Immersed in a debauched lifestyle, their metropolitan surroundings create a heightened sense of freedom and allows them to unashamedly do as they please. The objective of these characters is not to be likeable and appealing to the audience, and this gives them an honest edge.
Throughout the film the expectation for female characters to navigate their lives towards marriage and kids is debated. While Tyler is adamant that this is exactly the kind of lifestyle she doesn't want, Laura's not so sure. Nevertheless, her uncertainty is rooted in her femininity as she decides she's 'blazing a new way through old tradition'. She chooses the prospect of marriage and everything that comes with it – her idea of monogamy is on her own terms. Even more reassuring is that when Laura experiments with motherhood (there's a particularly funny scene in which she tries to settle her sister's new born baby), she's no natural. She's dedicated to the prospect of marriage and family, with her hedonistic thrills still intact. Animals rebukes the gendered concept of being one or the other. It's not dismissing women living a hedonistic lifestyle – crucially, it gives them the option.
On the small screen, there are an increasing amount of women being put to the front, with a personality and a backstory. The much adored Fleabag, GameFace, and Catastrophe provide audiences with well-rounded female characters, rather than unceremoniously placing them as a side dish to James Bond's martini. None of these women are trying to impress anybody, and it's is this rawness and honesty which makes them loveable.
Animals is a striking watch for this reason – it's not on a mission to teach women a lesson. Rather it's based on a route to self-discovery and reveals what every women has thought and struggled to articulate. What Hyde has converted to the screen coherently summarises the chaos and confusion of being a young woman now. Permissibly this confusion stemmed from older romantic comedies brought to us from judgemental male gazes. John Hughes's Sixteen Candles starts with a high school sophomore, Sam, fearing that her long-time crush will discover how sexually inexperienced she is. The plot escalates into a trajectory exhibiting men's predatory nature, as her crush ditches his intoxicated girlfriend by passing her off to a fellow high schooler. While boasting about all the ways he can 'violate' his ex, he opts for Sam, the purer, more sober choice. The takeaway is that men can behave badly, but it would be fatal for a woman to do the same.
Animals brings these all-important themes to the surface as Laura and Tyler try to find their voice and purpose, while simultaneously helping to give viewers theirs. So here it is: female flaws, fully exposed for all to see.
With other summer hits such as Lorene Scafaria's Hustlers, Hollywood seems to be getting to grips of female reality, slowly but surely. Hustlers storms through any feminist subtleties by showcasing a confident all-female cast, based on a group of sex workers with a director that refuses to show them in a distasteful manner. This noticeably contrasts from the 1990 film, Pretty Woman, where Julia Roberts is the only sex worker whose beauty and wit is deemed worth rescuing from the streets of New York. Girls, become a prostitute and a wealthy, charming man will surely fall in love with you! It's encouraging that films like Animals and Hustlers go beyond simply ticking the box of inclusivity. That's not say that every female character has to be inherently feminist from now on. This is a new era of cinema in which we can celebrate every type of woman as they are. Take that Tarantino.
Comments
Comments