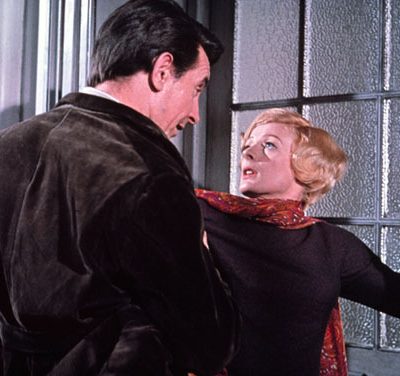 Few people are aware that the 1969 film version of The Prime of Miss Jean Brodie was adapted from Jay Presson Allen's stage play rather than directly from Muriel Spark's 1961 novel. The play had had successful runs in the West End of London and on Broadway, with Vanessa Redgrave and Zoe Caldwell in the central role respectively (Caldwell would win a Tony for her performances). Presson Allen was then asked to write the screenplay for the film. Set over a shorter period of time, and with more obvious set-pieces, (particularly concerning the 'gerls' of The Brodie Set), and characters painted with much broader strokes than in Spark's original, these degrees of separation perhaps go some way to explaining the noticeable differences between book and film. However, what they share is a blackly comedic tone, more subversive and controversial than many may expect, particularly if you aren't aware of Spark's writing. The film's trailer, which you can watch below, has a light-hearted feel and a straight-laced voiceover that suggests 20th Century Fox wasn't sure of the tone of either. With themes of sexual openness and awakening, teenage nudity, and the dangers of fascism all central to the story, and all taking place on the serene streets of Edinburgh, it's perhaps understandable.
The film is almost overbalanced by an incredible central performance from Maggie Smith as Jean Brodie, for which she won a Best Actress Oscar. It is such a tour de force that the story, and its accompanying questions of morality, can be lost. There's a scene, which is previewed in the trailer, where fellow teachers spy upon Brodie and her set. She is described as being "so extreme". That's exactly what she is, and so is Maggie Smith's performance.
It's interesting again to consider that the structure of the film comes from the stage version as there is initially a sense of Smith playing to the back of the stalls. However, once things are underway we begin to see Brodie's vulnerabilities and fears, and the portrayal becomes something else entirely. Smith's Jean Brodie is the film's greatest triumph, but also its greatest problem. There is no doubt that it steals the film, but you almost have to get beyond this bravura performance to enjoy the film fully, and there are others who are well worthy of your attention.
Muriel Spark writes characters who should be unlikeable, but are nonetheless fascinating, and in this case the cast do her creations justice. If you take their actions away from the performances then we shouldn't really care for any of them. Brodie's faults and foibles are too numerous to mention. She ticks almost all of the seven deadly sins, but the other main players display their own fatal flaws. Robert Stephen's art teacher lothario, Teddy Lloyd, is a horror of a man, cheating not only on his wife, but also Brodie, with little regard for any consequences. However, like Brodie, he is (almost) as attractive to the audience as he is to the teacher and by extension her girls.
Gordon Jackson's Mr Lowther is feckless and weak, headmistress Miss Mackay (Celia Johnson) overly proud and pompous, Mary McGregor's stupidity is legendary in the school and to those familiar with the book, and all the other girls deliberately represent aspects of Jean Brodie's make-up. That's the way they've been taught to be.
Even our supposed heroine, Sandy Stranger, beautifully played by Pamela Franklin, has questionable reasons for her subsequent betrayal. She is the Judas of the Brodie set, but is it because she wants to save others from the clutches of Jean Brodie, or more complex reasons of jealousy and revenge? The two women's relationship is the most important one in book and film. Theirs is a bond of love and hate – a Greek tragedy with all that entails.
If you've never seen this version of The Prime Of Miss Jean Brodie then you really must. If you have then I would urge you to watch it again as subsequent viewings offer up new insights each time, such as the use of colour and costume. But, no matter the format, the story is pure Muriel Spark, examining loyalty, betrayal, guilt, duty, responsibility and questions of nature versus nurture. To borrow from Rogers and Hammerstein's South Pacific, the subtext of The Prime Of Miss Jean Brodie could be summarised by the phrase "You've got to be carefully taught".
Here's the trailer, but there are some spoilers:

Alistair Braidwood will be presenting a showing of The Prime Of Miss Jean Brodie at the Edinburgh Filmhouse at 6pm, Thursday 5th April, as part of the Muriel Spark 100 Celebrations.
You can buy tickets here – http://www.filmhousecinema.com/index.php/showing/prime-miss-jean-brodie
He runs the excellent Scottish cultural website Scots Whay Hae! and hosts the accompanying podcast of the same name. Have a read here:
Follow SWH on Twitter: @ScotsWhayHae
Comments
Comments