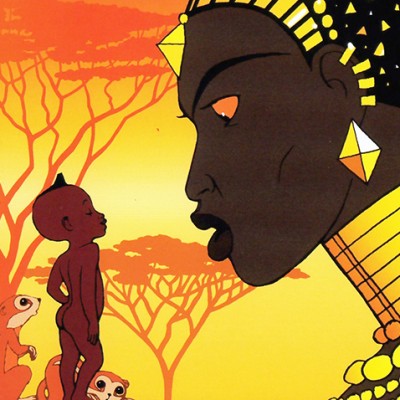 Africa is often misrepresented in media, reduced to that one single word to try and convey an entire land of stunning diversity, where somehow Cape Town, Lagos and Cairo are all the same because they belong to one gigantic land mass. In refreshing contrast, Africa In Motion Film Festival (AIM) is a celebration of cinema that showcases so much of what the continent has to offer and determinedly refuses stereotypes. AIM takes in everything from documentaries to superhero films to coming-of-age dramas and make space for a diversity of voices from several different countries. There's a collection of animated shorts being shown as part of the festival this year, called AfriKids, and it has previously shown animations from around the continent. Yet a map of popular animations would barely feature Africa at all. American animations have tended to use the continent to display its varied wildlife, with The Prince of Egypt the only film on the map to not feature talking animals. In the Madagscar films and The Wild, the setting is a fairly unimportant backdrop to zany American hi-jinks. The best of the lot is The Lion King, which renders the plains of the Serengeti beautifully, but arguably perpetuates the image of Africa as being one big safari park, constantly accompanied by the music of Ladysmith Black Mambazo. (This is a minor complaint – it's one of my favourite films).
French director Michel Ocelot has captured something arguably more authentic in his Kirikou films. These humble animations tell the story of a warrior who protects his village, most memorably in Kirikou and the Sorceress. Ocelot's film moves at a different pace to American animations, ambling gently through an episodic narrative where a talking baby tries to work out why a witch is causing his community so much harm. It's a film about storytelling, where Kirikou's exploits are captured in song and it is easy to imagine each new adventure being relayed to children around a fireplace. It's absolutely delightful, hitting a totally unique tone that feels to this (fairly culturally ignorant) writer more fitting of its West African setting. Recent French film Zarafa feels very much inspired by Ocelot's stories, similar in narrative techniques and pace, although the animation has improved significantly.
Then there are the animations made in the continent itself. In Scotland it's often difficult to see many of these films, as they won't get released here (another reason why festivals like Africa in Motion are so great). South African studio Triggerfish are forging a name for themselves on the world animation scene, with their two films Adventures in Zambezia and Khumba making it over to the UK, albeit in very limited runs. I've seen Zambezia, and there's much to recommend it. The CG animation, although clearly made on a lower budget than many American counterparts, is often impressive, as is the voice cast which features Samuel L. Jackson and Abigail Breslin. The problem, however, is that it's perhaps trying too hard to compete with American studios in the way it tells its story, often feeling like the first draft of Rio with its comedy bird sidekicks and familiar action tropes. Where it really excels is in portraying scenes that could only be set in Africa, whether in the giant baobab tree perched on top of some waterfalls or when flying through landscapes to a southern African soundtrack.
Triggerfish mark an exciting development in African animation. As they continue to hone their talents and make more films, they definitely show the potential to deliver great cinema. They've recently teamed up with people from Disney to create a story lab where talented South Africans can pitch stories to be judged by talents such as Peter Lord from Aardman and Jonathan Roberts, the writer of The Lion King. If they can embrace the elements that make them unique as a South African studio, then there's the potential for something very special. Elsewhere, the African Movie Academy Awards have a category dedicated to animation, recently rewarding the impressive-looking short film The Legacy of Rubies. Meanwhile, there are films like Kariba seeking funding that promise something truly spectacular. Just check out the trailer, with an a wonderful reveal at the end of it: https://vimeo.com/122076401 As such, the future is hopefully bright for African animation. Here's hoping Africa in Motion festivals in days to come will be showing Kariba, and many more animations that could come out of this amazing and diverse continent.
Africa in Motion opens on Friday 23rd October. For full programme details visit: http://www.africa-in-motion.org.uk
Comments
Comments