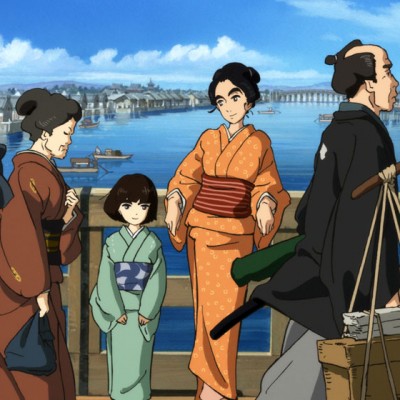 The annual Scotland Loves Anime festival brings in a selection of big name titles, franchise entries and niche interest features. The last decade has seen anime explode in popularity in the UK, and so a festival dedicated to the medium appeals to a huge fanbase, the type of people who can recite dialogue from individual episodes of Angel Beats and know the inner world of Ouran High School Host Club. It's a great little festival, and in the past has played films such as the legitimate masterpiece Wolf Children, underrated Ghibli From Up On Poppy Hill and even welcomed Makoto Shinkai to Scotland for his wonderful film Garden of Words. The festival is coming around again and the programme looks exciting. As per usual, there are franchise names that will only appeal to aficionados. I've never watched an episode of Naruto, so two films in that world mean very little to me, the same for Dragonball Z – Resurrection F. However, fans of these will jump at probably the only chance to see such films on the big screen. This is where Scotland Loves Anime really excels, in giving a space for many titles that would normally never make it to cinemas.
Even bigger than Dragonball and Naruto, however, is Attack on Titan, which is the subject of a focus at the festival. The series, about a world where humans fight giants, is as big as its villains, with fans around the world. Two animated films and both parts of the live action adaptation will be playing, and I'd guess will sell out fairly swiftly. The live action films have attracted some controversy among fans of the TV series, but that didn't stop it shooting to number one in Japan on its opening weekend.
Anime is inextricably linked with sci-fi, as a collection of films at SLA shows. The world of Ghost in the Shell is expanded in a new movie set in that universe, while Empire of Corpses, Expelled from Paradise and Psycho-Pass all promise the kind of dizzying, ideas-driven genre films that will no doubt have insane final acts. Personally, I often find such films difficult to get into, but sci-fi in anime is almost always unfailingly inventive, throwing a hundred ideas at the screen and building a dense and detailed world, which is partly what attracts such devoted fans.
The two films I'm most excited about, however, are non-franchise and more drama than sci-fi. The Case of Alice and Hana is a high school drama in the vein of many great animes, only with two more unusual elements added in. Firstly, the two friends bond over ballet dancing, and secondly they end up involved in a complex murder case that may or may not involve the supernatural. It's an interesting combination, and the trailer suggests a moving and surreal tale of friendship.
Sarusuberi: Miss Hokusai is definitely the most appealing of all. It tells the story of the daughter of one of Japan's most legendary artists (think of that painting of a wave, and you immediately know what I'm talking about). The film is a thoughtful, beautifully animated biopic in a similar style to Miyazaki's marvellous The Wind Rises, and has already picked up awards at Annecy film festival. Director Keiichi Hara will be there to present his film, and for a Q&A afterwards, making this exactly the kind of event the festival does so well. I can't wait.
Scotland Loves Anime opens in Glasgow on October 5
http://www.lovesanimation.com/
Comments
Comments