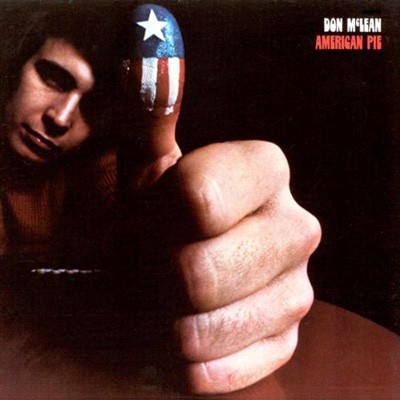 Is a  a set of popular music lyrics ever truly worth over $1m? A wealthy bidder has just forked out $1.2m for a set of scratched out words, replete with scrawlings and edits, conceived by American singer-songwriter Don Mclean in 1971. There is little dispute that 'American Pie', a chart-topper in the US the year of its release and a number two hit in the UK around the same time, has assumed
a status beyond most pop singles of the last half century or so. In an arena where the vast majority of compositions dwell on romantic themes – lost love, sought love, found love – McLean's song was different in that, while it was threaded with strong hints of an adolescent affair, it was much more ambitious, painting also a rich and allegorical history of its volatile times.
McLean has confirmed his original inspiration for this particular piece: a tragic plane crash in 1959, which cost the life of the great rising star Buddy Holly and his co-tourers the Big Bopper and Richie Valens. It left a deep imprint on the 13 year old, emotional depths into which he tapped when he came to pen a bittersweet paean to a period of great social change, as the
late 1950s spawned a teen upsurge and the 1960s begat a youth revolution and sired a vocal counterculture.
But if the songwriter has indeed confessed that Holly's demise – 'the day the music died' – was the compositional trigger, it is the multitude of references and symbols that then pepper the full eight minute work, gathered on 16 pages of writing paper, which went on sale in the Manhattan auction.
This epic and its often metaphorical content has been the subject of wide interpretation over the subsequent decades, but the facts of the matter have never been confirmed by McLean himself. Thus while there are apparent references to Elvis Presley, Bob Dylan, the Beatles , Stones and Joan Baez, this veiled and enigmatic cast has never been reliably identified. James Dean and John Lennon are two players named in this folk rock drama, but others  (the Kennedys, Martin Luther King and Charles Manson)  and events (the Chicago riots of 1968, Woodstock and Altamont) are the subject of mere clues and shadowy innuendo.
In an epoch that saw the rise of rock'n'roll, the Civil Rights movement, the
Vietnam War with its attendant furore, this time of peace and love was also a period of conflict and violence, punctuated by several key assassinations of leading political figures in the US.
The debate about whether the popular lyric is poetry is somewhat
transcended in that Maclean uses something closer to a sweeping novel form to relate his personal and panoramic account of an era of great hope, huge change and, in many ways, undelivered dreams.
Can the script be worth so much money? American Pie has been named as one of the "Songs of the Century" in the US and been inducted into the Rock n' Roll Hall of Fame. It has ascended its own moment and become familiar to three generations of pop and rock listeners.
But ultimately, like any work of art that goes on sale, the market price is set by those who wish to pay inflated sums for an iconic objet or unique relic. Even a Picasso or Hirst is only sold at high cost because the market suggests it is worth that; its material value has little connection to its under-the-hammer price tag.
The McLean song, rather more of a populist artefact, a sequence of pencil scribbles, may seem to bear scant relation to those high art headliners. But there is no doubt that American Pie has touched and marked millions of people since its first airing 44 years ago.
As McLean has quipped when asked what the song means, it's meant he's never had to work again. However, the composer has promised to reveal more concrete details of the piece when the sale is through. Pop's Turin Shroud is, it appears, about to have its cover blown.
Simon Warner is Lecturer in Popular Music Studies at the University of Leeds and the author of  Text and Drugs and Rock'n'Roll: The Beats and Rock Culture (Bloomsbury).
Comments
Comments