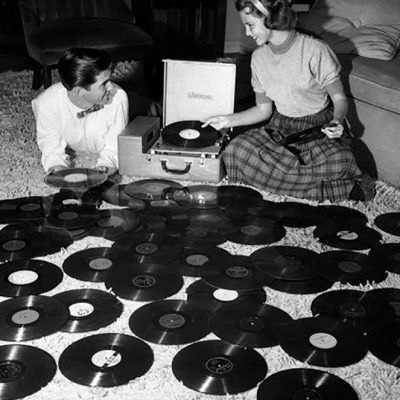 Do you have records that could be donated to raise vital funds for Scotland's food banks? Product is collecting LPs and singles to sell at a giant record fair this spring. The money raised will go to food banks in Scotland to help people struggling just to feed their families. As well as food donations, food banks need money to hire warehouse space to store food, and pay for petrol for the vans which collect food donations and deliver them to food banks. Recent years have seen a dramatic rise in the use of food banks against a backdrop of welfare cuts, wage stagnation and in-work poverty. A report by the Independent Food Aid Network last March revealed an astonishing 480,000 food parcels were handed out to Scots over an 18 month period. Researchers took figures from The Trussell Trust, the largest providers of food banks in the UK, and combined them with independent community food banks. The Trussell Trust has 118 sites in Scotland and gave out 258,606 parcels over from April 2017 to September 2018. A further 84 independent providers handed out 221,977 parcels over the same period, taking the total to 480,583. Since then, there has been an exponential rise in the use of food banks across Scotland.
A third of food parcels go to families with children. Just by giving away your unwanted vinyl, you can help them. Your stack of records gathering dust somewhere could put food on the table for a family in Scotland. Please donate them for sale. You can take your records to the donation points listed below. If you have a large number of records to donate, we may be able to collect them from you. Please e mail us your request for pick up and we'll get back to you.
– All types of music welcome. Someone somewhere is looking for a record you've never listened to.
– When you donate, please post a picture of you and your records on our social media pages. Encourage others to do the same.
– We're looking for more places where people can donate vinyl. If your local pub, cafe, shop, or cinema would like to help, please get in touch and we'll send them a donation box.
We believe in change, not charity. No-one should go hungry in a country as rich as Scotland. But while we need food banks, let's make sure they can operate effectively.
Donation points:
Edinburgh:
Edinburgh Food Project, Unit 12 New Lairdship Yards, EH11 3UY.
Filmhouse Cinema, 88 Lothian Road, EH3 9BZ.
The Waverley Bar, 1 St Mary's Street, EH1 1TA.
South Queensferry:
Down The Hatch, Port Edgar Marina, EH30 9SQ.
For further information, or to offer your venue as a donation point, please e us: info[at]productmagazine.co.uk
Comments
Comments