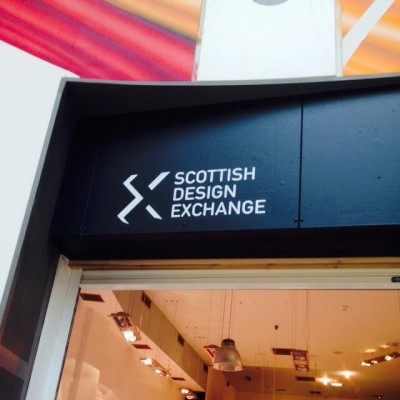 A radical new retail model was launched at Edinburgh's Ocean Terminal this week. The Scottish Design Exchange sells the work of Scottish fashion designers, perfumers, chocolatiers, publishers, artists and furniture makers – just like any other shop — except that 100% of what you pay goes to the designer or maker of your purchase. This works by inverting the habitual retail model, which doesn't usually work for the small and local producer. Instead of the shop taking a commission — anything from 50% for books to 100% for furniture — the producers pay a small rent to the Design Exchange, who then pay their staff and meet other costs. This is unheard of under normal circumstances, because shop rents, rates, and countless other overheads make owning a shop costly. This is usually reflected in the returns the producers expect, which is about half of the sale price of an item, often less.
At the heart of the Scottish Design Exchange project is director Lynzi Leroy's desire to rejuvenate empty shop spaces. "This wouldn't have been possible without Ocean Terminal," says Lynzi. "They were able to see the benefits for everybody. There's now a vibrant new shop where there was once an unattractive empty space, and people's response has been fantastic." If you run a small design or production business in Scotland — anything from clothes to paintings — you will know the barriers to distribution and selling of your product. The Scottish Design Exchange is a direct challenge to those barriers.
"Our bookshop is a good example" continues Lynzi. Publishers normally pay chain bookshops to stock their titles but that isn't obviously appropriate for small publishers, of which Scotland has many. Small publishers are frustrated that Amazon take 60% of their sales and then asks them to pay shipping costs on top. It's a system that serves large enterprises. Scottish Design Exchange says that's it's OK to be a small independent producer, that we can help you do business on a more realistic scale. So far we stock the work of 41 designers and four independent publishers."
Lynzi has an intriguing back story. She worked for four years for a large oil company in Holland, Russia and Kazakhstan just after the collapse of the USSR, tasked with setting up shareholder meetings in major cities. She then relocated to Kazakhstan for six months to help integrate local staff into Western ways of working and set up administrative systems in what soon became one of the world's largest offshore oil fields. When she witnessed the direct impacts of major oil companies' activities on people and the environment, she left to work for a communications company before becoming an environmental activist. Returning to Scotland in 2002 she established a cleaning company. Inspired by the political and creative energy of the indy movement she then set up A Space to Share and subsequently The Scottish Design Exchange.
As a practical example of collective effort the SDE is stunning: it showcases the best modern, contemporary Scottish design, works on behalf of the makers, and provides support and opprtunitiesto bring their products to retail.
See more here: https://www.facebook.com/scottishdesignexchange
Comments
Comments