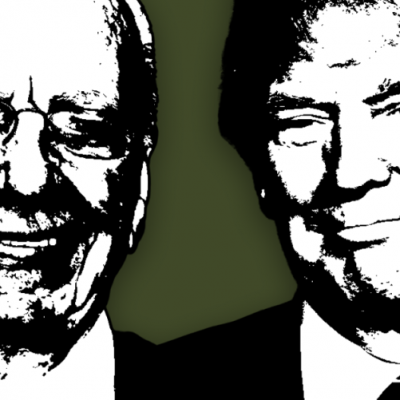 Few poems come so shatteringly to mind than W H Auden's farewell to the 1930s, seen from a New York bar, 'Uncertain and afraid,/as the clever hopes expire/Of a low dishonest decade.' Ideas easy enough to echo from a London flat where strange lights wink in the sky from vast skeletal buildings and the drone of airliners is ceaseless. For this is a world made by Scots, and Auden, the gay Calvinist with that face 'like a wedding-cake left out in the rain' knew it.
The next ten years would be far worse: with a down-payment of holocaust and terror-bombing. Will this one, the 2020s, be our apocalypse? Think of his 'Fall of Rome' and its strange opening image
The piers are pummelled by the waves.
In a lonely field the rain
Lashes an abandoned train.
Outlaws fill the mountain caves.
A peculiar, Scots-driven horror, powered by another Scot, Thomas Carlyle, with his nomination of protestantism, printing and gunpowder as our new ingredients. Miller had godless Sunday trains in his sights, and if you took them you got whacked. A country whose religious revival, a hundred years before Auden wrote, revelled in its negativity. THE DISRUPTION focused the folk who had given the world economics and steam-power. Few alive today have a clue about its meaning but in 1843 the men – only men! –
who launched it were all photographed (a four-year-old technology) and posted up into a huge Victorian scrapbook screen in an Edinburgh gasworks, signing the equally obscure 'Deeds of Demission'.
The man who coined this – and gave Auden his desolate image – is in the middle of D O Hill's crazy scene, shorthanding away. At Christmas 1856 Hugh Miller, editor of the Free Kirk's THE WITNESS, would take a pistol out of his desk in douce Portobello and shoot himself in the heart. He was working-class from Cromarty – his skipper father drowned, a tearaway building-worker, semi-schizoid, borderline alcoholic, snatched-back. For thirteen years he propelled the religious train. Half his brain fixed on the Highlanders driven from their crofts, the other half dotted around the new Kirk's Dictionary of Lost Causes, starting with the Conversion of the Jews.
Last week he had appeared unto me as Rupert Murdoch in James Graham's strange, compulsive play INK, in London's West End. This is loosely about the rise of THE SUN. But it's not what you'd expect. No Thatcher, no Robert Maxwell, no serial wives, no MICKEY MOUSE … Sometimes it's Wagner's MEISTERSINGER ohne Musik, or a Faust-Mephisto figure obscure about where he's actually going but dynamically bashing away at the SatNav. Pulpit-mannered, Graham's Murdoch quotes from the Disruption of 1843 like his pastor Grandfather Patrick, from Buchan-before-the-Oil in the 1880s, intent on converting Oz. He is DISRUPTION. And the SECOND COMING? He'll be along in a moment …
II
Think further about God and Race: both Scots and Jews were race-and-religion-riven, to a degree baffling to those on the outside. For the liberal free-thinking Lowlanders the Free Kirk's Gaels – THE MEN – were a menace, until they toed the line. Stornoway's grand castle was shipped-in by the master opium-baron of Hong Kong Sir John Matheson in the 1840s, along with its rich woodland, which stops a mile west. He had perfected refining oil from peat. Frack and it shall be given you.
Lewis, the SNP's uneasy Hebridean fastness for half a century, is a peat-bog floating on granite like a vast toupee, offering miles and miles of bugger-all until it hits the Atlantic and the Callanish stones, probably put up when the Highlands bens and glens were under the ice. The tweed handlooms of the townships lurch from crisis to crisis, observed by resilient weavers: 'We're not menaced by changing fashion, it's our bosses raving it up on Wall Street!' The outlandish Trump was (via his mother Mary MacLeod) from Tong, north of Stornoway, as much as from Kallstadt, Palatinate, which gave us the Family Beanz Meanz Heinz and fifty-seven varieties of arsehole cantata in Mel Brooks's 'Blazing Saddles'. Remember that, Rupert, as well as Willie Yeats's lifelike forecast:
Surely some revelation is at hand
Surely the Second Coming is at hand.
The Second Coming! Hardly are those words out
When a vast image out of Spiritus Mundi
Troubles my sight: somewhere in sands of the desert
A shape with lion body and the head of a man,
A gaze blank and pitiless as the sun,
Is moving its slow thighs…
III
The Rev Dr Iain Donald Campbell, Moderator of the Free Presbyterian Kirk, Minister of Back, next door to Tong, died only months into the Trump epoch, on 28 January 2017. Far more than a Gaelic Elmer Gantry, he had first-class honours from Edinburgh, was lauded and honoured by the last Disruptors: from the respectable Evangelicals of Highland Theological College in Dingwall, praising God and interracially programming megabytes for the great glass tabernacles of the Bible Belt. Murdoch's political man in Scotland Andrew Nicholl, political correspondent of the pro-independence Scottish Sun, is an admired, often bizarrely comic, novelist – and Elder of the Established Church.
Academically respected in this far-from-Wee Free Kirk, Campbell's thesis was on the liberal theologian George Adam Smith, 1857-1938, friend to the suave Tory-come cultural nationalist John Buchan: a butler who would eventually take the humanised show over. Realising this, did Campbell grasp at local power from his bleak new kirk, close to the airport? At any rate he grabbed Conservative Christian ladies by the proverbial, got exposed, and hanged himself. Since January 2017 he has vanished from the records of well-set Scots evangelicals. Just as the Donald's day at Mary Anne MacLeod's house at Tong back on 9 June 2008 lasted only ten minutes, and has never been repeated.
Comments
Comments