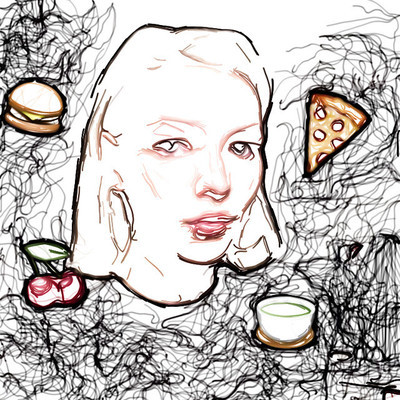 So much of eating is based on expectation. Text and image frame the experience from the get-go. Sometimes I think that, when I sink my teeth into a 'Big Mac', I taste the iconic image of that burger as opposed to what's actually in my mouth – often I'm disappointed when it doesn't taste plastic enough. I don't just have an expectation about what I am going to be eating, but also about how I'm going to be eating: how much and where. I decided to go to the 'Pay What You Can, Take What You Need' project at Kinning Park Complex, and imagined the event to be like an all you can eat buffet with a conscience. I mean, a buffet could alternatively be described as: 'Pay What You Need to Pay and then Eat As Much as You Possibly Can.' Back in November an advert for the project was posted on the CCA website: "Independent community centre the Kinning Park Complex host a weekly pay what you can meal. Open to all with music and more, it's a great chance to meet new people, eat, smile and have fun. Come join!"
This framed it as a cultural event as opposed to just eating. An event that would be taking place in a nation where we spend our weekends binging our feelings away by using carbs in various shades of beige.  Often, food itself is the event – an event with a beginning, middle, end and an epilogue – coffee.
But we're playing with food so much in 2016.
I like food as entertainment. Yet, there's this tension with eating: sometimes you are in control of what happens and sometimes somebody else is in control.  I like being able to think of food itself as being an event and this is without it being framed as such – what if it's my event and I'm the only one that knows it?
I went to World Buffet in Glasgow and I couldn't help but play with my food on my sixth course. It was like the chocolate dripping from the fountain, the Mr.Whippy ice cream and the colourful sauces were asking to be brought together in an attractive Instagram post. Of course, when you first get there you're presented with a list of rules.  For example, you're not allowed to "abuse the buffet." This made me very paranoid.  What does that even mean? Does that mean that you can't cover your pizza in prawn crackers? Does that mean that you can't have dessert and then a main and then another dessert? But I guess these rules meant that I explored within the boundaries given.
I feel like I have an odd relationship with food that relies on guilt. And, at a buffet this guilt is eliminated: I am paying x amount of money to eliminate x amount of guilt.  It's framed as: all you can eat.  So it's telling you to eat as much as you can and GUILT-FREE.
As soon as you're asked to make your own rules, that's when things start to get scary.
At 'Pay What You Can, Take What You Need' this guilt would be placed at the forefront of the experience because I don't feel like I deserve to go to these places.  If I could afford to spend £9.99 at a buffet in order to pig-out then why the hell should I go to a community project? How much should I pay? And how much food should I really take?
So I headed to the event with these thoughts in mind. I had previously checked that it would be taking place by messaging Kinning Park Complex directly on Facebook. They confirmed that it was weekly and that I should come on the 17th for an extra special one.  But I went the week before to experience the stripped back, acoustic, unplugged version on a windy Thursday night.  Maybe I got the bare bones – it was all about the food and nothing else.
I rang the doorbell and was met by somebody who informed me that, YES, it was definitely on, but people had already come and gone. I was led into a big hall with four plain tables.  The room was empty except for a chef who was stood in a canteen style kitchen at the end.  Above the kitchen were blackboards with the menus written in chalk – stuff about chickpeas and sticky toffee pudding.  I started to imagine eating all of these foods and the chef caught me out and told me to ignore the blackboards: there would only be vegetables, potato and cheese with a side of cabbage.  And so the menu was void.  This was beyond expectation and disappointment. This was beyond McDonald's.
I felt that, since I was able to spend £9.99 at World Buffet, I should pay the same at Kinning Park. The food was good; it was like a mixture between the nostalgia of home-cooked food and the functionality of school dinners. After paying that amount, however, I felt like it wasn't really the done thing. I asked if there was dessert and the chef gave me a look.
The thing is, the event being advertised on the CCA website had me thinking that it was art in the form of a community project. And, although I now knew that this really was a welfare-focus community project, I couldn't help but think that it was in fact a successful audience participation piece – it got me thinking and engaged after all.
Eventually two other people arrived. I asked if they'd been before. They told me they were visiting from London and had heard about it. They told me that they walked past an all you could eat buffet on their journey and were tempted to go in but continued on to the event … Perhaps eating isn't always about taste and expectation, perhaps food can sometimes be about what others expect of you – which results in learning a new set of rules and a bit about your personal values along the way.
*Stay tuned for more inappropriate comparisons between community projects and cash-cow companies. Coming up next: a comparison between Costa Coffee and a university bake sale to help understand how much we associate taste with price.
Comments
Comments