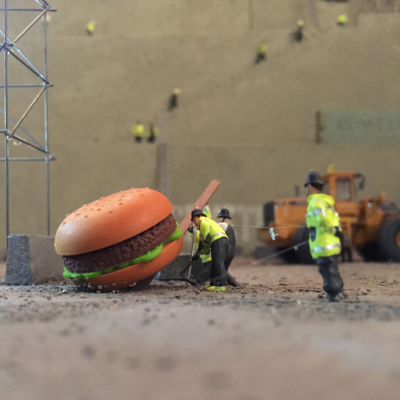 It was somehow fitting that The Aftermath Dislocation Principle, former KLF/K Foundation avant provocateur Jimmy Cauty's monumental installation of a post-catastrophic model village, arrived in Edinburgh's Grassmarket on the back of a lorry, on October 31st. Housed within a graffiti-daubed forty-foot metal shipping container and built on an epic scale, here was a miniature reimagining of a bombed-out British Everytown where the aftermath of some kind of un-named uprising had taken place. Advertised as being set in the near future, as with Charlie Brooker's Black Mirror, The Aftermath Dislocation Principle looks very very now. Not only did Cauty's model village park up at the King Stables Road end of the Grassmarket on Halloween, when a form of magic-inspired anarchy causes hordes of costume-clad celebrants to take to the streets and imbibe excesses of whatever alchemical brew takes their fancy. It also arrived on the very day that Westminster Home Secretary Amber Rudd announced there would be no public inquiry into the Battle of Orgreave, the most notorious event of the Miners' Strike of 1984/85, when pitched battles between police and picketing Yorkshire miners saw a class war explode into view. While it has never really gone away, things look even more divided today.
Rudd's announcement came despite claims of police cover-ups, collusion and initiating violence at Orgreave, and effectively lets the South Yorkshire Constabulary – also found culpable for the deaths of ninety-six Liverpool FC supporters at Hillsborough five years later – off the hook. Those interested in how a fictionalised version of a Yorkshire police force might have acted during the 1970s and '80s should seek out David Peace's Red Riding series of novels.
Cauty's world may not be as explicit in any suggestion of police brutality on a grand scale. However, seen close up through an array of looking glass size observation ports positioned on all four sides of the container, the multi-dimensional images of a vast near-future suburban dystopia in an imagined Bedfordshire, constructed in 1:87 scale, speak volumes.
Because, of the 3,000 or so miniature figures seen from all angles in the toytown-size urban expanse of smashed-up flyovers, burnt-out high rises and looted retail parks, only the police and media seem to be still standing. Where the ordinary everyday citizens who were presumably in the thick of such an apocalyptic pile-up have got to is anybody's guess. The array of upended Matchbox car police vans that make the thin blue lines of police look vulnerable beside walls emblazoned with anti-establishment graffiti, suggests they may have made their point before being taken into custody en masse.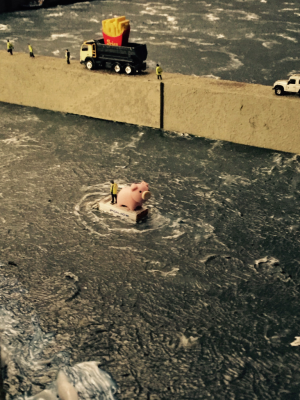 First seen in the Netherlands before taking up residence at Banksy's wilfully short-lived anti theme park, Dismaland, ADP 1 (there are two more episodes of Cauty's police state soap opera to come) has been on a thirty-six date pilgrimage of UK cities, parking up in sites historically significant for riots and civil unrest. In Edinburgh, the Grassmarket was chosen in honour of the 1736 Porteous Riots, named after Captain John Porteous. After overseeing the hanging of a convicted smuggler, Porteous ordered his men to open fire on the assembled crowd. Porteous himself was arrested and looked set to receive a royal pardon before the local mob broke him out of prison and hung him on makeshift gallows.
The full story of the Porteous Riots can be found in a leaflet pocketed from a stall beside the container. Other merchandise, including bright yellow t-shirts bearing just the word 'RIOT' can be purloined from local clothing terrorists, Pieute. On Saturday and Sunday of this week, Cauty's intervention moves onto the street even more with a live art Happening presented by the Too Much Fun Club and featuring mural-based actions by street artists Elph and Chris Rutterford.
As you move around the container itself, peering in at a world frozen by chaos in both town and country, ADP1 resembles Airfix model mock-ups of crucial battles from history – Waterloo, El Alamein, the Somme – their static reconstruction iconic in their familiarity. This is the case too with ADP 1, even though the battle depicted appears, at least, to be imaginary. Punctuated with the hiss of police walkie talkies and the occasional swoop of overhead searchlights, the tabletop expanse of ADP 1 also resembles a reconstruction of a very British alien invasion.
Arguably Birkenhead's musical satirists Half Man Half Biscuit set the template for ADP 1 with The Trumpton Riots, their response to the inner-city unrest in Liverpool, Manchester and Brixton in 1981. Cauty and co, however, have switched off daytime kids TV and taken direct action of their own. With Bonfire Night coming up on Saturday prior to the container being transported to Glasgow to honour the 1919 Battle of George Square, ADP 1 may imagine the aftermath of a future revolution, but it looks like history in the making.
The Aftermath Dislocation Principle 1 can be seen at Grassmarket, Edinburgh until November 7th; Platform, Glasgow, November 7th-14th. Jimmy Cauty and Steve Lowe of L-13 Light Industrial Workshop will give an artists' talk at Platform on November 10th at 6pm. The Aftermath Dislocation Principle tour continues until its final showing as part of Garden of Eden at the Panacea Museum, Bedford, on Christmas Day 2016.
Comments
Comments