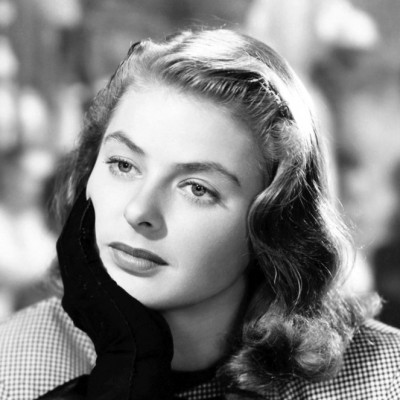 The Bells of St. Mary's
The Oscar-winning sequel to Going My Way is a true winter heartwarmer that became one of the biggest box office hits of Bergman's career. Bing Crosby's genial Father O' Malley is dispatched to work his magic on a school in dire need of repair. He is soon winning hearts and minds, changing lives and clashing with Sister Benedict (Bergman) over the best way to raise children and improve family life. It's a friendly rivalry in which Crosby's easygoing charm is perfectly matched by Bergman's natural warmth. Both performances were nominated for Oscars and the film fixed Bergman's saintly image in the eyes of the movie-going public.
Spellbound
Bergman's first collaboration with Alfred Hitchcock received six Oscar nominations, including Best Picture. It's a playful thriller in which the master of suspense puts his stamp on psychoanalysis. When the head of the Green Manors asylum retires, renowned psychiatrist Dr Anthony Edwardes (Gregory Peck) arrives in his place. Dr. Constance Petersen (Bergman) soon uncovers that he is an imposter and is suffering from chronic amnesia. So, what happened to the real Dr. Edwardes? The answer is locked within a fragile mind. Miklos Rozsa's rousing score and the famous Salvador Dali dream sequence help make this a classic.
A Woman's Face (En Kvinnas Ansikte )
Long before Hollywood came to call, Bergman was a major film star in her native Sweden. A Woman's Face contains one of her best early performances and helped cement her growing international reputation. Badly disfigured by a fire, Anna (Bergman) has grown into a bitter, cynical young woman involved in a life of crime. One of her blackmail victims proves to be the wife of a renowned plastic surgeon who gives her an opportunity to change both physically and mentally. An intense, psychological drama that Hollywood remade with Joan Crawford; not a patch on the superior Bergman original.
Anastasia
Hollywood welcomed back Bergman from professional exile with a second Best Actress Oscar for her magnificent, wide-ranging performance in Anastasia. In the Paris of 1928, Russian emigree General Bounine (Yul Brynner) is determined to prove that the Grand Duchess Anastasia survived the 1917 revolution and is alive and well enough to claim her vast inheritance. He discovers mysterious refugee Anna (Bergman) who bears an uncanny resemblance to the Duchess. Can she be transformed into Russian royalty and convince even the Empress Dowager (Helen Hayes) that she is the real thing? A sumptuous, intriguing period drama.

For Whom the Bell Tolls
A radiant Bergman earned her first Best Actress Oscar nomination as Maria in this magnificent adaptation of the classic Ernest Hemingway novel. At the height of the Spanish Civil War, idealistic Robert (Gary Cooper) undertakes a dangerous mission to destroy a vital bridge. He joins forces with peasant fighters hiding in the mountains and is instantly attracted to the adoring, vulnerable Maria. A tender love blossoms under the darkening shadows of a country mired in death and the growing threat of dictatorship. Filmed in gorgeous Technicolor, this is one of Golden Hollywood's great underrated romantic epics.

Murder on the Orient Express
Sidney Lumet's Oscar-winning classic is the finest Agatha Christie adaptation ever filmed. A brutal murder is committed on the luxurious Orient Express. Heavy snow stops the train in its tracks and means that the killer is still on board. Fortunately, dapper Belgian sleuth Hercule Poirot (a wonderful Albert Finney) is also on board and prepared to put his famous little grey cells to use interrogating a star-studded list of suspects including Lauren Bacall, Sean Connery, Vanessa Redgrave and Ingrid Bergman's Oscar-winning turn as Swedish missionary Greta Ohlsson.
Notorious
Alfred Hitchcock offers one of his most polished romantic thrillers in which Ingrid Bergman is partnered with one of her favourite co-stars, Cary Grant. Party girl Bergman is the daughter of a convicted spy who is given a chance to redeem herself by working undercover to seduce Nazi agent (Claude Rains). Grant is an American agent hot on the trail of an international conspiracy. The more Bergman risks her life, the more Grant falls helplessly in love with her. A tense cloak and dagger mystery with an electric chemistry between the two stars and some scene-stealing villainy from an Oscar-nominated Rains.
Autumn Sonata Höstsonaten
Bergman's final film contains one of her greatest performances. Working with director Ingmar Bergman for the only time in her career, Ingrid plays Charlotte, a world famous concert pianist making a rare visit to her daughter Eva (Liv Ullmann). The reunion soon descends into a dark night of soul-searching as Eva accuses her mother of heartless neglect and the selfish pursuit of personal happiness. Bitter resentment challenges Charlotte to confront the guilt of a lifetime in a searing, beautifully acted drama with an intensely personal resonance for Bergman who received a seventh and final Oscar nomination for her heartbreaking performance.

Gaslight
Ingrid Bergman suffers exquisitely in her Oscar-winning performance as Paula in this superb M-G-M adaptation of Patrick Hamilton's classic gothic melodrama. Years after the shocking, unsolved murder of her aunt, Paula finds happiness with suave, dashing Gregory (Charles Boyer). The newlyweds make their home in the gloomy London mansion where Paula's aunt once lived. An increasingly overwrought Paula hears footsteps in the attic, imagines a presence in the house and starts to question her sanity. Is she losing her mind or is something more sinister afoot? Foggy, threatening London adds to the atmosphere in a tense thriller that also features the film debut of a teenage Angela Lansbury.

Casablanca
Conceived in chaos and executed in confusion, the miracle of Casablanca is that it emerged as a flawless Hollywood classic. Incurable romantic Rick (Humphrey Bogart) has gathered together the pieces of his broken heart and taken refuge in Morocco, running a bar brimming with corrupt officials and patriotic refugees. Memories of Paris and a lost love sustain him. Then, out of all the gin joints in the world, Ilsa (Bergman) walks into his. Can he ever forgive her? Ilsa is not alone, but even the problems of these three little people don't amount to a hill of beans in a world torn apart by war. Utterly unforgettable.
Allan Hunter is Co-director of Glasgow Film Festival, which runs from February 18 – March 1st. GFF will celebrate the centenary of Ingrid Bergman's birth with a series of talks, screenings and exhibitions running throughout the festival.  
Comments
Comments