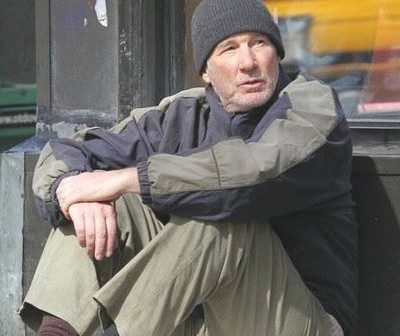 "There are 60,000 homeless people in New York", explained Hollywood movie star Richard Gere, who was in attendance on the closing day of the Glasgow Film Festival to promote his latest film, Time Out of Mind. Based on a script twelve years in development and influenced by the 2010 bestselling memoir Land of Lost Souls: My Life on the Streets, the film shows Gere take on the role of George, a down-on-his-luck homeless man who faces a daily battle of survival on the streets of New York City. Mentally unsound, and seemingly only recently without a home, George is initially found sleeping in the bathtub of an abandoned and run-down apartment. Cold and hungry, he eventually takes refuge at a local Manhattan homeless shelter, where he reluctantly befriends a fellow indigent, who may or not be a figment of George's imagination. What follows is a journey of self-discovery as George seeks to regain not only a home, but also his own identity. In a deliberate narrative decision, very little is revealed about George's past self – there are occasional hints of infidelity and alcoholism, in part due to the death of his ex-wife to breast cancer – which allows for a greater level of empathy, rather than judgment, in regards to his current situation.
Gere originally intended to direct the small indie film himself, before enlisting the help of filmmaker Oren Moverman due to the financial and logistical limitations of the project. Shot on location in the neo-realist tradition, Moverman takes a stylistically bold approach to the film's main theme of loss of identity: at times George is partially obscured within the frame and is often filmed through reflective glass windows – a transparent drifter who struggles to be both seen and heard. Moreover, the filmmaker makes impressive use of long focal lenses to capture Gere from a distance (often from above) so to make him appear small and insignificant within the swarming metropolis. However, the most distinctive feature of Time Out of Mind is undoubtedly its use of ambient cityscape sounds which both offset George's lack of dialogue and function as an audible representation of his internal instability.
Gere delivers a strong convincing performance as George, tackling both the role and the film's subject matter with the seriousness it deserves. Talking to a packed auditorium of fans and filmgoers, the actor admitted that although Time Out of Mind was "a tough sell" to distributors, the film was one he felt compelled to make in order to further highlight the perils of homelessness and the "warehousing of a human-beings" within shelters. In addition to the film festival circuit, the film has also been shown to the United States Congress and has been donated to local NGO's around the world to serve as motivation in the battle against homelessness. Throughout the film, George visits his estranged daughter (played by Jenna Malone) for help, often being turned away with a few extra dollars in his pocket. The film's climax, however, offers hope of reconciliation between the two – a moment which Gere describes as "a space of possibility". With Time Out of the Mind, the actor hopes that this sentiment for change can be used to an even greater good when it comes to helping those who currently find themselves without a home.
Comments
Comments