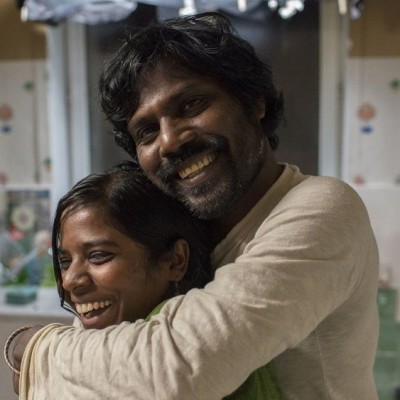 Dheepan is the latest cinematic entry from notable French filmmaker Jacques Audiard, following his two previous and highly acclaimed award-winning films, 2009's A Prophet and 2012's Rust and Bone. Inspired by Montesquieu's Persian Letters, the film focuses on a makeshift family of Sri-Lankans who together masquerade under false identities as they escape civil-war torn Sri-Lanka and migrate to France in hope of a better life. Antonythasan Jesuthasan – whose own real life tale somewhat mirrors the events of the film – portrays the eponymous Dheepan (actually an alias) with supreme delicacy. He is accompanied by Kalieaswari Srinivasan as his pretend wife Yalini and Claudine Vinasithamby as their fictitious nine year old daughter, Illayaal. The film begins in Sri Lanka, where we see Sivadhasan help cremate the corpses of his fellow Tamil Tiger soldiers whose lives were lost to the war. Having lost his family and no longer safe in his own country, Sivadhasan flees to Europe. Assigned with a wife and young daughter, the trio move to France – although Yalini has her own personal ambitions of moving on to England to be with her cousin. Knowing little-to-no French, Sivadhasan – now Dheepan – becomes the caretaker of the housing project to which the family is consigned.
He still dreams of the natural beauty of his home country, despite knowing that his involvement in the war means he will never be able to return. Meanwhile, Illayaal is enrolled in the local school and Yalini is given the job of taking care of an elderly disabled man who also lives in the project. However, their new surroundings are also home to criminality in the form of a local gang of drug dealers. Violence erupts, whereupon Dheepan's skills as an ex-soldier are soon called upon as he fights desperately to protect his new family.
Audiard shows the humanity in people: lost and desperate, yet hopeful
It 's fitting that Audiard was awarded with the 2015 Palm d'Or for this extremely powerful and gripping drama. He has expertly guided each of his actors into delivering a performance which is rich and full-bodied, with Srinivasan's performance as Yalini being the real highlight for this reviewer: what little she says with her mouth, she more than makes up for with her eyes. Moreover, the timing of this film could not be more opportune with the current Syrian refugee crisis in Europe. Audiard's actors convincingly show the humanity in these people: lost and desperate, yet hopeful, kind and willing to contribute. Whether from Sri Lanka or Syria, these refugees are not villains; they are human beings who, like us, seek a happy and peaceful life. Dheepan skilfully portrays their struggle – not simply in their journey to the west but also in their attempts to establish a new life once they get here – in what is truly a stunning work of cinema that delivers on all fronts.
Dheepan is showing at the Glasgow Film Theatre, Edinburgh Filmhouse and Belmont Filmhouse until Thursday 21st April.
Comments
Comments