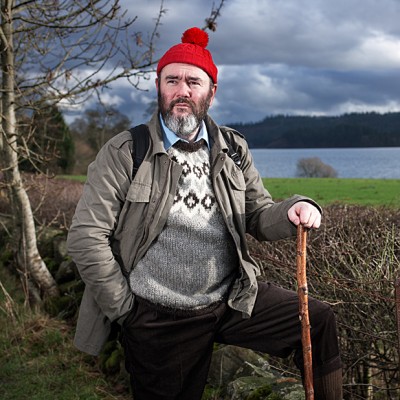 Last year I was lucky enough to witness one of those legendary Barras' nights – a real "I was there" evening.  It was the final gig of Aidan Moffat's Where You're Meant To Be tour, his travelogue of Scotland and its traditional music. Moffat had an idea to update traditional tunes and songs and make them more relevant to a contemporary, and in particular urban, Scotland. The tour was filmed and the results were shown at the recent Glasgow Film Festival. For anyone interested in Scottish music, and not just Aidan Moffat, it's a film I urge you to see. Sometimes there are tears, sometimes there is laughter, and by the end you're hoping for a happy ever after. But then, this is Scottish folk music meets Aidan Moffat. What are the chances?
Moffat says early on that the simple idea behind Where You're Meant To Be was to have a giggle, touring the country and performing his adaptions. Most of these songs are originally rooted in the country, part of a rural Scotland that Moffat, and much of modern Scotland, doesn't easily identify with. At one point he asks why folk songs have to be about hills and heather? Why can't they be about glass and neon? That's what he tries to install, performing the songs in his own style, and there's little doubt his tongue is firmly in his cheek when he does so (his filmed homages to Tom Weir and Robert The Bruce only confirm this). And then he meets Sheila Stewart.
Moffat will have been aware that many would immediately take against this undertaking, and you can't shake the feeling that his love for mischief as well as his love of music is behind his decision to take his versions into the heartland of the originals. However, that's with regard to mostly unknown crowds who he can confront, confuse and hopefully convert, before moving on. When he initially gets to spend time with Sheila Stewart, a legendary traditional singer of Scottish folk music whom he obviously admires (the film is in part a tribute and love letter to her) he tries to convince her of the validity of what he's trying to achieve, but she gives him the shortest of shrift. In her critical response, traditions and worlds collide. Many of Moffat's songs are set in a world of drink, drugs and dance music. You can argue that so are Sheila's, just of a different vintage. What also unites them are that their songs are dark, and downbeat – often concerning tales of love gone wrong, inevitably. It takes a while, but there is a growing realisation that these songs and the world they are from are perhaps not so different after all.
The aforementioned night at Glasgow's Barrowland Ballroom, where Moffat performs with his wonderful band and also invites those singers he has met on the road to share the stage, is a fitting end to proceedings. It's a celebration of music, the perfect final stop on his travels, and he does seem a different man by the end. The resulting film provides the promised laughs that Moffat was after, but lessons are learned and traditions reassessed. What stays with you are the more poignant scenes, where the power of music is clear; how it can comfort, heal and help remember, but never forget. As with Moffat's own songs, and helped by his pitch-perfect narration, the film is a mixture of dark humour, loss and reflection. You wouldn't expect an anything less.
This is a clip from the screening at the Glasgow Film Festival, and is perhaps the perfect summation of what Moffat was attempting to do as there is great music, an updated version of a traditional song, and also a laugh:
https://www.youtube.com/watch?v=NDYOI_J772Q
Alistair Braidwood blogs at the very fine http://www.scotswhayhae.com where an earlier version of this article first appeared.
Comments
Comments