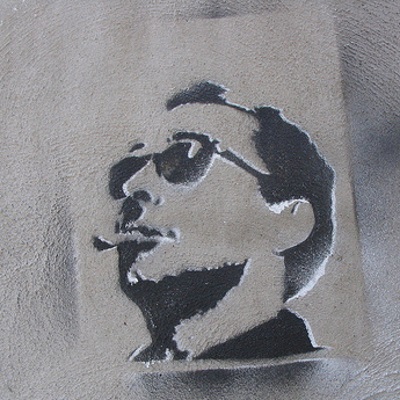 Redoubtable is the 2017 film by Michel Hazanavicius which describes the affair of world-famous filmmaker Jean-Luc Godard with Anne Wiazemsky in the late-1960s. With its 1968 Parisian crowds and barricades, and its immersion in the film and politics of the era, the film spends a small fortune (which will not be recouped) showing an artist at his worst, in love with a revolution that he fails to grasp. Redoubtable, in dubious homage is often 'Godardian' in its approach. Included are some fantastic moments when the view flips from positive to negative and lovingly recreated sets from Godard's own hits. In plain imitation of the master, Michel Hazanavicius uses caption cards in primary colours, and yet these and other affectations are in general pretty flat. Where these tropes and techniques fail, so does the storytelling. The worst example concerns Godard's spectacles which are repeatedly broken―certainly four times throughout. Godard is blind to the world and his attempt to engage with it repeatedly result in the physical loss of his vision. What is it with the glasses Michel Hazanavicius, and the smashed lenses?!
This all very Woody Allen-like, and believe me there was once a time when that was a compliment. But it is not such a compliment these days, although if you do know Woody Allen's work, you will see the parallels when you come to see Redoubtable. What is awkward is that like Woody Allen, Jean-Luc Godard is a clown, and his medium is primarily comedy. So you get this kind of perverse Godard, a clown that is not funny, which is not the man. Godard defers and you cringe. He feels contempt for those that admire him and you wince. He writes off the entirety of cinema, a thing that Godard did brilliantly in his day. It was funny when the actual Jean-Luc Godard wrote off all of cinema, and then offered as exceptions the Marx Brothers and Jerry Lewis. Here, it just makes Godard look like a mad loser.
Yet and so with irony, it is the Godardian tricks and tropes that keep Redoubtable watchable, that and actor Louis Garrel, who is immensely likeable as this largely disagreeable character. Some of Godard's tricks and tropes have in fact become hilariously mainstream. The kiss of death is Godard himself. As Mark Kermode will remind you, nobody goes to see the real Jean-Luc Godard's films, so if Godard cannot even find distribution for his projects, far less an audience―then who is going to see a film about Godard?
Overall, I would have to agree with Godard himself that this film is a "stupid, stupid idea". Problematically, Redoubtable is an insult to Godard's own cinema, largely just by being so conventional. But Redoutable also makes fun of the cinematic innovations that were meaningful in Godard's own work, and remain meaningful to cinema as a whole.
Godard is presented as bullying, as truculent, as hesitant and misogynist. The Jean-Luc Godard of Redoubtable is unempathetic, paranoid, confused and unable to express what his opinions of the revolution are.
I don't accept this is a true view of l'homme Godard, and this is evident to me in the aspects of Redoubtable which cross the borders of insult-land and head into the wide-open territories of the idée fixe. I conclude therefore that Michel Hazanavicius is in two minds and that he feels that his love for the work of Jean-Luc Godard has been betrayed by the man himself, whom he presents as a loser who alienates everybody he knows, from his wife to random members of the public.
It is the alienation of Godard's young wife that Michel Hazanavicius wants his viewers to remember. That is what the film is about: a downtrodden woman much maligned by Godard's paranoia. But this is not her film and Anne Wiazemsky is presented as a rather flat and one-dimensional young woman. This is not the real Anne Wiazemsky, any more than the paranoid caricature of Godard is representative of anything other than a character from a farce. The irony is that Godard made films which were more feminist in their approach than this. Feminism is not after all the repetition of the idea that men are mean to women. Feminism is the woman's point of view which Godard did well, very well.
That Redoubtable is played for laughs is probably a failing on the part of Michel Hazanavicius, who is consequently unable to take the breakup of Wiazemsky's relationship seriously, and neither the intellectual rigour of 1968, or the fact that cinema history was actually made here.
Yet for all that, actor Louis Garrel comes out well. He is too tall for Godard, but that doesn't matter. I'm thinking that he should next play Woody Allen, because that is the next auteur-biopic I want to see. Redoubtable calls out for it so loudly, that it's possibly worth Michel Hazanavicius listening to that call and making it a double.
Comments
Comments