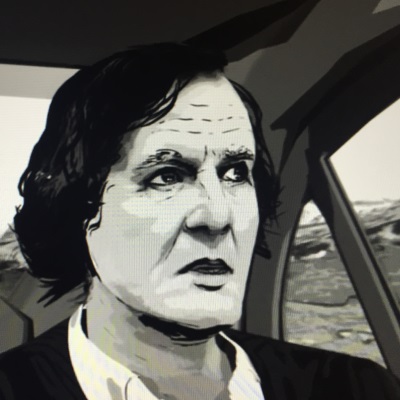 Novels, plays, and even poetry have been adapted into films, but WALL must be the first time I have personally encountered a movie adapted from a podcast. But that is how this project began life, and power to it. This was at least according to writer David Hare in the course of his discussion with Edinburgh International Film Festival artistic director, Mark Adams. WALL, the UK premiere of which was at the EIFF, this year, is a motion-capture-style animated documentary about the Israeli West Bank wall. The primary authors of WALL are writer David Hare, and Canadian animator Cam Christiansen, and it's one of 10 feature-length productions from Canada premiering one way or another (Europe, World, UK) at Edinburgh in 2018.
In WALL an animated David Hare visits Israeli with friends and writers and hears their opinions on the barrier. In a longer journey, he travels through the West Bank, spending time in Nablus and Ramallah, and enduring the checkpoints while also passing settlement camps and blocks. Quotes are inserted throughout from writers, lawyers and others with some insight. The animation is nearly entirely naturalistic―aside from the lack of colour―and it isn't until the end, that the filmmakers include their own designs and imaginings for effect, also at this point using colour for the first time. It was In 2005 Banksy described the wall as "the ultimate activity holiday destination for graffiti writers" and WALL proves this in spades, being a kind of visual graffiti itself.
As a destination for documentary filmmakers the Israeli Palestine wall is also hard to beat, and it would be impossible to make a poor film about this subject. Even a still photograph of the barrier speaks volumes of pity, pain and violence―so this is probably where David Hare comes in, because it's his delivery as much as his essay that makes WALL what it is.
Behind the animation, which Hare says took 8 years, are more questions. The technical achievement here―par excellence―is the very fact of having made a film about this subject. Yes―it could never be a bad film― but cameras on the ground are not encouraged. That is to say, that no film crew could shoot this in verity, and not be arrested. Things are that bleak and the animation style, which really adds very little to the overall impact, is presumably a reflection on the difficulty of filming in the area.
The animation is crisp, a little like in Waltz with Bashir, but with a different house style―although it does give people a hell of a creepy look, which I did not like. The worst of these is the render of Hare himself. The same may be said of the general motion capture of the other participants. There is something about the final effect of the animation in WALL, that gives everyone the aspect of Thunderbirds puppets when they move.
Hare's essay is at its most powerful when he's behind the wall with the Palestinians. It's exactly like going into a very, very large prison. What goes on in there, Israelis do not know; and as for what goes on outside, the Palestinians do not know that either, as they can barely depart. The privilege of being able to go from one side to the other, with the impunity a British passport affords, is under-appreciated.
Hare memorably visits a Palestinian theatre, and wanders through an empty market, but the focal point is a poster of Saddam Hussein he spots on a wall in a courtyard while relaxing with friends.
He doesn't get it at all. Hussein, whom he calls "the master of mass graves and untold massacres … stood for everything that Hamas does not―secularisation, a non-religious state. If you were going to choose a leader to take you precisely nowhere," he asks, "could you do better than Saddam Hussein?"
The essay captures the desperation of the inhabitants of the West Bank, and offers the writer's gift of empathy and dichotomy. It's not as simple as seeing both sides, but is much deeper and more personal. It's finding examples that take you into the situation, which David Hare describes not as understanding, but 'recognising'.
"At least now I know why the wall has gone up," says Hare. "The Israelis want to separate themselves from people who put up posters of Saddam Hussein."
This is one of several observations in WALL which genuinely give viewers pause for thought and give what might be an ordinary production about an extraordinary subject, a powerful emotive and philosophical kick.
Comments
Comments