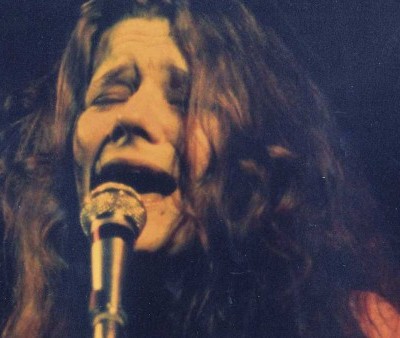 There are only a handful of truly legendary performances, the sort of defining moments that make a career. The Doors performing Light My Fire on the Ed Sullivan Show, The Sex Pistols at Manchester Lesser Free Hall, Happy Mondays and The Stone Roses both taking the stage on the same Top of the Pops – these are just a few examples. Janis Joplin's appearance with Big Brother & The Holding Company at the 1967 Monterey Pop Festival is one of those. Appearing on a bill including The Who, Otis Redding, The Jimi Hendrix Experience, and The Grateful Dead, Janis and band stole the show. So much so, that the organisers insisted they played twice so as to make sure they were captured on film. I say 'they' but everyone knew this was Janis's stage – everyone else was just playing on it.
Joplin is perhaps best known today as a member of the notorious "27 club" whose members all died far too young at that tender age. Others include Brian Jones, Jimi Hendrix, Jim Morrison, Kurt Cobain and Amy Winehouse. I don't want to concentrate on this macabre phenomenon except to say that Janis deserves to be remembered alongside such exalted company, all of who burnt incredibly bright for a short but intense time. Few, however, could match the intensity that she possessed.
The new documentary about her life, Janis: Little Girl Blue makes this clear. It doesn't break any new ground in terms of style or approach, but simply tells her story through interviews, letters, old photos and footage. If you're going to take this approach then your subject better be extraordinary. Anyone who has ever witnessed a Janis Joplin performance or listened to one of her records knows that's an understatement, as what she created when she sang is unforgettable. It seems as if the weight of the world and all its pain is being channelled, and that she sees it as her burden to express it. Listening to her is not an easy experience but it demands and deserves your attention.
The other aspect that makes this documentary a cut above most music docs, such as you might see regularly on BBC4 on a Friday night, is not only who the subject is, but also the time and the place events occur. Janis was raised in the deep south of the US in the '50s and '60s, brought up against a background of civil unrest, institutionalised racism, and open misogyny. The cruelty of men is a recurring theme in Janis's life, both from those she knew and those she did not. Little Girl Blue will not just appeal to rock 'n' roll historians, but anyone interested in US history. The backdrop of Janis's life is the epicentre of a changing western world; politically, socially and culturally.
Janis escaped from the conservative south to San Francisco where she found like-minded souls, musical partners, and hard drugs. Here she discovered the blues, and became obsessed with the music of legendary songwriter and civil rights activist Odetta Holmes, Bessie Smith, and – later – the singing style of Otis Redding and Aretha Franklin.
She found music which spoke to her fragile soul. Even though her public image would become that of a hard-drinking chanteuse, her vulnerability was raw, and this is what Little Girl Blue does at its best, getting behind the rock and hippy clichés to portray an artist who couldn't turn off, who didn't know how not to feel. Is it any wonder that drink and drugs became essential long after they were no longer desirable?
There are moments when happiness seems within her grasp; particularly after finding love in Brazil, but that's not how this story plays out. The filmmakers choose not to sensationalise her death, (commendably so) and that makes it all the more terrible when it unfolds. To see elderly men still visibly moved at her passing forty five years on powerfully speaks of how she was thought of in life. Is there guilt there as well? Decide for yourself.
A counterpoint to her triumphant appearance at Monterey is her show at Woodstock, where she was reluctant to perform. It's difficult to watch as she struggles to express herself. Woodstock is often held up as a great cultural event, but whenever I watch the film of the same name, or most footage, I get the feeling that it signalled an end not a beginning, and watching Janis Joplin only confirms this. If 1967 & 1968 were the long summers of love, by 1969 and Woodstock the summer's over. Janis Joplin's death in 1970 simply confirmed this in the most terrible manner.
Janis: Little Girl Blue doesn't reinvent the wheel when it comes to music documentaries, but who cares when the music, footage and research are this good? It's also made with respect and love for its subject while not being afraid to show the highs and lows of Janis' life, from her euphoria of getting them dancing in the aisles of the Royal Albert Hall to the surreal confusion and discomfort of her appearance at her ten-year high school reunion. Also informative are her interviews with US talk-show host Dick Cavett, which show her wit and self-awareness as well as her ever-present vulnerability. But where it really convinces is in the clips of Janis Joplin on stage where she is simply a force of nature. Her life is in her voice, all the pain, pleasure, love and regret that she felt. A force of nature who would not be categorised, controlled or constrained. Right from the beginning it was clear, nobody put Janis in a corner.
Here's a the trailer from the film, followed by a clip from that legendary Monterey performance. Look out for Mama Cass in the audience with Michelle Phillips – the definition of gobsmacked as she hears Janis sing for the first time.
Trailer
https://www.youtube.com/watch?v=uO9Z5Kew9zs
Ball & Chain
https://www.youtube.com/watch?v=Bld_-7gzJ-o
See also:
Comments
Comments