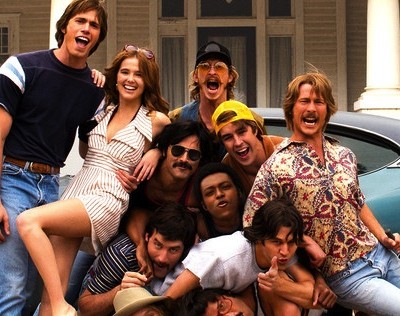 Everybody Wants Some!! is the latest film from Richard Linklater, director of the highly revered Before trilogy and the critically-acclaimed Boyhood, for which he won a Golden Globe and an Academy Award nomination for  Best Director. Known for his focus on characterisation rather than plot, Everybody Wants Some!! sees the now fifty-five year old Linklater return to his youth, with the filmmaker describing this latest outing as a 'spiritual sequel' to his 1993 coming-of-age hit Dazed and Confused, which followed a group of Texan youths on their last day of high school during the mid-1970s. Now in 1980, Linklater once again follows a group of young men at the beginning of their college experience – ironically picking up from where Boyhood left off – with the events of the narrative taking place over the last seventy-two hours before classes begin. True to form, Linklater perfectly captures a specific moment in time; here providing a nostalgic glance at adolescent life in pre-Reagan America that brims with humour, masculinity and pop culture references.
The film is largely an ensemble piece that focuses on freshman pitcher Jake (Blake Jenner) as he initially encounters his fellow players on the college baseball team. All living in the same house, the team is warned by their coach fairly early on that there is to be no alcohol or sexual activity on the premises, which of course is quickly cast to the side. What follows is a wild weekend of drinking and partying, wherein we get to know each of the individual characters. A highly-competitive and fun-loving lot, this group of young males soon bond over their mutual love of baseball, girls and alcohol. All the while, Jake, seeking something more meaningful, becomes interested in a young theatre and performing arts student named Beverley (Zoey Deutch), who quickly falls for him after discovering that he doesn't quite fit the baseball player stereotype.
Although lacking on plot, Everybody Wants Some!! offers some highly memorable and hilariously funny sequences that are bound to make even the most sullen viewer laugh. An autobiographical film, Linklater brilliantly captures the mood and look of the time: that early 1980s sense of euphoria, confidence and freedom is perfectly showcased in the attention to detail given to the costumes, set-design and choice of music on the soundtrack. This is also a flawlessly cast film. Featuring no big stars, each individual performance is unique and perfectly coalesces with the others within the ensemble – Glen Powell's portrayal of Finnegan, in particular, is a personal highlight for this reviewer. However, the film has its drawbacks. Everybody Wants Some!! boasts a very masculine ethos, with Beverly being the film's only female character not entirely used as fodder for our group of sexually-driven male protagonists. Some viewers may understandably find the characters rather unlikeable, or (in my own case) incredibly immature and occasionally pathetic. Overall, they aren't a malicious group of guys: they just want to have fun whilst they can. Linklater adopts their point-of-view to tell their story, and although this isn't as emotionally or thematically deep as some of his other films, it's still an incredibly enjoyable and worthwhile watch.
Everybody Wants Some!! is released nationwide today.
Comments
Comments