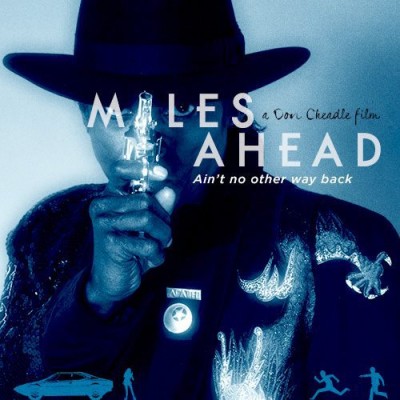 "I was born. I moved to New York. Met some cats. Made some music. Did some dope. Made some more music. Then you came to my house."
This is how Miles Davis sums up his life in Miles Ahead, the non-biopic that made its UK premiere at the Glasgow Film Festival earlier this year. The film marks the feature film directorial debut by Golden Globe winning actor Don Cheadle, who also stars as the famous jazz trumpeter. A project ten years in the making, Miles Ahead is much like the avant-garde musician whose life it takes inspiration from: raw, energetic, loose, funny, erratic, and, ultimately, an experience. Rather than offering a traditional linear biographical tale of how Miles Dewey Davis III became thee Miles Davis, the film's narrative takes place over a few nights whilst Davis under went his silent period from music during the late 1970s. Constantly high on cocaine and living a hermitic lifestyle in his New York apartment, Miles is visited one day by Rolling Stone magazine reporter Dave Braden – played here by Ewan McGregor – who's after a story about the now silent jazz legend. Although their first meeting results in a comical brawl, they soon bond as Miles comes under increasing pressure from Columbia Records to produce a new album.
Unbeknownst to the record company, Miles has been experimenting with some new material. When recordings of this are filched by arrogant producer Harper Hamilton (Boardwalk Empire's Michael Stuhlbarg), who represents a new up-and-coming trumpeter Hamilton hopes will be the next big hit in jazz, Miles and Dave must chase down the stolen record. Thus we are presented with some rather impressive and hilarious action set pieces, notably an exhilarating shoot out during a car chase sequence that ends up in another brawl at the ringside of a boxing match.
This central narrative is all-the-while punctuated by several flashback sequences that illustrate how Miles came to his present emotional state. We see how he fell in love with his first wife, dancer Frances Taylor, and how he subsequently lost her as his insecurities, infidelity and erratic behaviour increased. The last we see of Frances (captured by the perfectly cast Emayatzy Corinealdi) she is frantically running from the apartment as a drugged and deranged Davis roams their home, seeking her apparently adulterous lover with a knife.
Cheadle brilliantly captures those distinctive characteristics of Davis, such as the limp walk and that low raspy voice. Solidly supported by McGregor whose comedic timing is once again evident here, the pair bounce lines off each other. Memorably Braden's use of "off my tits"- to describe his intoxicated state – went down a treat with the local Glasgow audience. The film is skilfully edited and never feels weighed down by obtrusive backstory: if anything, the flashbacks sequences provide the real heart and soul of the film. Fans of Davis' back catalogue will enjoy the use of his music to underscore the majority of scenes. Just don't call it jazz, whatever you do. It's "social music."
Comments
Comments