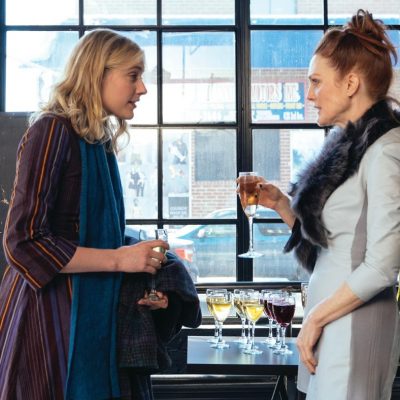 Maggie's Plan marks the latest cinematic offering from filmmaker Rebecca Miller – daughter of playwright Arthur Miller and wife of actor Daniel Day-Lewis – following an absence of six years since her 2009 film The Private Lives of Pippa Lee. Greta Gerwig stars as thirty-something New Yorker Maggie, who yearns to be a mother, despite being single and struggling to maintain a serious relationship beyond six months. Undeterred by her current situation, she decides to artificially inseminate herself with the help of an old college friend named Guy (Travis Fimmel). Whilst teaching at a local college, however, Maggie becomes acquainted with John (Ethan Hawke), a 'ficto-critical anthropologist' who finds himself in an unhappy marriage with Georgette (Julianne Moore) – a self-centred Danish professor at Columbia University. A blossoming friendship that begins with Maggie aiding John in the writing of his first novel quickly develops into a romantic affair, resulting in John leaving his wife to start a family with Maggie.
Fast-forward two or three years wherein Maggie and John are married with a young child named Lily; he is still working on his (ever-expanding) novel whilst she struggles to cope with her new role as wife, mother and step-mother to John's kids with Georgette. Maggie soon realises that she's falling out of love with John, and after a brief meeting with Georgette, seizes the opportunity to reunite the couple. Unsurprisingly perhaps, Maggie's attempts to offload her husband onto his ex-wife don't exactly go to plan.
Maggie's Plan is a pleasantly funny and smart offbeat romantic comedy from a director whose previous films have been unquestionably lacklustre. Central to its success is the onscreen harmony shared between the central trio which, much to their credit, never at any moment in the film seems forced or unnatural. Gerwig once again excels as the rather quirky and naïve young woman – a role she has mastered over several films now including both 2013's Frances Ha and last year's Mistress America. Moreover, Hawke delivers a solid performance which at times feels like he is channelling his role as Jesse from Linklater's Before Midnight, with Moore relishing the chance to steal the spotlight from them both with her deliberately over-the-top Danish accent. Miller follows the example of both Woody Allen and Noah Baumbach in capturing the neurotic behaviour of well-educated middle-class New Yorkers undergoing a time of personal crisis, and does so with much skill and aplomb. With a filmmaking career built upon a string of critically and commercially tepid films, Maggie's Plan stands out as an unexpected, yet welcome, delight offering hope that Miller's best work is still ahead of her.
Maggie's Plan is showing at the Glasgow Film Theatre and Edinburgh Cameo Picturehouse until Thursday 14 July.
Comments
Comments