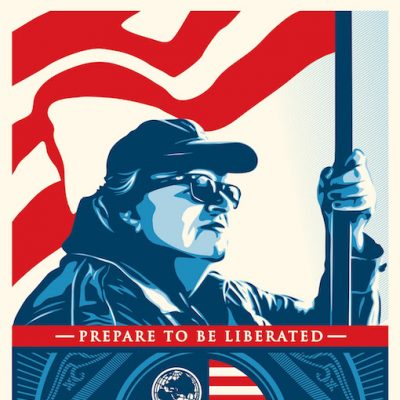 Love him or loathe him, Michael Moore is undeniably one of, if not the most, commercially successful documentary filmmakers in the business today. Known for his brazen and outspoken liberalism, over almost three decades Moore has been an acute observer and critic of the condition of the United States in relation to both its domestic and foreign policies. From the right to bear arms to the War in Iraq to the wildly unaffordable private healthcare system to Wall Street, Moore has pulled no punches in his critique of the country he loves, often targeting and upsetting those on the conservative end of the political spectrum. This approach has, however, brought him great success (as well as the occasional enemy), most notably winning an Academy Award for his 2002 documentary Bowling for Columbine and the highly elusive Palm d'Or for his critical assessment of the Bush Administration, Fahrenheit 9/11 – only the second documentary ever to win this award. Now, after an absence of six years, he's back with a new documentary film: Where to Invade Next.
The premise of Where to Invade Next is rather straight-forward and is based on the hypothetical situation of Moore being invited to the Pentagon by the heads of the United States armed forces and asked for his advice on how to invade other countries. In response, Moore offers an alternative to war: he will personally 'invade' foreign countries, taking from them what he thinks the US lacks and will return home with the goods, for as Moore puts it: "we have problems no army can solve." This one man army leads Moore (predominately) across Europe; along the way visiting Italy, France, Finland, Slovenia, Germany, Portugal, Norway, Tunisia and Iceland. Whilst there he learns about the various progressive and liberal programs in place; such as eight weeks' paid vacation, healthy meals in school cafeterias, no homework for schoolchildren, free university tuition, decriminalisation of drugs, prison rehabilitation and the rights of women – including control over their own body and their position as leaders in business. All of these Moore views as positive initiatives, and so he symbolically plants the American flag wherever he visits, stealing these ideas for his home country.
Fans of Moore's previous work will find much of the same enjoyment here. Where to Invade Next is unashamedly liberal in its viewpoint, with Moore's highly selective cherry-picking of the good qualities within Western European politics appropriate for a man who recently endorsed the socialist candidate, Bernie Sanders, as his choice to be next U.S. President. Like Sanders, Moore looks on at Western European socialism with great reverence, at one point in the film claiming that "the American Dream seemed to be alive and well in everywhere but America." Furthermore, the employed travel narrative does lend the film a structure and a brisk pace, as we continually move from one location to the next wherein Moore does his upmost best to give equal time to each of the various countries. His point is well-made, and by offering a contrast with the current political situation in the United States, Moore highlights the vast difference in approach these two continents adopt towards the same issues. As is often the case with Moore, the film's main themes could have been made in a more subtle and nuanced manner; but at the age of 62, with several of the highest grossing documentaries at the box office under his belt, Moore – perhaps like his beloved U.S. of A. – is unlikely (or unwilling) to change his methods.
Where to Invade Next makes its UK premiere at the Sheffield Doc/Fest on Friday June 10th and opens nationwide the same day.
Comments
Comments