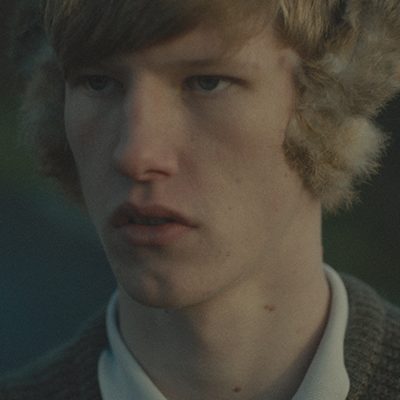 BUNNY (2018)
Director: Shaun Hughes
Writer: Shaun Hughes
Stars: Sean Connor, Gilly Gilchrist, Erin Armstrong. A traumatised young man is challenged by disruptive outsiders to face up to his delusion, and risks losing the final bond to his dead mother.
Mental health might be more likely territory when it comes to Bunny, by Shaun Hughes. Shot in a quite individual 'polaroid-style' frame, Bunny opens with a vibe that's a cross between Donnie Darko and Dead Man's Shoes. But it might be darker than both of them, in its short span. It's about a boy who wears a big pair of rabbit ears (pictured right) all of the time. Even in the shower. The boy won't let anyone, even a gentle girl from the neighbourhood, touch his ears. At one point, the fake ears are even blow dried by the woman who has come into his life to replace his dead mother. He lives in a caravan, of course, where else? And he doesn't speak.
There's something locked in this boy, and the death of his mother is evident from the first frame. And meanwhile the town bullies are effective in their hurt as only young, drunk Scottish males can be.
The work for the viewer in Bunny becomes a question of how long we are going to have to wait to have the ears explained. It's not an unpleasant wait ― the ears even have time to become a motif for 'otherness' in general, when the boy's father explains the world outside their caravan park to him: "You wouldn't like to out there ― trust me."
The wellbeing of the mind is the scenery in Bunny however, and there's an effective scene of mental horror when the bullying reaches tipping point, and we finally find out all about the ears. Word is that this film may reach development as a feature, and if so, then this short is an excellent calling card. It talks about serious matters with a lightness and humour that is highly effective, and evokes small town poverty very well.
SLINGSHOT (2018)
Director: Robin Haig
Writers: Mandy Lee, Claire Nicol
Stars: Sharon Small, Grant O'Rourke, Dolina MacLennan Excluded from being Warrior Queen in her Highland village's battle re-enactment, a middle-aged woman must rediscover her courage in order to retrieve her family's honour.
From an atmospheric and amusing opening, Robin Haig's Slingshot delivers a cast of several well-formed characters, in a compact ensemble ― beautifully set-off by the sound of Doli MacLennan's voiceover, as she describes the (maybe) mythical 'hag stones' of old.
Veering towards the comic is a good call with this well-bonded cast. There are notions of wee girls and boys at play as the adults attend to their quite absurd Highland business, and male Masonic overtures aplenty in the foreground. The battle re-enactment in this short is certainly symbolic of more than just Scottish history.
Sharon Small is the mum on a mission, a downtrodden woman, besieged by a nasty husband, unpleasant memories of her father, and a busy teenage daughter ― and yet she has burning in silence within her ― her secret lethal aim. Later she goes loco in the woodlands, and the climate is one of rebirth and mysticism, rather than that of mental health.
For a 15-minute film, Slingshot seems to telegraph its conclusion early, at about the 3-minute mark, and yet it feels well realised and highly involved in the lives of its characters. The words 'battle re-enactment' go a long way to placing audience expectations nicely, and the generational power of the women of North Ayrshire is captured and overseen by Doli MacLennan who brings the magic to the production. Slingshot is a comedy of empowerment ― "for all the forgotten warrior queens."
CREELING (2018)
Director: Sam Firth
Writer: Sam Firth
Stars: Hannah Lily Morrison, James O'Hara, Paul Tinto A girl from a small Highland community has a crush on a local lobster fisherman and persuades him to take her out for the day.
Creeling is a short tale of girlhood in the Scottish Highlands, and although the promotional line mentions that the 14-year-old character in the lead has 'a crush' on a young lobster fisherman, the whole scenario seems more subtle than that. The experience is made all the more nuanced by the lack of background explanation and focus turned instead on texture, providing an innocence that is redolent entirely of children's storytelling.
Creeling shares some of its themes with Slingshot ― here in rural Scotland, women are being the denied the chance at what is traditionally held to be 'man's work'. The women justifiably force themselves in one way or another, and the men either fail, and / or the women excel. It's both complimentary as well as complementary, in describing how men and women are going to work together, and even survive.
Something is also captured, regarding song, which most charmingly actually happens while the work of creeling goes on, something redolent of the past; and finally, there are some statements made about the notion of learning Gaelic as a native, and the cultural oddities this might inspire.
At heart, Creeling is a short tale in which romantic larks go a little wrong, leading to awkwardness and questions about violent undertones that seem to persist when men and women are in close proximity. It's desirable viewing, drifty and dreamy at times and sharp in its focus a moment later.
Comments
Comments