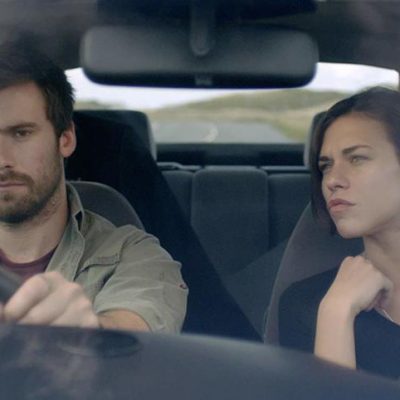 Liftshare (2018)
Director: Virginia Heath
Writers: Stella Heath Keir, Virginia Heath
Stars: Ana Ularu, Mark Rowley, Beth Macsween.Two strangers, one desperate to find her child, the other reluctant to attend the funeral of his father, imagine what might await them as they journey towards the haunting beauty of the Outer Hebrides.
A survey of many millions of tweets recently revealed that when we are talking about men and masculinity, the number one subject we discuss is violence ― and the number two subject is crying. Virginia Heath's Liftshare manages to cover both of these quite well from the off, although nobody knows what the mystery-woman at the centre of the action might be likely to talk about, because nobody asks her anything and she says nothing anyway ― it isn't in fact until a third of the film has rolled away that we even hear her voice, despite her being on screen the entire time.
Instead she looks at herself in the mirror; looks at computer screens; and she stares mysteriously out of a car window.  
Mark Rowley on the other hand is given the chance to act out intense and brooding violence very well, gripping a bunch of flowers in his fist as he stands at his father's graveside. The suggestion is the man hands on misery to man, and then in turn to woman too. The contrast in expression is stark ― we reach panic stations in masculinity quickly, while our mystery female lead remains quiet, although we know from flashback and her pained expressions that something is eating her too. 
Act 3 does reveal what Ana Ularu, who plays Marina, is looking for, and here Liftshare blossoms into something more remarkable than it promises. Here, audiences start to question of what they have been seeing is flashback, flash forward or perhaps even what the characters are fearing or dreaming.
In concluding, Murdoch, Mark Rowley's character seems to be much more the traditional 'man of mystery' ― even though we know so much more about him ― while Marina appears as a far more filled-out human quantity. It's brooding stuff on the whole, but when Liftshare starts to prod its viewers into thinking, it starts to work much better.
None of the Above (2018)
Director: Siri Rødnes
Writer: Ewan Morrison
Stars: Holli Dempsey, Dawn Steele Using her vlog as a means to tell her story, Cassie has a secret to confess. She chronicles the highs and lows of internet dating with her user-name, "None of the above".
None of the Above, from Siri Rødnes and Ewan Morrison, kicks off pleasantly indicating to viewers that it's going to be a comedy about Internet dating. Shortly in, however, this is when we begin to seriously hope that this fantastic film short is indeed a comedy. Spoiler Alert: it's not.
As Cassie, the central character interacts with the world, and chronicles her dates, she begins ― as we all do online ― to give away more personal information not only about herself, but about the others she meets. As she develops into another cynical, suicidal, wine-swigging social media user, the film spills off the Internet and into real life, but mingles the two perfectly ― confusingly, but perfectly. The confusion is most apt, and very funny, but viewers will watch with a lump in their throat that will have stopped them laughing by the time we're halfway along.
We discover that None of the Above is a horror film after all, both a love film and a horror film, about some of the very real abominations that await us in digital-personal interactions, and a warning about our inability to handle them. It's incredibly well imagined and has the most excellent denouement for such a short film. Personally, within the last minute of None of the Above alone, I experienced tears, then a very real feeling of fear ― and finally laughter. Absolutely must see.
My Loneliness is Killing me (2018)
Director: Tim Courtney
Writer: Michael Richardson
Stars: Jamie Robson, Luke Elliott, Martin Bell When Elliott lures the animalistic Jack to his apartment for a hook up, he unexpectedly unearths a dark emotional connection.
Scotland's urban nightlife is the backdrop to My Loneliness is Killing Me, a cool and moving narrative report on how difficult it can be to find intimacy when LGBTQ+, and overloaded on isolation.
It starts in a nightclub, but it is the roaring emptiness of the city's apartments and the lives inside which stand out, and which are the most memorable scenes. Self-loathing within marriage is pinpointed to within an inch of its life by Jamie Robson, whose sadness and soul carry the show.
Taking all that loneliness and attendant feelings, My Loneliness is Killing Me pushes the drama to the point when all of that unhappiness breaks open. The breakthrough moment is when the two characters realise that maybe they should talk … instead of having perilous, isolated sexual encounters. The out is very much of our time: "it's complicated."
It's also not easy being yourself in the gay world, too ― this is the suggestion. Elliot (played by Luke Elliot) is certainly attractive in a manly way and knows that he could get lovers, if only he didn't have a thing for green lipstick and rouge. What he finds in the loneliness is not an antidote to marriage, however, but a question that he phrases thus: "No proposals here; nobody's looking for anything here; just company."
Comments
Comments