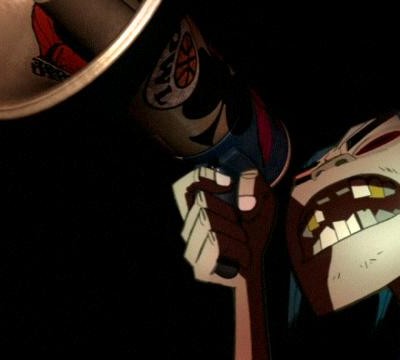 Gorillaz – Feel Good Inc.
Damon Albarn and comic book artist Jamie Hewlett created a band comprised entirely of animated characters. At first, all of their gigs would feature these hand drawn musicians while the actual band played behind a screen, out of sight. All their songs were accompanied by short films that featured the empty-eyed, lanky band members, using strange and macabre animated imagery to create a unique collection of music videos. The video for Feel Good Inc. blends CG and hand drawn animation, with memorable sights such as a windmills floating on an island through the clouds, recalling Hayao Miyazaki's Laputa: Castle in the Sky.

The Staves – Winter Trees
The enchanting close harmonies of the Hertfordshire folk sisters The Staves are complimented perfectly by a story brought to life by English animation legends Aardman. Forgoing their usual style of charmingly rustic claymation, the brains behind Wallace and Gromit here used flash animation to create characters that look like cardboard cut outs, roaming a fantastical world. Their ingenuity remains undiminished in this different style, and this music video is full of strange and surreal images, such as a tree playing mushrooms like an instrument and an owl-deer type creature sheltering from a flood on top of its branches. It's lit beautifully, with long shadows stretching through the woods, creating exactly the right atmosphere for this haunting, lyrical song.
Blur – Good Song
The artistic group known as Shynola have created several memorable animated music vids, such as Beck's E-Pro and Queens of the Stone Age's Go With the Flow. This stripped back, black and white video for Blur's Good Song is notable for being continuously surprising with its storytelling choices, such as the occasional shocking death. It's about a fly (or maybe a fairy, the design's indistinct) trying to find love. It makes the most of its unique style by filling each frame with arresting visual ideas, such as a kaleidoscopic vision of acorns. It goes fully surreal at the end, with the invasion of a leaf blower.
Radiohead – Pyramid Song
Shynola again, this time working for the ever cheery Thom Yorke and band, as they sing about jumping into rivers and swimming with black eyed angels. The underwater cityscapes are stunning, with long wires and skyscrapers submerged in a sea of pale blue. It's an abstract, mournful video, with the diver reduced to a collection of basic shapes, and indistinct skeletons hanging eerily in the air. Radiohead also made an animated video for Paranoid Android that's entirely weird and has a visual style similar to Beavis and Butthead.
A-Ha – Take On Me
The lead singer of Norsk popsters A-Ha gladly acknowledges the importance of this legendary animation, saying: "I have no doubt that the video made the song a hit." It's easy to see why. While the song is incredibly catchy, if impossible to sing along to, the video is striking and, at the time, like nothing you'd seen before. The cast were rotoscoped, a meticulous process of tracing over film footage (such as in Richard Linklater's A Scanner Darkly) and as a result the combination of live action and animation is impressively seamless. What's also nice about the video, however, is that it tells a happy little story about the rebellious lead singer on the run from the police, and the girl he drags into his comic.
Honourable mentions: Yellow Submarine (great video, probably the Beatles' worst song); The Shrine/The Argument by Fleet Foxes.
Comments
Comments