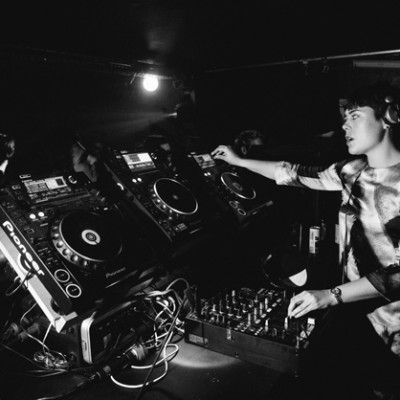 The past couple of weeks have been brilliantly busy for music in Glasgow. You'd think it might be time for a quiet interval, but this city never sleeps and there's so much more yet to come. Some of it tonight: Bossy Love at Nice N Sleazy, a show that comes with an official female-focused afterparty at Stereo where, amongst others, Louisahhh and Ela Orleans will be playing. Excited, I track down the aftershow's organiser Phoene Somesavath, who many of you know as        P H O E N E. So here we are, Friday morning in Monorail, discussing her motivations and how it all came together.
L: So what's happening?
P: Well, for this night I've booked Louisahhh (Bromance Records), who, you know, is massive. And then Ela Orleans, Femme Fresh (PVC), MIA (Birdcage), Faye Korgasm and Pissing Mary, who are all so great. I just wanted to bring people from the outside; to have bigger talent combined with local residents and create a more challenging line-up. For the night we did in April, we had Alex Smoke (R&S Records), Moiré (Werkdiscs / Ghostly International) and Moodcut (Lobster Theremin / Nous Disques). It was called NO RAVE at the time, but I had to change the name because there was a night in Stereo called that back in 2009…
L: Did the night go the way you'd hoped?
P: It was really good, but in some ways it's really hard to put on nights like this. Organising it was quite challenging and I think that it will also take time for it to become established. People are not used to coming to Stereo for club-nights. And, most nights in Glasgow are a £5 on the door which is harder to do with big names. But the main thing I want to do is promote female artists as much as I can; I want 75% of the programme to be always female.
L: Do you feel like female presence is missing from the music scene?
P: Check the line-up for Riverside this year. There's no female artists playing at all. There's still so much more to do. And, you get some female artists that don't want to play your nights because they don't want to be be associated with all female line-up; they feel like you are putting them in a box… For me things to be inclusive to work. This is why I say "female-focused" rather than "all female." It will take time for people to feel comfortable with the idea.
L: Yeah, when I heard that you are doing a female night I wasn't really sure about what this really meant. Are boys allowed? But then I went onto the Facebook event and there it clearly says: "BOYS AND GIRLS, we'd be happy to see you there." And immediately thought: "okay, this is great."
P: Yeah I read an interview where Louisahhh and Paula Temple talk about how they feel about female nights and how you sometimes get things that don't necessarily feel genuine. But say with something like 'Push It' here in Glasgow you get so many boys in the crowd and they love it. I feel like even LGBT events need to include everyone, otherwise you can't really start a conversation, if you only include people from your own community.
L: All inclusive, I like this. And you are planning on going even bigger right? I know this gig is meant to kickstart a female focused festival?
P: Yeah. There's this huge festival in Paris, 'Les femmes s'en mêlent', that's been around since 1997 and it totally works there. That's where I got the inspiration from. I don't know people are maybe a bit more aware there, whereas in Glasgow female presence feels a bit more natural. The scene here is already much more inviting to female talent, and more vibrant in that way. But this is why I think a festival like this could totally work here as well.
L: When's this happening?
P: It's going to kick off on International Women's Day next year and go on for four days or so. It will also be a mix of different genres, that's important. I don't know it's still so big in my head. I want to programme events in galleries and swimming pools and do something more exciting. Glasgow is quite small but there's so much happening, so many possibilities. I want to try and gather people together, there's so many smaller things going on but why not have one massive party? This is what I think. Kaspar Hauser are playing at the Old Hairdressers on the same day as us tomorrow, so I just got in touch and invited them to come meet us after, it's just across the road, you know?
L: Are you from here? I'm only asking because I feel this need to go bigger might have something to do with coming from a larger city; I know I feel that way about Athens.
P: I'm from France. I've only been in Glasgow for a couple of years. So maybe. There's a bigger sense of community here though, and everyone knows each other and everyone knows what the other person does. Getting to know people is much easier in the scene here and people are willing to help each other out. So many people have gotten in touch saying: "I'm doing this night, you should come play." I've played over ten shows in the past year, that wouldn't be possible in Paris! Glasgow is also more affordable; people here can work part-time in a bar and still have enough time to create. There's so much going, and there's places like Creative Scotland where you can get funding for so many different things.
L: So you're organising all this yourself?
P: Yes, although Alex [she's talking about Arm Watches Fingers here, who's opening the Bossy Love show at Sleazy's tonight, and one of the most talented people I know] has been helping me lately, cause I realised it's so hard. And at first I didn't know what I wanted, I feel like I selfishly wanted to book these people because I love their music.
L: It was pretty spontaneous then?
P: Yes, and I want to keep it spontaneous. I wanted it to be about what I'd like to hear. But also about shedding light on people that do things here. They all have labels and do so much stuff. The event we have planned for the 20th of this month includes all: Michael Kasparis from Night School Records, and who's also in a band called Apostille; Sordid Sound System [This is Stuart from Green Door studio); Aisha Devi, formerly known as Kate Wax; and DJ Crud of Concrete Cabin and 12th Isle Records.
I see the whole thing more like creating an umbrella for people to do things all together. For the female festival, I won't be doing all of the programming. I want to get a bunch of people together, give them the idea and see what they can do with it.
L: What's your favourite LP ever?
P: Oh man, I have a really weird musical background. When I was in school, I played the guitar, I listened to Sonic Youth, Mogwai, post-rock stuff. Then I was discovering ambient music and electronic elements and Lobster Theremin. I like hazy techno…there's still this element of ambient, soundtrack-music to the things I like. I can listen to a lot of experimental, avant-garde music as well.
L: The sort of music you can create an emotional journey with, as well…
P: Yeah, I like the idea of telling a story through the music, something intense rather than just random bits put together. I'm actually doing this OH-141 mix next week which will be cool.
L: How would you describe your own sound?
P: I actually did Green Door Studio in January and it was my first time recording in a studio as a solo artist, I usually do it at home…I was sampling quite of lot of things and had this idea of being on a lockdown. So, in three days I recorded twenty-four hours of music and after listening and reviewing I was like: "What am I going to do with all this?" So now I'm doing two projects, under my 2 aliases. I want to play ambient but also do club-nights and make people dance. It's about finding the balance.
L: You're also thinking of establishing your own label of sorts eventually?
P: The idea is to try and mix people, I'm thinking about it more as creating a creative agency that can bring sound artists and visual artists together. I like the idea of collaborations, that's the point of everything I do. I think it comes from when I was younger… I used to be a graphic designer, but I was just spending too much time on my laptop and I wanted to go back to making things with my hands and a sort of DIY thing and other people, this is what gave me the idea for a creative agency. Even with music, I don't use my laptop anymore. I only use analog gear now. I like the physicality, I like the doing. And with the agency or a label the idea is also giving people a platform, so they can put their music out there in a physical form.
With this idea of a physical form for music in mind, I ask Phoene if she could help me pick a record for my friend's birthday. We're in Mono, so there's plenty of choice. She shows me a bunch of stuff I'm unaware of. "What about this one?," she says, holding up Holly Herdon's 'Movement'. A great choice, I think. Can't wait for tonight!
https://www.facebook.com/events/1305688009445281/
https://www.facebook.com/events/490807814443534/
Comments
Comments