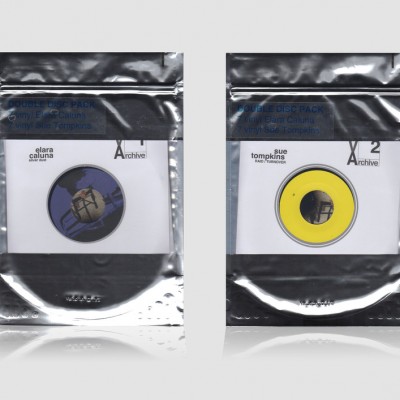 It's only too fitting that the debut release from the newly constituted VoidoidARCHIVE Records comes in a silver plastic bag. There are few artists other than the label's founder, Jim Lambie, after all, who have taken the Warholian pop-art dream and used it for his own ends quite so convincingly. The label was born of activities in Lambie's Glasgow based Poetry Club over the last three years, which has seen several generations of underground movers and shakers perform ever since he opened it to host a show by Richard Hell in 2012. Factory superstar Gerard Malanga, poetry evangelist John Giorno and Patti Smith have all performed inside the club's bijou confines, as have Felt frontman Lawrence, Primal Scream, Young Fathers and Teen Canteen. This double 7" limited edition of 100 was released last month to coincide with the Club's multi-media night, Paraphernalia. Elara Caluna are the Glasgow based duo of Benedict Salter and Kitty Hall, whose one-sided contribution, Silver Dust, is a spectral nursery rhyme that creeps up on the listener with breathy harmonies accompanied by woozy guitar pickings that seem to wander off into the forest as it fades.
Sue Tompkins first came to prominence as the restless vocalist with Life Without Buildings, the Glasgow quartet whose pick and mixing of post-punk artefacts during their short life between 1999 and 2001 pre-dated the co-opting of first generation post-punk that would follow a few years later. Married to Tompkins' voice, LWB were a unique hybrid of influence and impulse.
These days Tompkins applies her free-form scat vocal to spoken word performances that often accompany her exhibitions. Two short examples of this are captured here on a record whose yellow label greets the curious with only a tiny printed 'hi' as an enticing hint as to what follows. The record itself is a breathless tumble of words that zing in Tompkins' wide-eyed estuarised tones between nonsense phrases and acquired cultural totems, from Superdrug to unaccompanied and unintentionally timely snatches from Bowie's John, I'm Only Dancing. The flipside, Turnover, begins with a meditation on avocados in space before inviting the listener to do the whole thing again. Which, if you can still get a copy, you probably should.
Comments
Comments