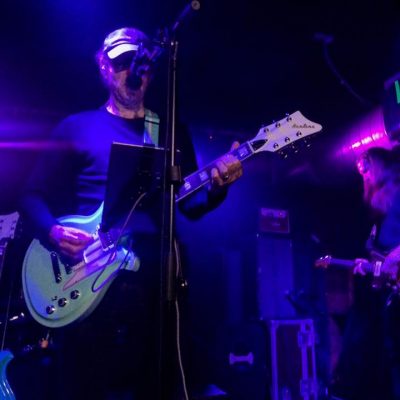 There's nothing remotely flabby about Wire, the wilfully singular accidental veterans of the so-called punk wars, who recently insisted on Marc Riley's BBC 6Music A-Z of Punk that they categorically weren't punk at all. Given that the metal machine music of this year's Silver/Lead album sounds as driven and as purposeful as any of their initial trilogy of 1977-79 albums, you can see their point. Live, the band's original core trio of Colin Newman, bassist Graham Lewis and drummer Robert Grey, plus guitarist Matthew Simms, take no prisoners, and never play to type. This is the case from the curiously rock star-like head-wear of Lewis and chief vocalist and guitarist Newman – a flat cap and a trucker's cap respectively – to the stoic refusal to play almost anything resembling 'the hits'. As the ipad perched on Newman's mic stand, from which he reads his lyrics suggests, Wire are as twenty-first century as it gets.
This doesn't stop them opening their seventy-five minute set with what is now a perversely contrarily named Ahead, from their 1987 album, The Ideal Copy, their first after regrouping following a five year hiatus. There's an understated melancholic wistfulness to the song, which, like everything that follows, is delivered with taut military discipline.
The next hour is an eminently physical display. Drawing largely from Silver/Lead, there's muscle, guts, motorik drums and fleshy bass. There are fast songs. There are slow songs. The former are furious, machine-gun-like and, yes, punky. The latter are are dirge-like, monumental and simmer with stabs of tempered intellectual aggression. They may have heads full of theory, but a melody-led pop sensibility remains at Wire's core.
This is how Roxy Music might have turned out if they'd kept to a more jagged path. It's as highly strung and opaquely articulate as Magazine circa Give Me Everything. The oldest song on show, Three Girl Rhumba, from the band's 1977 debut, Pink Flag, is given a brisk new arrangement that effectively reclaims it from its 1990s' Brit-pop hi-jack by Elastica on their mini hit 'homage', Connection.
Wire finish the main set with Over Theirs, another song from The Ideal Copy, which builds into an extended FX-led primitive electronics wig out. It's loaded with a brutal martial relentlessness which sounds scorched enough to recall early Cabaret Voltaire.
For the encore, Lewis has to retrieve his set list from an overly zealous front-stage fan. Someone shouts out for 1 2 X U. "That wasn't even witty in 1977," he says of one of Pink Flag's more frenetic numbers, before the quartet launch into a salvo of uber-controlled drone that ricochets around the room, before a final rewind to Used To from 1978's Chairs Missing album. Whether pre, post or any other derivative of punk, Wire are still wound up, and still, well, wired. Totally.
Comments
Comments