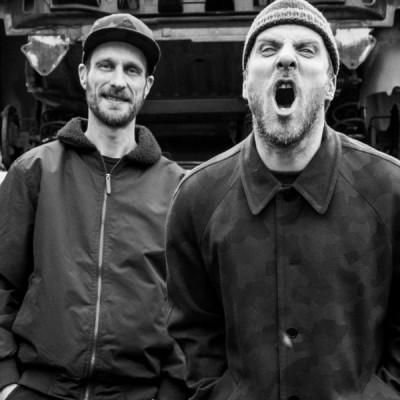 Sleaford Mods are having their moment. The first time the dynamic duo of vocalist- wordsmith Jason Williamson and techno-primitivist soundscaper Andrew Fearn brought their acerbic alliance of shop-floor social commentary and four-to-the-floor electronic abrasion to Edinburgh in 2013, they played in Old Town basement dive The Banshee Labyrinth to a handful of the city's fertile Noise-scene regulars, perhaps used to more abstract rackets. Afterwards, Williamson and Fearn were taken to a performance art night at a nearby rehearsal space, and ended up playing the same set again to an audience that just made it into double figures. Seeing them second time around in such close proximity helped make sense of the short, sharp shock they deliver – the equivalent of a musical punch to the face – but it was no less startling.
When Sleaford Mods returned to Edinburgh last November on the back of supporting the reformed Specials on tour, it was to a sold out Electric Circus, where, with an audience of largely middle-aged men for them to bounce off, an even more intense experience ensued. While scary-looking geezers flogged spare tickets outside, the show opened with Glasgow performance poet McGuire's meditations on masculinity, and ended with the amusing sight of Fearn, possibly the most unlikely sex symbol this side of Goldie Looking Chain, being mobbed by a gaggle of orange-tanned ladies who'd possibly stumbled in from the karaoke room next door, getting him to pose for selfies.
The forty-something Nottingham-sired duo arrive in Scotland this week for four dates, opening at Edinburgh's La Belle Angele tonight. Touring on the back of their recently released Key Markets album, their eighth since 2007,these shows promise to be even more furious, more scathing and more necessary than ever.
Somewhere inbetween all this, Sleaford Mods have collaborated with The Prodigy and Leftfield, been lionised in Sunday broadsheets as poster boys for a new pop resistance and interviewed by actress Maxine Peake on BBC TV's Artsnight. That the interview took place in the sort of Manchester Wheeltappers and Shunters-style working men's club that The Fall's Mark E Smith once mythologised was telling.
Looking like a pair of Brit-pop/Rave casualties who went on a bender too far but somehow managed to come out smiling, Williamson and Fearn's irresistible rise has run in tandem with the Tory government's increasingly shameless cruelty. It's perhaps no accident that the Lincolnshire town which gave the band their name is close to Grantham, birthplace of Margaret Thatcher. Because Williamson's bile-driven rants, born of a dole queue culture where the underclass are spoon-fed a sickly diet of daytime TV trash and party political bullshit, gives voice to a generation of back-street autodidacts disenfranchised by Thatcher and her heirs.
In a world where the all-in-this-together conformity of Jools Holland's Later, BBC 6Music and identikit summer music festivals hold sway with a conveyor belt of indie-by-numbers guitar bands seemingly formed at prep school careers fairs, Sleaford Mods are the latest prole art threat. Like Half Man Half Biscuit without the gags, their channelling of Happy Mondays-style lyrical non-sequiturs, the confrontational electronic assault of Suicide and the sheer oppositional frustration of an old-school housing estate riot is a bare-knuckled antidote to such anodyne conformity.
As the welfare state is dismantled brick by broken brick, Sleaford Mods are a breath of lager and skunk-scented air as perfect a soundtrack for the austerity age as the Specials' Ghost Town was for the inner city riots of 1981, which spread across the UK. Yet, just as they've gate-crashed their way into the music biz clubhouse on their own potty-mouthed terms, Sleaford Mods have also leapt a barrier loaded with contradictions. This week even sees them appear alongside Jools and co on Later in what can either be seen as full-on mainstream acceptance or a magnificent piece of entryist subversion.
In a few years' time, when things may or may not have got better, Williamson and Fearn will either have choked on the fruits of their success or else imploded into impotence, with no pricks to kick against anymore. Either way, make the most of this week's shows while you can. The riots should be starting any day now.
Sleaford Mods play La Belle Angele, Edinburgh, Wed October 14th; The Tunnels, Aberdeen, Thursday October 15th; Buskers, Dundee, Friday October 16th; The Art School, Glasgow, Saturday October 17th.
Comments
Comments