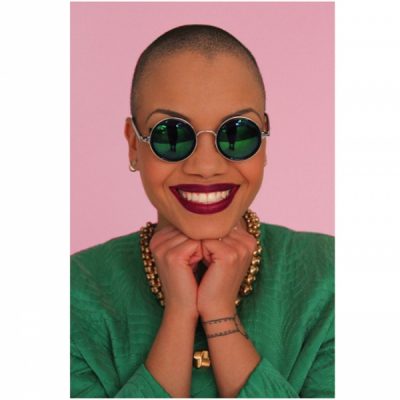 Law Holt is a fiercely iconoclastic singer/songwriter, solo artist and now co-front woman of algorithm and blues collective Iklan. More Patti Smith than Joni Mitchell, Holt is also a core member of the gifted Soul Punk production team and record label that helped spawn both Young Fathers and Callum Easter. Originally from Leicester, now based in London, the NHS nurse hooked up with Soul Punk maestro Tim Brinkhurst while living in Edinburgh. With her strikingly beautiful profile, close cropped hair and doccy boots, she's a model dystopian diva and unflinching future poet of the decaying wilderness that we call modern life. Iklan's glitchy digital triphop is remorseless in its depiction of a broken society swirling round the sinkhole of broken relationships, institutional racism and urban alienation. Holt's soaring vocal conjures a stark portrait, leavened with sudden scorching rays of redemptive gospel soul and touching melodic beauty.
Charles Mingus, Haitian Fight Song

Mingus was my first great love when I discovered jazz as a nappy-haired undergrad. It was bluesy and gospel inflected and seemed more appealing than straight-ahead bebop. This number in particular is raucous and propulsive and kicks off a particularly underrated Mingus LP, The Clown. I remember reading an interview with Don DeLillo who claims to listen to this song every morning before beginning his writing day. What a commendation.
Rob, Loose Up Yourself

In all honesty I could have chosen any track off the LP this kicks off; Make it Fast, Make it Slow. It's a record I genuinely consider to be one of the best ever released. It's incredibly loose and Rob's delivery is sometimes unintelligible but always spiritually focused in terms of his lyricism. The brass comes courtesy of Takoradi's police marching band, which perhaps explains why it sits so straight alongside Rob's funky arrangements. There's an incessant cowbell that underpins the whole thing. I recently spent some time in Ghana and heard that Rob now owned and ran a chicken place in Accra. I never found him. It doesn't matter. Life would be less without this album.
Sisqó, Thong Song

They should teach the components of this song to music students everywhere. It's a pop masterpiece whose individual facets shouldn't work together. On paper the Eleanor Rigby strings, the booty lyrics, the grandiose bridge – it all seems a recipe for disaster. But it doesn't suffer from overplaying in the slightest. I was 12 when it was released, and I know I'll still be listening to this in twenty more years.
The Chosen Few, My Thing

A recently discovered slice of soulful reggae. Jamaican music is my absolute staple and I'm always suspicious of those who claim not to like it. This track perfectly straddles Motown soul and Studio One rocksteady. The production is warm and unfussy and the melody is totally indelible. It'll always remind me of the first COVID lockdown; stuck indoors in a sweltering West London drinking cider and playing this track over and over.
Jim Ford, Love On My Brain

Sly Stone called Jim Ford "the baddest white man on the planet." This tune is testament to that. It's pure country soul with a lush string arrangement and empowering lyrics about rootlessness and wonder. It makes you walk with your chest out and your head up.
Iklan's Album Number 2 is released through Soul Punk on April 26.
Comments
Comments