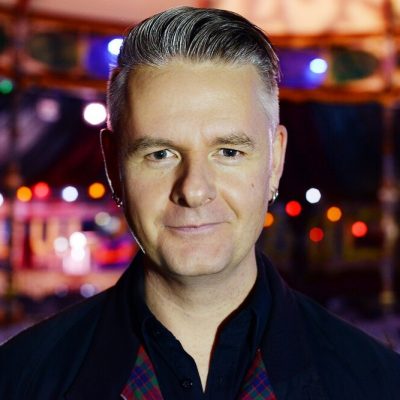 Broadcaster and DJ Vic Galloway champions Scottish independent music on Radio Scotland, where his weekly show is essential listening for anyone interested in new music, and he regularly breaks acts that go on to enjoy wider acclaim. Affectionately known as Uncle Vic to fans and musicians alike, he's an easy going but passionate presence whose upbringing playing in bands around the East Neuk of Fife made him the ideal chronicler of the Fence Collective scene in his 2011 book Songs in the Key of Fife and  Rip It Up, a history of Scottish independent music (2018). His own band Check Masses released their debut album Nightlife last year. Recently, Galloway has been instrumental in the resurrection of the historic Leith Theatre as host of the Live in Leith online gigs. Hip hoppers Nova and Ransom FA are slated for Saturday March 27 with buzz indie talent The Ninth Wave and Lucia & the Best Boys treading the boards on Saturday April 3.
The Damned, Neat Neat Neat

This is one of the most thrilling pieces of rock'n'roll ever committed to wax. Enough said. The opening bass riff sets you up for the breakneck-speed, pure-adrenaline injection that ensues. It's a white knuckle ride and gets my blood pumping every time I hear it.. and I've heard it thousands of times! The first UK punk band to release a single, an album, to tour the USA, to split up and then to reform, the band have left some incredible records behind them and continue to perform brilliantly to this day. They were the first band I ever saw LIVE and their music has stayed with me. I will never tire of hearing this song, and when I've had a couple of shandies this goes always gets played at some point in the night. My poor girlfriend!
Bob Marley & the Wailers, Soul Rebel

I'm a huge reggae fan, and love the full range of styles and micro-genres throughout the decades from ska to rocksteady, roots, dub, dancehall, ragga and beyond. However, the recordings that The Wailers made with Lee Scratch Perry in 1971 are really special. Haunting, mournful and intimate, they put Bob Marley's superb voice front and center with Peter Tosh and Bunny Wailer's yearning harmonies as the perfect accompaniment. There isn't a bad song from the full session of songs recorded with Scratch, but this one just grabs me every time. The song, the sentiment and the performance are all wonderful. For me this is sweet soul music.
Brian Eno, An Ending (Ascent)
The album I have probably listened to more than any other is Eno's Apollo – Atmospheres and Soundtracks. It's a go-to when I am in need of some emotional healing and an audio-hug… Hence it being my hangover album!! I can listen to it in any order, but always particularly enjoy this track's sweet melancholy. The album IS the perfect soundtrack to the moon landing footage and is far more than an 'ambient' record too. It's rich in textures and ideas, with layers of lush synths, ethereal sound-design and Daniel Lanois's pedal-steel guitar ebbing and flowing throughout the mix. To me this is Eno's best solo record, hugely influential and a landmark recording. I will listen to it forever.
Cocteau Twins, Sugar Hiccup

I'm probably best known as someone who champions new and alternative music, specifically in Scotland. I am often asked who is my favourite Scottish band of all. Although an extremely tough question… I always answer Cocteau Twins. From the tough, industrial town of Grangemouth came the most celestial of all groups. Although I think their best album overall is 'Heaven or Las Vegas', I adore their entire back catalogue and this track from 'Head Over Heels' brings back specific memories of a certain time and place for me. Elizabeth Fraser is one of the greatest vocalists of all time and Robin Guthrie's guitar-playing is ingenious and has inspired millions. Growing up as a teenager in the 80's and early 90's, their music was a constant for me. I still return to them frequently.
Chet Baker, It's Always You

This last year has been extremely strange, challenging and tough-going for everyone. Music has been a solace and salvation to many. Although I search for new music constantly, I have also indulged in nostalgia and have been digging through old favourites in my record collection. However, during lockdown I have listened to Jazz more than anything else – Miles Davis, Art Blakey, Thelonius Monk, John Coltrane and more recent musicians such as Matthew Halsall, Moses Boyd and Danny Keane. The legendary Chet Baker was someone I knew little about, until I read a astonishing biography called 'Deep in a Dream: The Long Night of Chet Baker' by James Gavin. Listening to his music and reading this incredible story, I became obsessed and have had his music on repeat for almost a year. His trumpet playing, phrasing and swing are all superb, but I LOVE his singing voice too! I recently bought the classic album, 'Chet Baker Sings' on vinyl and could listen to to it endlessly. This is a standout track and helps soothes the soul, especially in times like these.
Comments
Comments