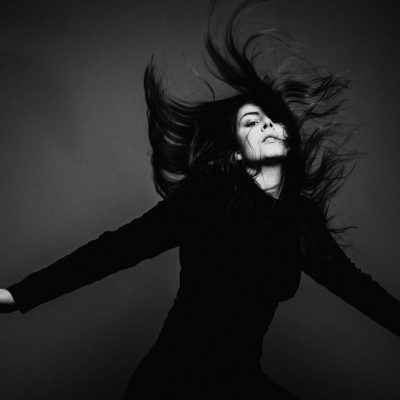 A producer once told Jill O'Sullivan she was "very genre fluid", an observation borne out by her musical sojourns which include fronting The Sparrow and The Workshop, throwing shapes in electronic performance art duo BDY_PRTS with Jenny Reeve (Strike the Colours) and most recently contributing fiddle to Broken Chanter, last year's solo project from David MacGregor. In May she released an EP Not Your First, under the title Jill Lorean, a collaboration with Frightened Rabbit's Andy Monaghan and drummer Peter Kelly. She was nicknamed Jill Lorean as a baby, when her Irish Dad had a summer job at a DeLorean car factory. Recorded in one weekend session, the EP's six tracks have the intensity of a live performance and showcase O'Sullivan's remarkable voice – somewhere magical between Sandy Denny and Stevie Nicks – which can conjur raw vitality and exceptional tenderness in the skip of a beat.
1. Buffy Sainte Marie, Lyke Wake Dirge
This is a song I was listening to a lot while writing stuff for "Not Your First". I heard it while working in a bar some years ago and was immediately hypnotised by the tremulous voice of Buffy Sainte Marie. I'm pretty sure I was pouring a pint at the time and I was so transfixed that I poured beer all over my shoes. Anyhow, I wanted to find out more about Buffy Sainte Marie and Lyke Wake Dirge. Apart from learning that the song itself was based on a fourteenth century funeral chant written in an old form of the Yorkshire dialect, I was somewhat surprised to find that the voice behind the song didn't come from Yorkshire. Turns out Buffy Sainte Marie is a member of the Cree First Nation and comes from Saskatchewan, Canada. She really commanded Lyke Wake Dirge and acted as a kind of soothsayer for
the haunted spirit creeping around the lines of the song. There was a magical energy and intensity to her performance and instrumentation and I just find it inspiring. I wanted to embody a bit of the sorcerer for "Not Your First" because while working on that EP I was really trying to connect with nature and act as a sort of musical alchemist.
2. Silver Apples, Program
I'd heard of the Silver Apples but only actually listened to them properly a few years ago, and kind of by accident. I think I was looking up Silver Jews (another Drag City band) but accidentally played them and oh my god, I felt like I was listening to the birth of the universe. There was primal urgency to the songs, but equally juxtaposed with a sweet vocal, a melody a bit like something you'd hum to a child. There's this gentleness that sort of fights with the beat which sounds like it's trying to break through a wall through sheer determination, not necessarily force. And this sound is the closest I can come to explaining the sheer madness of childbirth. Not necessarily the pain but the madness of it. Anyway, I was listening to Silver Apples a lot when I went in with Andy to work on the Jill Lorean stuff. And I wanted Jill Lorean to really have that sense of urgency without being totally hard and impenetrable. Maybe a little wild and live. Breathing, energetic.
3. Catpower, Free
This song was pretty much responsible for getting me to start writing my own stuff. Prior to hearing this I did a lot of classical music and mostly played the violin but I heard this and immediately wanted to pick up a guitar and learn some chords. I was living in Montreal and had just turned on CBC radio and the DJ was like "this is the new single from Catpower". I think I was about 19. It was Free. I heard her playing the guitar and I was like, woah, I've never heard anyone sing like that or play in that way. And Free was the first song I heard. I mean, she was punk. Just the simplicity of it, and yet it was hooky too. After that I listened to more of her stuff and I kind of fell in love with Moonpix. The songs on Moonpix were moody and her guitar playing was ragged and electric, she had a voice that sort of hummed and growled simultaneously and I just thought, she is the greatest. And I want to thank her for inspiring me to learn the guitar.
4. Portishead, Wandering Star
Here's a song that made me want to sing. Although Dummy came out in '94 I didn't hear this album until around '97 but damn, I really loved it. Of course I was a teenager and full of your classic teen angst. But also, Beth Gibbons' voice. What an incredible voice. By that time people were telling me I could sing but you know, I've always struggled with my confidence. I would sing this in shower, in my bedroom, into my Dad's dictaphone he used for work interviews. I used to get in trouble for that. But I listened to this all the time. And I had a friend who used to have the best snacks when we were at school, and he would give some to me but I had to sing. And it wasn't just him. Amongst other things, they'd ask me to sing Portishead songs. I'd sing this one. Also, the production was really cool, and all the other instrumentation. But mostly, I think it hit a nerve emotionally. I felt like Portishead were in my head, like they were giving a sound and a voice to all my mixed-up emotions.
5. Lankum, The Wild Rover
Lastly I've chosen a song I'm listening to non-stop right now. I first heard Lankum a few years ago when I was touring with Three Queens in Mourning. Ali and Alex [of Three Queens] had put it on during our drive back to Glasgow and I remember being particularly struck by Radie Peat's voice. It was really unusual, quite deep and even a bit strained. It reminded me of the Sean-nós style of Irish singing and Tuvan throat singing, just utterly arresting and devastating. And entirely unique. I'd grown up listening to the Dubliners version of the Wild Rover and assumed it to be a cheerful song of sorts. Maybe I'd assumed that because I had heard it sung at parties towards the end of the night, but it was hearing Lankum's version, which orbits an altogether darker side of the folk sphere, that really affected me. They give a new weight to the words and the meaning of the song with the long, drawn out drones, sparse instrumentation and Radie Peat's utterly captivating voice. I would urge people to listen to it. It's brilliant. It's really exciting also to see more bands coming out of Ireland now bringing the folk tradition back in their own ways and getting attention for it. It seemed to have grown quiet for a time there but lately I've been introduced to Lankum, Lisa O'Neill, Bridgid Mae Power…
For more information visit www.jilllorean.com
*
If you enjoyed this article, why not make a donation to Product? We're an independent publisher with charitable status (SCO 29793). The magazine is edited, designed and produced by volunteers, with all contributions of time, skill and content given for free. We showcase work by new writers, artists and photographers at an early stage in their careers, many for the first time. A small donation can make a big difference towards the running costs of the magazine. Please donate here:
Comments
Comments