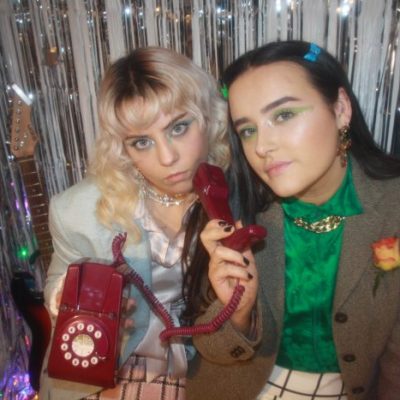 Pretty Preachers Club are an alt-pop two piece from Glasgow. Martha McKay and Hannah Berry first met at university and bonded over a shared love of The 1975. They began making music together during lockdown last year. The duo's fresh faced charm was a welcome antidote to pandemic paranoia, their sweet harmonising about young love, broken hearts and break ups quickly building a buzz despite the lack of opportunity to play live shows. So far they've released a run of well-received singles and a six track EP Going Nowhere Fast which clocked up nearly 15,000 streams as well as brisk vinyl sales. With a debut long player in the pipeline, summer round the corner and the clubs set to open up soon, you don't need a crystal ball to predict big things for the belles of Bearsden.
Martha McKay
1. Beautiful South, Song For Whoever

This song means a lot to me as it's kind of like our family theme song. We sing it at every reunion- it's one we grew up with and know all the words to.
2. Mika, Lollipop

Mika was my favourite artist when I was growing up. Life in Cartoon Motion was the album I had on repeat in my room and Lollipop was my favourite from this record.
Hannah Berry
James, Sit Down

This songs always gives me a kind of hug. It reminds me of me and my family when I was younger- all the road trips we used to go on. It wasn't even necessarily a song we played loads but has stuck with me. The lyrics in the song is always something I try and live by.
The 1975, The City

I remember this was the first song I listened to that changed the way I enjoyed music. It led me to enjoy a whole other world of music that I barely knew existed.
Joint favourite
The 1975, Give Yourself A Try

Our mutual favourite artist is definitely The 1975. Hannah introduced me to them around the time we first met and we've been to see them together a couple times. We always sing this song in the car!
Comments
Comments