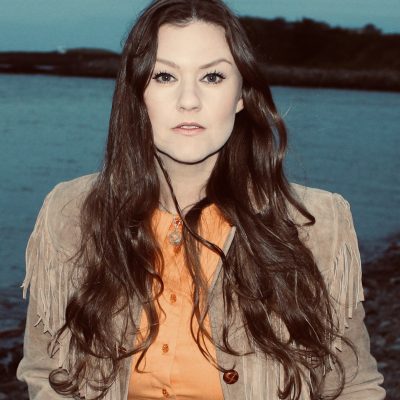 Singer/songwriter Kirsten Adamson summons the same heart-stopping purity as Sandy Denny, by way of Emmylou Harris and Kate Bush. Transcendence runs in the family. Her father was Stuart Adamson and her mother Alexandra, a champion Highland dancer. With summers spent soaking up the atmosphere in Nashville with her dad and a string of leading roles in musical theatre back in the UK, the teenage Adamson's course was set. She sang backing vocals on Big Country's last album Driving to Damascus at age just 13. By 2002, she was forging her own career as a vocalist and keyboard player for indie-folkers Aberfeldy. She fronted country rockers The Gillyflowers and more recently shone as half of alt-country duo The Marriage, and then on a self-titled 2105 solo debut. The austere beauty of her voice has been a constant motif. In reflective mood, she's now recording a new solo LP. As yet untitled, Product understands it may well include her very unique take on a Big Country classic or two.
Kate Bush, Moments of Pleasure
For those who know my love of Kate Bush this may come as an unusual choice given the phenomenal back catalogue of hers. I have many favourite KB songs but this one for me is an understated beauty. In the song she recalls memories with friends, family and lovers. Remembering phrases they've said to her and simple moments spent together. Exclaiming in an emotional and moving chorus "Just being alive, it can really hurt. These moments given are a gift from time!" The lyrics conjuring up memories of special people who have passed on and of those who have given me so many happy moments to remember. As Kate Bush says herself this song is "a celebration of life". It still makes me cry though.
Joni Mitchell, Both Sides Now

I remember the first time I heard this song. I was with someone who is now an ex. At the time we hadn't embarked on what would become a defining relationship of mine for many reasons both good and bad. We'd moved in together as flat mates and one evening the 1970 BBC recording of this song came on tv. I remember we both sat mesmerised as we watched it, tears streaming down our cheeks and declaring after it had finished it must be the best song ever written. That relationship may have come and gone but this song sticks with me as one of the most perfectly written explanations of life and how little we really know about it. And how beautiful it can be.
Fleetwood Mac, Never Going Back Again

My favourite thing about this track initially is the guitar part played so beautifully by Lindsay Buckingham but the reason it comes up as one of my all time favourites is in the lyrics. Like so many of Fleetwood Mac's songs, the vulnerability within the story connects with me. Buckingham clearly finding it difficult to navigate his relationship with Stevie Nicks and putting into words his pain surrounding it. Most of us will have been there at some point and this song encapsulates the feelings poignantly.
College, A Real Hero

This is my slightly more left-field favourite. I remember first hearing this song in the film 'Drive'. It came up again when I was pregnant with my son, now 2.Trouble hit when I was 26 weeks and my waters suddenly ruptured, a complication called Preterm premature rupture of the membranes (PPROM). After the initial hospital stay, worry and shock I put myself on bed rest for the next 5 weeks and during that time began to put together a playlist for the birth. Instinctively I knew that he was strong and that somehow he was going to be ok. In short I knew he was "a real hero". For me, this song has become about Sid and his birth journey. He was born, healthy at 31 weeks on New Year's Day and I will never forget the otherworldly experience of giving birth to him. This song reminds me of that day.
Mark Knopfler & Emmylou Harris, All The Road Running

This song comes from a wonderful album with the same title. It puts into words the reality of touring. The verses conjur up moments not just from an artist's perspective but from the whole crew making each show special. The hard work and relentlessness of the road. It makes me think of all those hours my Dad would have spent setting up, packing down, sitting on a plane and hanging around waiting for things to happen. I always remember he would say the phrase "hurry up and hang around" when he was talking about tour life. Knopfler and Harris convey the emotional rollercoaster so beautifully in their vocal delivery. Makes me cry.
Comments
Comments