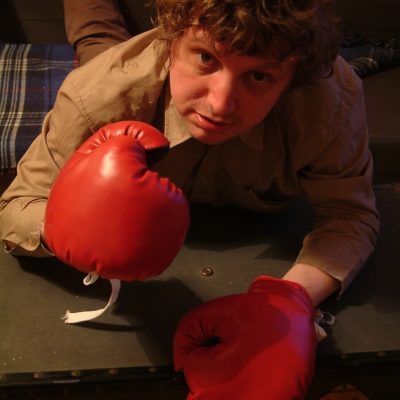 Scotland's polymath professor of the absurd: musician, comic and writer Paul Vickers first came to prominence fronting indie darlings Dawn of the Replicants. John Peel loved the band's 1997 debut EP So Far So Spitfire and they were snapped up by East West Records. The band folded around 2006 and Vickers fell in with capital noise virtuosos The Leg for his first stint as lead vocalist and lyricist, underground avatar Julian Cope praising the group's Itchy Grumble LP as "barely directional noise… on a flying bedstead." His restless invention soon saw his on-stage banter evolve into a full blown career as an award-winning stand-up comic, stage magician and author. His Mr Twonkey alter ego again found him mining the weird and whimsical to hilarious effect, and the annual stage shows have become eagerly anticipated cult favourites at festivals around the world. Now back with The Leg, the band's latest album Jump is out now, and he's also creating a play about David Lynch.
1. Tom Waits, Jersey Girl

A song that makes you want to write the world's best love song, plus the drums are really classy.
You know all my dreams come true
When I'm walking down the street with you…
2. The Fall, Paintwork

A great song about the obstacles of DIY.
Then I woke up, then I decided to recommence my diary
Then I read Paula Yates on Vision mopeds
Then I found out we were not going to Italy
Later Mam said "Them continentals are little monkeys"
And yesterday we had liver and sausage over
And sometimes they say "Hey Mark, you're just spoiling all the paintwork"
And sometimes they say "Your thumbprints are on the paintwork"
3. Daniel Johnston, Some Things Last a Long Time

You can love someone your whole life even when it breaks and feels like it's gone some things last a long time.
I won't forget all the things we did
Some things last a long time
Some things last a lifetime.
4. Ivor Cutler, Beautiful Cosmos

What can you say really? The words say it all…
You are the centre of your little world and I am of mine
Now and again we meet for tea, we're two of a kind
This is our universe, cups of tea
We have a beautiful cosmos, you and me
We have a beautiful cosmos
5. Roberta Flack, The First Time Ever I Saw Your Face

Written by Ewan Macoll about Peggy Seeger. Dan keeps telling me Ewan Macoll is evil but he did write this song, so not all bad.
And the first time, ever I kissed your mouth
I felt the earth move in my hands
Like the trembling heart
Of a captive bird
That was there, at my command
My love
Comments
Comments